Outdoor Apps for Android Users
Don't let iPhone fanatics fool you: There are tons of great outdoor apps for the other operating system.
Users of those smartphones that start with the letter "i" like to think they have a monopoly on the coolest apps. Of course, that's ridiculous. The Android Market is currently providing around 300,000 apps and is poised to pass Apple's app count later this year. Among Android's considerable offerings, I found a fat handful of good outdoors apps (downloadable at Android Market), all of which I tested in the woods and mountains around Seattle for five months.
Audubon Birds$15

This neat little app is Birds of North America (widely considered the "go-to" birding manual) right in the palm of your hand. When I saw and heard a mysterious waterfowl in Washington's Crab Creek with a call that sounded like "oooongka-CHUNK", I started in the Heron section, and when the pictures and audio clips weren't quite right, I used the "view similar birds" function to quickly zero in on the American Bittern. The "About Birds" section let me impress my friends with lots of heady ornithological terminology. What do I wish Audubon Birds could do? Identify birds by "listening" to their songs. The technology already exists and is used in apps such as Shazam (a popular music-tagging app). Here's hoping we see this feature soon.
Scats and Tracks$2

Scats and Tracks comes to us from Falcon Press, publisher of many fine guidebooks and field guides. You'll find detailed descriptions and drawings of scat (eww!), paw print patterns of animals walking and running (yes, they differ), range and habitat info, as well as descriptions of hunting and behavior habits. Android in hand, I was quickly able to identify a marmot zone in the Chiwaukum Range by tell-tale droppings in a talus field. Cool beans!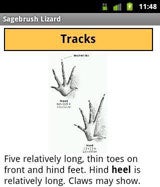 U.S. Army Survival GuideFREE

If you find yourself in a pickle, who better to help out than the U.S. Army? Need to build an impromptu shelter? Build a fire? Forage for food? It's all covered, along with tips on evading enemy capture. The format's quite simple, with clickable chapters and line drawings to assist you. Wish: Embedded videos would go a long way to making this into more than a digital field manual.

Backcountry Navigator$10

This one will set you back a tenner, but it's worth every penny, as I discovered on test hikes on the rain-soaked west slope of the Cascades and in the Channeled Scablands of eastern Washington. If you've resisted buying a GPS, but find yourself curious about the technology, you'll like playing with Navigator on your next hike. It can be a little tricky to find a location if it has a common name, but a handy video at backcountrynavigator.com provides step-by-step instructions that also show you how to download maps for offline use. Save GPS tracks and trip data in folders you create. When it's time to hike, fire up the phone's GPS, and away you go. Track recording, waypoints, and information gathering work the same as on a GPS. Toggle back and forth between your choice of topographic maps and color aerials. Trip data can later be shared via email or the usual social media outlets. I would like to see a feature added later that would allow photos taken with the phone to be integrated into your trip folders.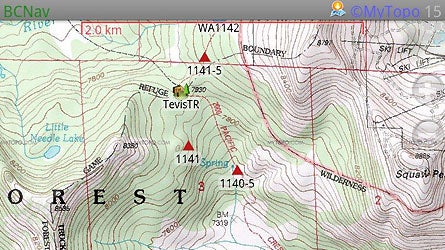 PCTHYOHFREE

Let's talk about the name of this little oddball first. PCT=Pacific Crest Trail. HYOH="hike your own hike", a rally cry among thruhikers. In days of yore, PCT hikers carried sheaves of photocopied notes and guidebooks containing vital information about mail drops, lodging, trail data….all of the myriad logistical challenges they might face. Most every long trail hiker now carries a smartphone on the trail, and PCTHYOH lets hikers ditch all the paper. While this app is a bit on the homemade side (no slick graphics or animation), the information listed and links provided will help ensure success. Current snowpack data comes courtesy of the USDA's SNOTEL website, and the National Weather Service's forecasts help hikers stay ahead of storms. I like the detailed listing of mail drops, especially the part where the holding fees are outlined. Charging money to thruhikers to store a case of Top Ramen and dried potatoes? The humanity!
My TracksFREE

My Tracks shows where you have been, how fast you went, and how big those hills were. My after- work training hikes up West Tiger 3 (5 miles roundtrip with 2,100 feet of elevation gain) outside of Seattle were a lot more rewarding when I got to see the numbers. Plus, I could aggregate my stats (for distance, speed, elevation, average grade, and average speed) for a whole week or month, to keep a running tally (handy when trying to keep track of miles hiked for a boot test I'm working on. Elevation and speed are graphed (see image) and I could overlay my route on my choice of a traditional map or a satellite photo, all in real time. This app doesn't work to the level of detail you'll find in Backcountry Navigator, but for a free app, it's not bad at all.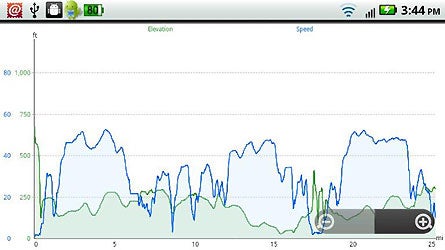 Moon 3DFREE

Want to plan a night hike, guided by only the light of the moon? Here's the app for that. Moon 3D shows the day's phase. Swipe to see tomorrow's. Alternately, view the entire month's moons and plan you upcoming weekends. Bonus: You can flip the image for viewing south of the equator.