Navigation: Canyons and Deserts
Learn how to stay on track and find water safely in the desert and canyons.
NAVIGATE:Forests/Mountains |
Whiteout/Darkness/Fog |
Lakes/Oceans |
Off-Trail


clutch skill

Aim Wide to Stay on Track

In a featureless desert environment, finding a specific spot, sans GPS, often involves lots of wandering, since it's hard to stay perfectly on your bearing. "Aiming off"—plotting an intentional offset or error—can prevent such meandering as you trek toward a hard-to-see place.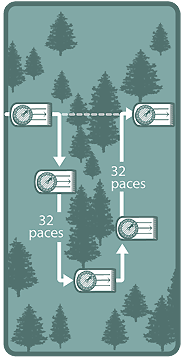 Say you're crossing sage flats east toward a chimney that drops into a canyon. The canyon runs north-south, and the chimney lies at a 90-degree bearing from your position. Since few people can follow a compass in an absolutely straight line, how will you know which way to turn to find the chimney once you reach the canyon rim?
Here's how Aim off in one direction: by 10 degrees for distances up to one mile, by five degrees or less for greater distances. If you deliberately err to the south of the chimney, for example, with a 100-degree bearing, you know you'll be to the right of it once at the canyon rim. Turn left to find it. Use the same method to find a hidden spring or car parked on a road.
Find Water Safely

Springs and seeps tend to surface lower in canyons, so start near the canyon mouth and travel upstream. This is safer than moving down-canyon, since you won't descend a drop-off that you can't climb back up. Also, never scramble into potholes unless you're certain you can climb out; and beware of pools, which can hold deceptively deep, cold water.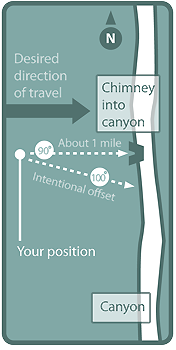 A Photo's worth 1,000 Topos

On desert scrubland or slickrock, an aerial image may reveal vital navigational clues that don't appear on topo maps, such as shallow canyons, small knolls, vegetation, and new roads. Take this photo (A) of Davis Gulch, Utah, showing sandstone domes and greenery, none of which appear on the topo (B). Google Maps and Google Earth satellite images are updated more often than USGS maps. Try both services to find the best resolution for your area.
Be aware: Aerial photos can make huge obstacles (like cliffs) appear tiny, so check in with rangers, read trip reports, and plan detours in advance.
Key Gear


1. Mytopo.com lets you order aerial photographs with UTM grid overlays for any U.S. destination. Choose between color or black-and-white, waterproof, glossy, or laminated, and multiple sizes. $15 and up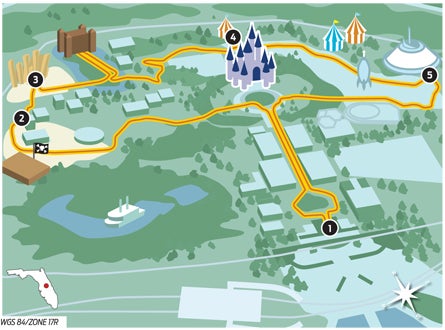 2. Brunton's 54LU has all of the normal functions of a baseplate compass and also allows you to sight through it for extremely accurate plotting, a valuable tool in the featureless desert. $109; 1.4 oz.; brunton.com

3. Need to take a bearing to a very distant landform? The lightweight, thumb-size Columbia Companion Monocular has a 10x-to-30x zoom with high-quality focus. $41; 3.2 oz.; krugeroptical.com

Photos by Courtesy, Illustrations by Supercorn, Maps by mytopo.com