March 2008 Tents Review: Three-Person Tents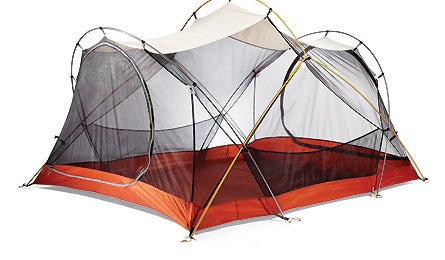 MSR Mutha Hubba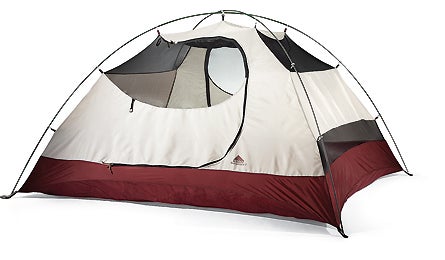 Kelty Gunnison 3.1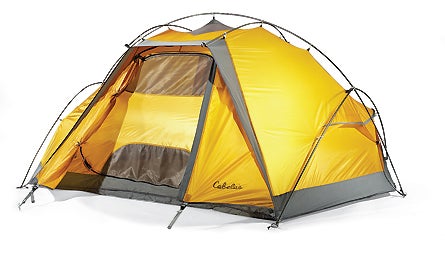 Cabela's XPG Ridgelight XST 3
Eureka Autumn Wind 3XD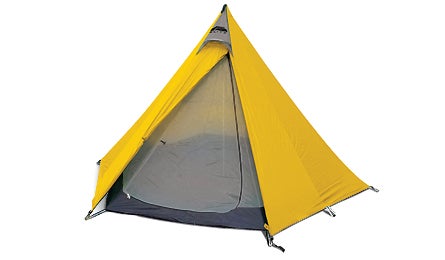 GoLite Shangri-La 3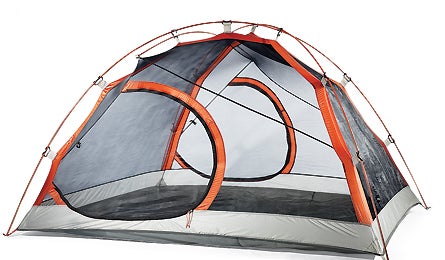 L.L. Bean Mountain Light 3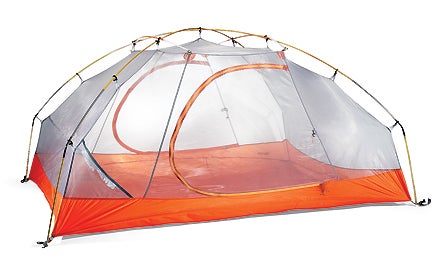 Marmot Aeros 3p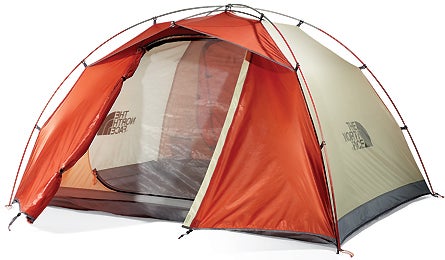 The North Face Vario 33
Best All-Around

MSR Mutha Hubba *FP
It's not often an award-winning tent gets an upgrade, but that's exactly what happened with the Mutha Hubba (Editors' Choice Award, 4/06). The new version weighs 10 ounces less than its predecessor, but there's no corresponding drop in space. You still get plenty of elbowroom for three and the lofty 46-inch peak height that makes this three-season tent so livable; its weight loss comes from lighter pole hubs and two fewer air vents (which doesn't result in any significant condensation problems). The two vestibules shelter three hikers' full complement of gear, and with doors located at opposite ends of the tent, the middle sleeper doesn't have to crawl over his neighbors to get in and out. Fast, easy setup, bomber rainproofing, and excellent ventilation seal the deal. $400; 6 lbs. 2 oz.
Best Buy

Kelty Gunnison 3.1 *
At less than 2 pounds and $75 per hiker, this two-door, freestanding dome is a bargain in every way. And the low weight and price don't mean less space–it's a whopping 92 inches long and plenty wide for three. Color-coded clips help guide the hubbed pole system into place for fast setup, and the two 12.5-square-foot vestibules garaged a trio's gear and still left room to scramble in and out of the tent. "There was a bit of condensation on the fly every morning," said a tester who used it on Colorado's Continental Divide Trail, "but we stayed perfectly dry inside." Minor gripe: The gear loft must be hand-tied to the tent ceiling, which is a pain. $220; 5 lbs. 14 oz.
Best for Big Guys

Cabela's XPG Ridgelight XST 3

How's this for large and light: Our 6-foot tester could stretch out in this tent and still stash a pack at his feet, yet the Ridgelight weighs little more than some two-person tents. Credit the hybrid single- and double-wall design, which creates a great space-to-weight ratio. And with vents at both ends and in the ceiling, the sil-nylon Ridgelight dodges the condensation problems common among single-wall shelters; its interior stayed totally dry on chilly autumn nights in Utah's Wasatch Range. Two doors and vestibules allow for ample gear storage, and achieving a drum-tight pitch was easy once testers deciphered the antennae-like hubbed pole system. "It kept us warmer than super-meshy tents," said our Colorado tester, "which makes it first-rate for higher altitudes." $300; 5 lbs. 12 oz.
Top Ultralight

GoLite Shangri-La 3
The "circus tent," as one tester called this floorless shelter, is a classic pyramid tent with a twist. A structured vent at the top effectively minimizes condensation, an impressive feat for pyramids. The sil-nylon tarp pitches in an instant using an extendable central pole and six stakes, though it takes some practice to achieve maximum interior space. It's palatial for two parallel people and gear; three hikers must sleep along the perimeter, around the central pole, in which case people taller than 5'9″ will need to curl up. The Shangri-La is so light it pinch-hits as an emergency group bivy; it sheltered six hikers and a dog during a sudden Rocky Mountain hailstorm. An optional no-see-um mesh "nest" ($125; 2 lbs. 4 oz.; pictured) clips inside the shelter to provide bug protection and a floor. $225; 2 lbs. 12 oz.
Bargain!

Eureka Autumn Wind 3XD

For car-camping families who occasionally head out on short-mileage overnights, the freestanding Autumn Wind 3XD is a great choice at a great price. A full 74 inches wide–14 inches broader than a queen-sized mattress–this two-door dome sleeps a family of four. The 52-inch peak height lets younger kids stand upright inside. One large vestibule holds a stack of gear, and a side door lets campers exit without tripping over packs and boots. Considering its generous dimensions, this crash pad is relatively light at less than 8 pounds. Downsides: Strong winds rocked the high-profile walls, and testers found the tent got a tad steamy when it was zipped up tight. $240; 7 lbs. 9 oz.
Bargain!

L.L. Bean Mountain Light 3 FP
Consider this your air-conditioned crash pad for hot, humid conditions. The two-door, two-vestibule dome funnels heat out and air in, thanks to an all-mesh canopy and numerous fly guy-out points that, when properly staked, keep air circulating. With 44 square feet of interior space, even big testers didn't feel cramped, and our six-footer could sit up without head-butting the ceiling. Testers either adored the built-in clotheslines, which run vertically from ceiling to floor in the corners, or were skeptical: "Do I really want my tentmate's dirty socks hanging in front of me?" asked one dubious hiker. All testers wanted a larger gear loft and mesh storage pockets in the tent's headspace. $229; 6 lbs. 8 oz.
Marmot Aeros 3P FP

Carry less, stretch out more. That's the take-home from the Aeros, a lightweight two-door dome with a 45.5-square-foot floor–plenty of room for three six-footers. Two generous vestibules store packs and boots and provide ample cooking space, making this a good tent for sitting out long stretches of wet weather. Stability, weather protection, and ventilation are all solid. With four poles–two crossing and two eyebrow poles that increase strength and elbowroom–setup isn't lightning-fast. Minor downsides: Doors lack two-way zippers, and the fly-only pitch (with optional footprint) is flimsy. $369; 5 lbs. 5 oz.
The North Face Vario 33

Two huge ceiling vents channel air through this tent, eliminating the condensation problems we typically find in similar single-wall/double-wall hybrids. It simply never steamed up, reports our tester, even during a soggy three-day trek in Colorado. Two broad mesh doors help move air and make entry easy: "Getting into this tent, I don't feel like I have to duck and march at the same time," said one 5'11" tester. The Vario pitches drum-tight, so hikers slept undisturbed by gusty winds, and zipping up the vents made this a warm refuge on chilly nights. Biggest complaints: Space is cramped–three-person occupancy is pinched–and the vestibules barely fit a trio's packs and boots. Fortunately, it's light enough to use for two. $339; 4 lbs. 12 oz.