March 2008 Tents Review: Mountaineering Tents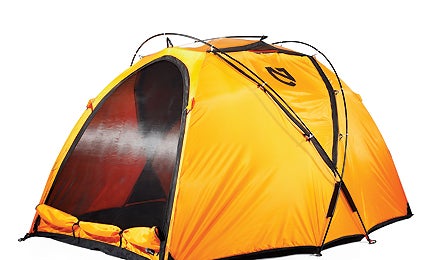 NEMO Moki, Setthughes.com
Marmot Alpinist 2P, Setthughes.com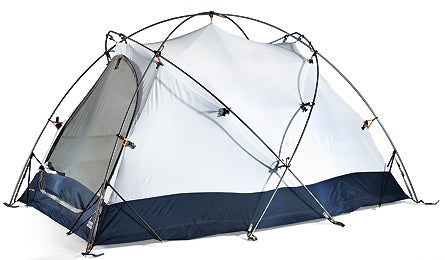 Sierra Designs Stretch Tiros 2, Setthughes.com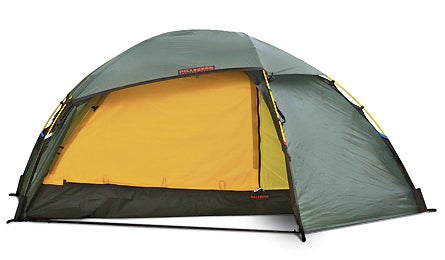 Hilleberg Allak, Setthughes.com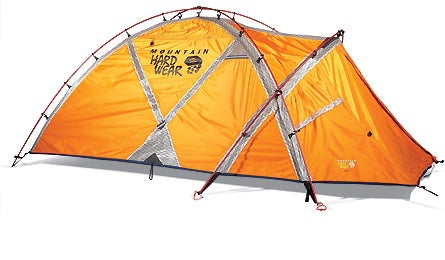 Mountain Hardwear EV2, Setthughes.com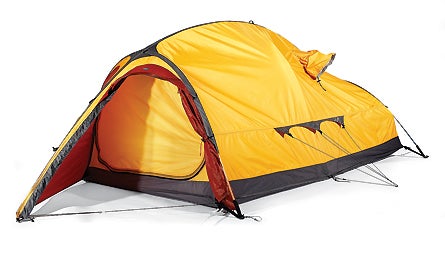 Exped Polaris, Setthughes.com
Hilleberg Allak *

Ride out nasty weather in luxe style with this light-and-roomy shelter. With its burly three-pole construction and abundant pre-attached guylines, the two-person dome easily repelled a late-September storm that dropped several inches of heavy snow at 9,100 feet in Idaho's Smoky Mountains. Condensation was next to nil thanks to four zip-open vents. With a 42-inch peak height, 91-inch-long floor plan, steep walls, and twin 10-square-foot vestibules big enough for bulky cold-weather gear, the Allak has elbowroom to spare. Bottom line: Big guys headed for big mountains and big weather will be big-time satisfied. $670;
5 lbs. 8 oz.
Top Ultralight

Marmot Alpinist 2P
True to the alpine spirit of fast-and-light, the single-wall Alpinist couldn't be quicker to pitch: Two crossing poles attach externally to double-hook clips that are both efficient and sturdy. A third short pole bends over the top, tightening a bat wing of fabric that conceals two half-moon ventilation zips in the ceiling. Best of all, Marmot dramatically increases the usability of its 30 square feet of floor space and 40-inch ceiling by making the first foot of each pole dead-vertical. Translation: "No more tent wall pressing in on my face!" exclaimed one tester after a trip to the Tetons. The vestibule has a plastic window useful for weather-checking, but the vestibule itself is on the small side. $495; 4 lbs. 14 oz.; 2-person
Mountain Hardwear EV2

With design input from 8,000-meter specialist Ed Viesturs, the single-wall EV2 is made with one goal in mind: provide fast-to-pitch, rock-solid protection in crappy conditions. Our Rocky Mountain editor, who used the tent on a 23-day solo ascent of Mount McKinley, reports it didn't so much as flap during "a rage-fest blizzard with 40-mph winds near Kahiltna Pass." Like all of the best four-season tents today, the EV2 uses external pole clips (rather than sleeves or internal poles) for fast setup. The basic X-frame design has a third, full-length pole for the integral vestibule, which is big enough to hold two stacked packs. The two-person EV2 is long and high enough to accommodate six-and-a-half footers, but it's narrow, so it can fit on ledges where wider tents won't. $625; 5 lbs. 6 oz.
Exped Polaris

This long and narrow single-wall combines some of the best features of several mountain tents. It has vestibules with bug netting at both ends (unfortunately, only one is a door) for good flow-through ventilation, ceiling tunnel vents that drawcord shut, and a low-profile aerodynamic shape. Three color-coded hoop poles–two external, one internal–form the body of the tent, and an end-to-end ridge pole creates the vestibule, which easily holds two packs. The four poles–plus a relatively complex sidewall guyline system–make the freestanding Polaris "kind of tricky to pitch, but impervious to even the nastiest tempest," said one tester who used it in Wyoming's Big Horns. With 30 square feet of living space and a 35-inch ceiling, the Polaris appears roomy, but the foot end is far too low for sitting. Still, if you want a winter bunker that's light and long (fits campers up to about 6'3″), this is a good option. $675; 5 lbs. 4 oz.; 2-person
Best Buy

Sierra Designs Stretch Tiros 2 *FP
This legendary tent was introduced in 1991, and the basic design has not changed in 17 years. For good reason. With four poles that cross at both the top and on the sides, the two-person Tiros has proven itself against gale-force beatings. The strength and features–large doors at both ends and two vestibules–make this double-wall classic ideal for expedition abuse. Jake's Corners–short two-part poles that buttress the main pole structure–increase strength in heinous high-altitude winds, but leave them behind (save weight and hassle) unless you expect extreme weather. With 38 square feet of living space and a 45-inch ceiling, two climbers have more than enough room to stretch out during extended stays–especially with extra gear stowed in the vestibules. Heavy snow loads and condensation are no problem, but there's a price for the protection: This is the heaviest tent here. $479; 8 lbs. 13 oz.
Best All-Around

NEMO Moki
Consider this your modern yurt: spacious, portable shelter for any weather, year-round. It accommodates three people (not two, like the other four-season tents here), handles the worst winter storms, and provides enough ventilation for summer use. The single-wall tent has huge doors at both ends, a spacious, zip-off vestibule (that can double as a hallway connecting to another Moki), and two enormous V-shaped windows. With a 43-square-foot floor and a 48-inch ceiling, the Moki is capacious and, with openings on four sides, hyperventilated–you'll never get condensation. Through two plastic ceiling windows and one in the vestibule door, testers could see stars and oncoming storms. Setup starts with two external poles on clips, which then makes it easy to insert the two internal poles. The pitch is so stable that four testers played cards right through a blasting storm. $695; 7 lbs. 8 oz. (without vestibule)