March 2008 Boots Review: Mid-Duty Boots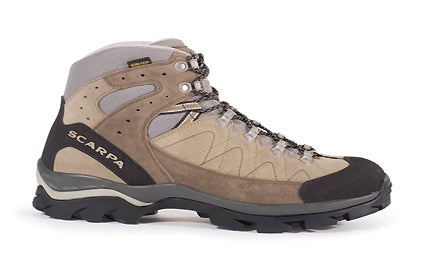 Scarpa Kailash GTX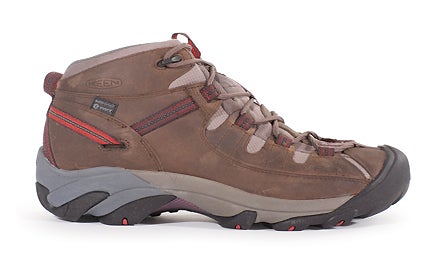 Keen Targhee II Mid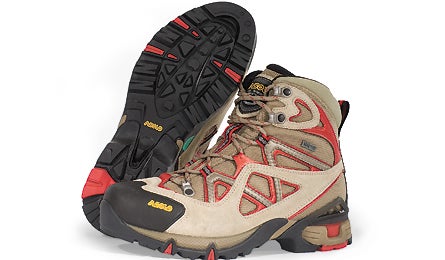 Asolo Attiva GTX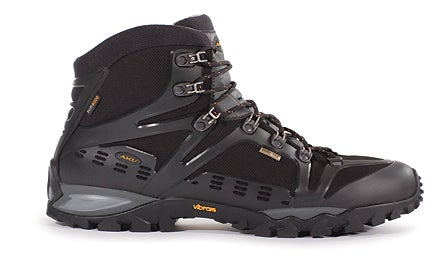 Aku Suiterra Injected GTX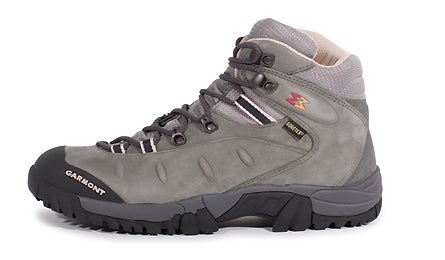 Garmont Sitka XCR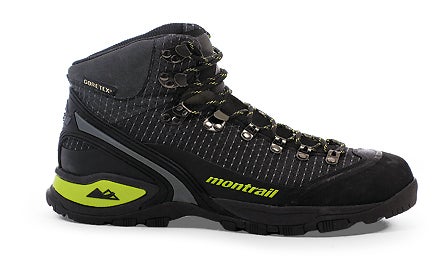 Montrail Helium GTX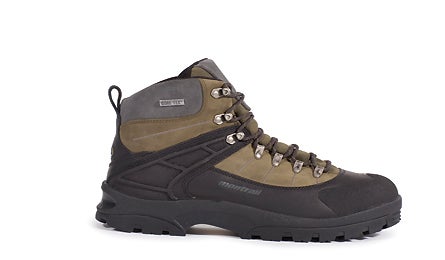 Montrail Torre GTX Wide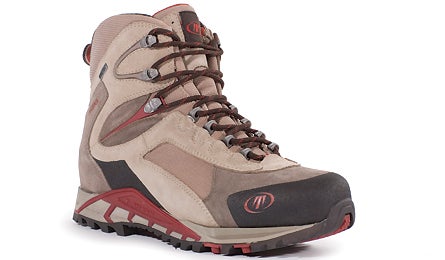 Tecnica Krypton GTX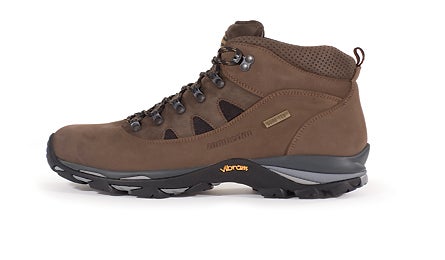 Zamberlan Tundra GT
Best All-Around

Scarpa Kailash GTX
Normally we advise against heading out on a three-day trip with a 45-pound pack in brand-new boots. But that's exactly what our tester did with these mid-cuts, and afterward he said they were instantly comfortable–with a last that seemed custom-made for his foot. Suede uppers soften up immediately, and moderate forefoot flex gives the Kailash a smooth toe-off on trails. Yet the midsole has sufficient cushion and stiffness that his feet didn't fatigue even on seven-hour days. And they breathed well for waterproof midweights: "My socks weren't even damp after hours under a hot sun with temps in the 80s," he said. Best for medium-volume feet. $169; 2 lbs. 12 oz.
Best Buy

Keen Targhee II Mid

From Denali National Park to the Cascades and Tetons, testers loved these mids for long trail miles with loads up to 35 pounds. Like other Keens we've used, the fit is comfortably close from heel through midfoot and roomy in the toe box (which testers with bunions appreciated). We like the underfoot cushion, notched collar to prevent Achilles rub, and support for high arches. Traction proved solid on all surfaces except snow, where the boots skated easily. Waterproofing is reliable in most conditions, but one tester soaked the Targhees through while post-holing in Yellowstone snow–we don't recommend subjecting the boots to that, or to serious off-trail travel. Some women may want to go up a half-size. Best for medium- to high-volume feet. $120; 2 lbs. 2 oz.
Best Women's Fit

Asolo Attiva GTX
Testers bashed these mid-cuts over 400 miles in the Colorado Rockies, carrying 45-plus pounds, and gushed about the boot's instant, all-day comfort. They noted the supportive heel cup, lacing that permitted fine-tuning fit, and good flex combined with torsional rigidity off-trail. After a 15-mile day that ended with a downpour, one tester said, "When I reached camp, my feet felt so good I didn't need to immediately take my boots off." The outsole is sticky enough for talus-hopping and teetering along knife-edge ridges, but it's a little squishy for edging. Waterproofing is solid, if not exceptionally breathable. The fabric-leather uppers barely showed wear after all that hard mileage. Best for slightly narrow, low- to medium-volume feet. (Guys, get the same all-around performance from the Flame GTX.) $190; 2 lbs. 4 oz.
Lightest
Aku Suiterra Injected GTX

After a 25-miler in the Tetons, our Northwest editor declared this high-cut a versatile performer for its low weight. The fit is luxurious, cradling the heel and supporting the arch while allowing the toes enough space to avoid jamming on long, steep descents. The boots remained comfortable throughout a 10-hour day carrying 35 pounds. With a moderately stiff midsole, excellent torsional rigidity, and a rigid exoskeleton, the Suiterras proved super stable during miles of off-trail scrambling. Yet a collar that flexes in all directions made for easy trail striding: "I practically jogged down the numerous switchbacks of the Alaska Basin Trail," he said. Most impressively, they weigh in a half-pound or more lighter than comparable models. Waterproofing proved flawless, but breathability was just OK; they felt a little warm on hot days. Best for medium-volume feet. $210; 2 lbs. 6 oz.
Garmont Sitka XCR

These boots perform well above their weight class. "I wore them on a three-day scramble through Utah's Waterpocket Fold, and they felt featherweight and bouncy underfoot, yet they had the support and armor to bash around on steep, fractured rocks," our Rocky Mountain editor said. Ventilation is good for a waterproof leather model, thanks to a fabric tongue that seems to pump in air with every stride. The deeply lugged outsole with its beveled edge feels plenty stable. Traction is decent and it excels at striding. Bottom line: A great value for moderate-load backpacking in rough terrain and soggy weather. Best for wider, high-volume feet. $160; 2 lbs. 8 oz.
Montrail Helium GTX

Backpacking a section of Mt. Rainier's Wonderland Trail that was severely damaged by record flooding, our Northwest editor encountered steep, crumbling gullies, a dense bushwhack, and riverbeds strewn with truck-size boulders and enormous trees. Fortunately, this boot had the support to get him through with a 35-pound pack on board, and it delivered solid traction on a variety of slick and unstable surfaces. "On a stretch of trail that the backcountry rangers tried to discourage us from hiking, it was reassuring to be in a boot that could handle anything," he said. Even with heavier loads, the Helium felt light and nimble enough for fast striding. The tough synthetic uppers promise several seasons of hard use. Best for medium- to high-volume feet. $220; 3 lbs. 1 oz.
Best Fit for Wide Feet

Montrail Torre GTX Wide
This classic leather mid-cut now comes in a wide version. Our resident paddle-footed editor reports: "Fit was out-of-the-box comfortable even with big loads, and the Torre gets high marks for stability and the tongue's clean, debris-repelling wrap." With a soft heel strike, the Torre went easy on his feet on the talus-covered route over Colorado's Snowmass Mountain and Capitol Peak, yet the stiff midsole protected his soles and provided support for heavy loads. "It'll handle any load on trail and maybe 50 pounds off-trail," he said. The Gore-Tex liner kept his feet dry through all-day rain. The sole's deep, angled lugs bite into the slickest surfaces and shed mud readily. Weakness: mediocre edging. Best for wide, medium-volume feet. $160; 2 lbs. 12 oz.
Tecnica Krypton GTX

"These midweights are for hikers who want one boot to handle hardcore dayhikes, moderate-load backpacking trips, and occasional off-trail routes," said our tester after trips in Colorado's Front Range. The padded ankle collar provided excellent support for his weak joints on rocky trails and scrambles, yet the Krypton didn't feel clunky on fast-paced trail outings. He reported good stability on uneven terrain, even with a 35-pound pack. Patches of synthetic fabric on the upper enhance the breathability of the Gore-Tex-lined boots. The Vibram sole grips well on most surfaces, and a rubber toe cap protects the upper's suede leather. Best for medium-volume feet. The Ozone GTX is the women's version. $165; 2 lbs. 8 oz.
Bargain!

Zamberlan Tundra GT

Here's a rare find: An all-leather mid-cut with great fit and classic construction that weighs less than 3 pounds and costs well under $200. "It's much lighter and feels faster than a traditional leather boot," our tester said after a 24-mile hike in Idaho's Sawtooth Wilderness. Credit a midsole with more flex than in traditional leather midweights, and an ankle height that's slightly lower than average. Waterproofing is impeccable, and traction reliable. Our tester reported a sure grip even on greasy logs crossing the Queens River. Best for medium-volume feet. $180; 2 lbs. 13 oz.