Iceland: Tested
After a season of backcountry skiing, hiking, and climbing everywhere from the Rockies to the Andes, we took the year's best winter gear for a final shakedown in Iceland's remote Glacier Fjords. What we found: awesome ice-carved terrain and the sweetest boat-in camping and skiing on earth.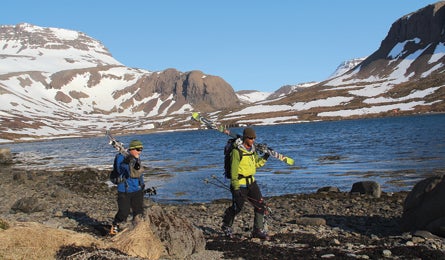 Backpacker editors walk from snow to boat in Iceland (Jon Dorn)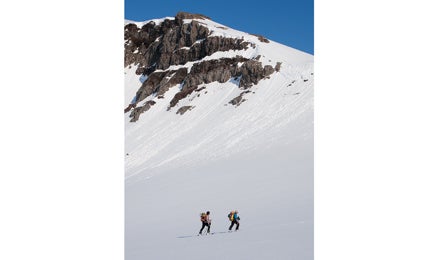 Backpacker editors in Iceland (Steve Howe)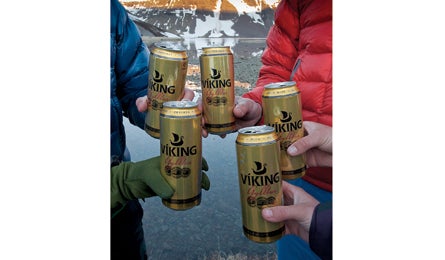 Celebrating like locals in Iceland (Steve Howe)
What, exactly, does the term "adventure travel" mean these days? No ice in your post-safari gin and tonic? Let us propose a return-to-the-roots clarification: It ain't adventure travel unless—at some point in your journey—you find yourself engaged in a new activity in a remote and untrammeled place where the only ice in your cocktail is a chunk you hacked out of a mountain glacier.
We recently visited just such a place in Iceland's Westfjords, where we skied down 2,000 feet of hero spring corn but had to pull up sharply at the end of the snowfield to avoid launching into the frigid sea, then picked our way carefully over seaweed-slick rocks to a waiting Zodiac, which was moored next to a bed of mussels we couldn't help but harvest. True, someone had packed in garlic and spices for just such an occasion, but that didn't lessen the adventure one bit. We still had to carry our skis across a fresh-from-the-snowfield, knee-deep river to reach camp, which was located mere miles from the spot where a polar bear had swum ashore just days before our arrival (it had crossed from Greenland on pack ice).
Our group—nine BACKPACKER and CLIMBING testers—had traveled to the remote Jökulfirðir (Glacier Fjords), where five postcard-perfect fjords cluster around one large bay. The area is part of Hornstrandir Nature Reserve, where the only human traffic—and there's precious little of it—travels on foot or ski. Why? The only access is by boat. We started the journey near the small town of Ísafjörður (see Plan It on page 22), and a few hours later, established a basecamp at the head of Lónafjörður, on a cushy tundra flat tucked between high tide and snow line. It was early May, which in Iceland means about 20 hours of sunlight a day, so after dinner we skinned up the valley to have a look around.
The mellow grade led to a skier's paradise of choose-your-angle slopes. From beginner-perfect rollers to fall-you-die chutes dropping straight to the sea, we had a week's worth of terrain right out the backdoor. Our guide, Rúnar Karlsson, who was born and raised in the Westfjords, had mapped numerous routes connecting the preserve's ridges, bowls, and valleys. In the subsequent days, we followed Karlsson in whiteout conditions that made for dizzying descents, did laps on a broad slope just a 20-minute skin from camp (perfect for swapping test skis), and watched tundra swans, eider ducks, and seals glide over the shallows of Lónafjörður (Lagoon Fjord).
On our final full day, Karlsson led a Zodiac-assisted, point-to-point traverse to Hrafnfjörður (Raven Fjord). Under bluebird skies so warm we baked in baselayers, we ascended along a river swollen with spring runoff. The climb-drop-climb route led to a high point of 2,362 feet, on a broad summit where we could see north toward the sheer cliffs of Horn and southward to the vast Drangajökull, a glacier so big and white it looked like a lenticular cloud sitting on the mountains. Far below, the waiting boat was just a speck on the glittering water. And the real adventure was still to come.
PLAN IT

GETTING THERE Fly to Reykjavík, and get a domestic flight to Ísafjörður. From there, you'll connect with a boat for the ride across the bay to a camp in Glacier Fjords (alternatively, board a 12-bunk sailboat that serves as your floating basecamp, see below). The flight is less than an hour and the boat ride less than two, so with a morning departure from Reykjavík you can be skiing the same day. Icelandair offers direct flights from New York, Boston, Washington D.C., and Seattle, as well as seasonal non-stops from other cities. For accommodations and planning, see visiticeland.org. For the Westfjords region, go to westfjords.is.
SEASON April and May are the best months for skiing. Earlier you're likely to have more snow, later, warmer weather. Summer is best for hiking and camping in Hornstrandir Nature Reserve. The sprawling wilderness has miles of trails, and you can arrange a boat drop through Borea Adventures (below).
WEATHER Pack for anything. The maritime climate is generally more moderate than Iceland's fierce reputation suggests—we experienced highs in the 30s and 40s, and skied in just a baselayer and shell most of the time—but you're far north, and severe storms can materialize at any time.
OUTFITTER Borea Adventures offers two kinds of ski tours. You can basecamp on shore, like we did, and ski right from camp. This option is great for groups with skiers who want to have more flexibility (it's easy to split up), and the ability to hike without arranging a ride to shore. With the sailboat option, you can more easily move around among the fjords, according to snow conditions and skier interest and ability. The sailboat also carries a sea kayak, for paddling excursions between ski tours. Both trips are six days, and prices start at EUR 1190 (ski camp) and EUR 1430 (sailboat) per person. Contact: boreaadventures.com