How to Pitch a Tent in Foul Weather
There's nothing cozier than a warm, dry tent on a cold night. But strong winds and rain can turn setup into a sopping, frustrating fiasco.
At-home prep

Pre-rig the guylines on each side of the tent before leaving home so they can be quickly attached to a single stake.

1) Tie one end of a 10-foot nylon cord to an outer guy loop, then thread it through a small O-ring. Making sure to leave slack in the cord, pull it through the middle guy loop, thread it through the O-ring again, then tie to the last guy loop. If there are only two loops, tie each separately to the O-ring.
2) Tie one end of a 15-foot cord to the O-ring. When pitching the tent, loop the cord around a stake and secure it with an adjustable knot, such as a trucker's hitch–which is easy to tie and untie even while wearing gloves.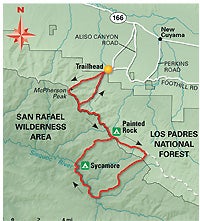 Setup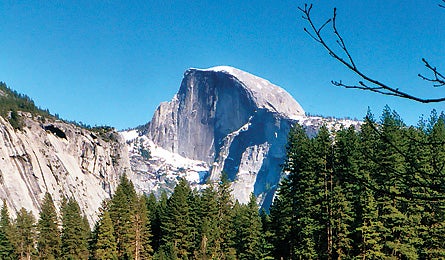 Pick a sheltered site away from any depressions where water might pool.
If your tent has pole sleeves, shield it from rain by throwing the fly over the tent before sliding poles into place. (This is much more difficult with tents that clip to poles.)
Orient the tent so its narrow end takes the brunt of the wind, then immediately stake down corners to keep it from blowing away.
Keep guylines taut to increase waterproofing and reduce condensation.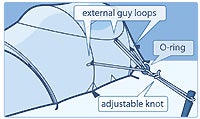 Takedown
Detach fly but leave the tent covered; remove and disassemble poles, then gently pull the tent out from under the fly and stow.
Shake excess water off the fly, then store it in a garbage bag or separate stuff sack to prevent it from soaking the tent canopy.