Go Ultraluxe: Gear to Get You There
Enjoy decadent comfort—on the trail and in camp.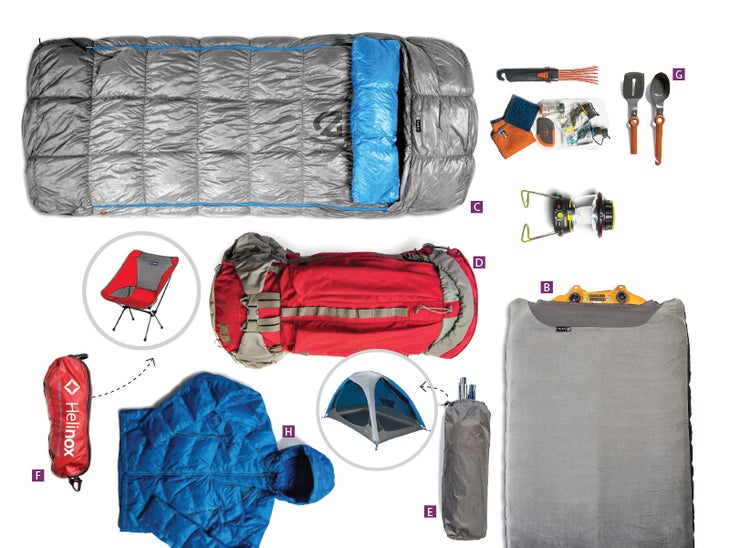 A. Goal Zero Lighthouse 250
Illuminate your campsite and recharge your gadgets all at the same time.
$80; 1 lb. 4 oz.; goalzero.com
B. NEMO Cosmo Insulated Pad with Pillowtop
Pack the two pieces together for a super-plush system, or streamline your load by ditching the Pillowtop. Either way, you'll sleep well atop the insulated pad that inflates via an integrated foot pump.
Pad: $160; 2 lbs. 4 oz. Pillowtop: $90; 1 lb. 8 oz.; nemoequipment.com
C. NEMO Strato Loft 25
The Strato does it right with a rectangular shape, a snuggly blanket flap around the neck, and double zippers that let you to sit up without bringing the pad with you.
$370; 3 lbs. 4 oz.; nemoequipment.com
D. Mystery Ranch Terraplane
This 85-liter behemoth can manage loads up to 75 pounds with a robust, super-padded suspension system and burly 500-denier Cordura.
$485; 7 lbs. 7 oz.; mysteryranch.com
E. Mountain Hardwear Optic 3.5
Two huge adjacent mesh doors offer up grandiose views without sacrificing protection from the elements. You also get castle-like interior space (for three).
$285; 6 lbs. 11 oz.; mountainhardwear.com 
F. Helinox Chair One
It packs down to the size of a 2-liter bottle.
$100; 1 lb. 14 oz.; bigagnes.com
G. GSI Outdoors Gourmet Kitchen Set 11
This kit comes complete with cutting board, utensils, and tiny containers for carrying your gourmet ingredients.
$40; 1 lb. 1 oz.; gsioutdoors.com
H. Outdoor Research Floodlight
Thanks to 800-fill down and seam-taped Pertex Shield+ shell fabric, this toaster is as warm as it is weatherproof.
$395; 1 lb. 3 oz.; outdoorresearch.com