Gear School: Raingear
Understand waterproofing, and you'll pick the right shell and keep it working like new.

BUY
Technology. Almost all waterproof/breathable raingear falls into one of two categories: laminated membranes or coated fabrics. Membranes (such as Gore-Tex, eVent, Sympatex, Marmot's Membrain, Mountain Hardwear's Conduit, and Patagonia's H2No) are more durably waterproof (unlike coatings, they can't wear off) and generally more breathable (membranes are thinner than coatings, so sweat vapor has less mass to push through). But they're pricier: Shells run from $150 up to $500. Coatings (such as The North Face's HyVent, Marmot's Precip, and Columbia's OmniTech) are a great value–these shells can cost less than $100–and are very lightweight and packable. But they're generally less breathable and less durably waterproof over the long term.
Fabric. Traditional nylon hardshells are the best choice when you need dependable waterproofing, thanks to tightly woven face fabrics that dry fast. Waterproof softshells, often made with a stretchy polyester/nylon/Lycra blend and a brushed liner, are warmer and less stiff, but they're usually heavier and slower to dry.
Seams.Make sure they're taped (to prevent rain from seeping in through needle holes) or welded; otherwise, the shell isn't truly waterproof. Taped seams (A) are industry standard; welded (glued and sealed with heat) seams (B) can shave an ounce or two off a jacket's total weight, but also boost the price. Some softshells use waterproof fabric but have untaped seams; they work well for day trips and light rain, but not sustained wet conditions.
USE
For detailed tips on staying warm and dry, read "Stay Comfortable in Any Weather."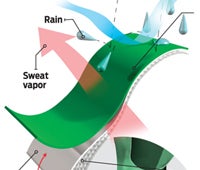 FIX
Not beading water? Iron it on low heat to reactivate and spread the remaining DWR. No luck? Re-treat the shell with a spray-on or wash-in treatment, like Granger's One Step Wash and Waterproofer ($15, grangers.co.uk) or ReviveX Spray-On Repellent ($8, mcnett.com).
Jacket looking grimy? Wash it! How often depends on use: once every two to three years for occasional wear, up to a couple of times per season for daily wear. Close zippers and Velcro and wash on the gentle cycle with warm water and a shell-specific cleaner, like Nikwax Tech Wash ($9, nikwax.com). Run an extra rinse cycle to remove residual soap, then tumble dry on low heat.
Balky zipper? Gently pass the slider back and forth over the trouble spot; coil zips often fix themselves. If that doesn't work, reshape the damaged coils by inserting the straight end of a safety pin under each coil and pulling the coil upwards and back into place. Jacket won't stay zipped? It's probably a worn-out slider. Open the zipper and carefully pinch both sides of the slider a bit tighter with a pair of pliers.
DWR: the first line of defense
No shell hits stores without a DWR treatment. This outer coating (usually fluorocarbon) fills in the face fabric's pores, which increases surface tension and makes water drops stay round and roll off instead of soaking in. But no DWR is permanent: A coating's durability is rated with a standardized Spray Test, which simulates rain to determine waterproofness over time. A typical rating is 80/20, meaning 80 percent of the fabric still beads water after 20 wash cycles.