Gear Review: Zerogoo Fuel Injector System
A gel/water system for those hard efforts when stopping and refueling isn't an option.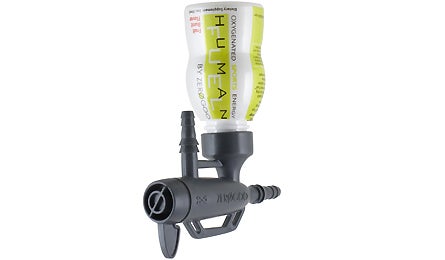 Zerogoo Fuel Injector System (Courtesy Photo)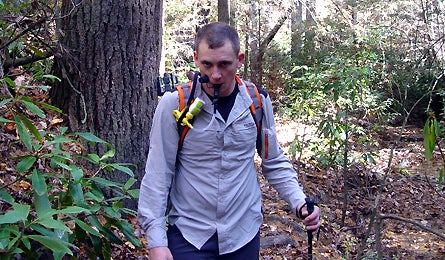 The author on the trail.
During hard hikes, mountain bike races, or long trail runs, water isn't the only thing you need. You want calories, carbs, and electrolytes, too, and stopping to suck down a gel packet or mix an energy drink takes time (not good in a race). Zerogoo Fuel Injector System is a way for hikers with hydration packs to mix energy gels, fuel gels, and even powder mixes, without having to gunk up their hydration bladder.
The injector regulates the flow by a valve, controlling how much goop/fuel/taste you sip, or if you prefer a swig of plain water, just turn the valve off. On a difficult eight-mile dayhike in Little Dry Run Wilderness, VA, I was able to get a constant supply of complex carbohydrates, electrolytes, and amino acids, so I never bonked or suffered from my standard 10 a.m. craving for a snack.
You can use either Zerogoo's lemon-lime flavored Human Fuel ($27.50 for 12 2-ounce bottles), which tastes smooth and flavorful for an energy beverage, or add your favorite powder or gel to the included accessory bottle. Either way, you'll have to splice the Fuel injector into your hydration system's hose. The injector, which rests on your shoulder, seemed bulky at first, but in use it never presented a problem and attached securely to all the packs I tried it with (see the second photo above).
I tried three different energy gels inside the bottle. The best results came when I put the gel in the bottles, and shook vigorously before putting them on the injector. That way they delivered an even amount of taste and fuel rather than little blobs of gel through the tube. Historically, I can barely stomach overly-sweet energy gels, but I like the benefit they provide, so I really liked this setup, which delivers the gels in well-balanced, even bursts.
You'll need to flush the system free of sugars after every use, but it's easy and takes just 2 minutes (instructions included). Bottom line: Though it's not practical for multiday backpacking trips, it's a neat accessory for high-powered dayhikes, adventure races, or bike rides.