Gear Review: Zeal Optics Transcend SPPX Goggles
The GPS-enabled cyborg goggles you've been dreaming about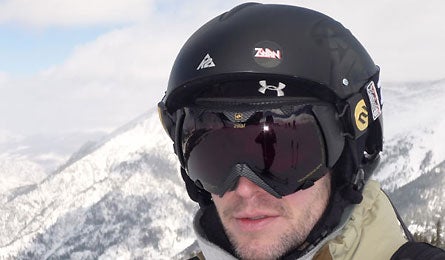 The author at Copper Mountain, Colorado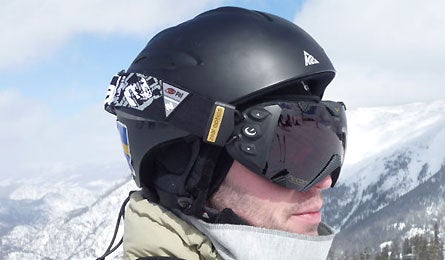 zeal optics 445×260
When I heard that Zeal Optic's Transcend goggles have a GPS display in the lens which reads out your speed and altitude, my initial reaction was to visualize all the accidents they were sure to cause. Although listening to music while riding down the slopes is fun, there's something inherently dangerous about blasting Lady GaGa at over 30 miles per hour on snow and ice, surrounded by trees and crowds of similarly oblivious people. I thought the last thing we needed on the slopes were people yelling to each other, "Hey, I just hit 45 mph! Let me crank the tunes and see if I can hit 50!"
After a week using the Transcend goggles on Colorado's Copper Mountain, I can now report that while the potential for distraction is certainly present, it's not the interruption I had feared. For starters, the GPS display isn't directly in your line of sight. There's a small but easily readable color LCD screen in the lower right corner next to your nose so it doesn't interfere with your vision. And after the first few runs where I couldn't help but constantly check my speed, the desire to stare at the speedometer waned. It's just like when you're driving to work and have the same information present, but yet you stare at the speedometer or gas gauge. Just a brief glance downwards is all you need.
Even better than having instantaneous knowledge of your speed is the amount of data that's tracked and stored in the software developed by Recon Instruments. There are three large mitten-friendly buttons on the side of the goggles which allow you to scroll through menus to check your stats while on the lift or during lunch. Your maximum and average speed, max elevation, distance covered, number of runs, time per run, as well as current and max./min. temperature data are all recorded.
I've always wondered how fast I was going and how much vertical I was logging, and I'm happy to share my stats from Presidents' Day: Max speed of 43 mph; 14,120 vertical feet; 29.6 miles covered; max elevation of 12,280 feet; temperatures ranging from 13°F at the summit in the morning to 29°F degrees in the sun-drenched double-black-diamond Upper Enchanted Forest.
The spherical lenses appear to be optically perfect with no distortion or waviness anywhere. I tested the top-of-the-line lens that is both polarized (cuts glare on ice) and photochromic (changes from light to dark), and I loved it. During morning runs with an overcast sky the lens was a faintly tinted brown, and when the sun came out in the afternoon the lens changed to a dark rose color. It takes a minute or two for the tint to adjust, so don't expect to cross a shadow and instantly have a clear lens, but I love photochromic lenses for their adaptability. The goggles never fogged up, even during tough mogul descents that left my quads burning and lungs gasping in the thin air.
The frame is a bit bulky and larger than most. If you have a small face they might dwarf you a bit and cover more of your nose than you'd expect. However, I found that once I got them on with my helmet they didn't look as big or feel unwieldy. The elastic strap has three silicon strips running along the inside which keeps the goggles firmly in place on your helmet no matter how bumpy the ride. The rechargeable lithium-ion battery lasted a full day, although the battery was on empty by the end of the day. It takes about two hours to recharge from a wall adaptor or from a computer's USB port.
Once connected to your computer you can download and share your tracks and stats with others via Recon Instruments HQ site. Your tracks are laid out on Google Earth, and you can see what others have been shredding. It's even possible to watch the tracks in motion. You see a dot moving down the trailmap with the instantaneous speed, location, altitude, and temperature all displayed. Browsing through some of the European resorts I found one guy in Austria had posted a top speed of 60 mph!
The main gripes I had with the Transcend goggles is that the peripheral field of view is not quite as wide as other goggles I've used, and also that the display flashes a large yellow indicator when you reach a new record for speed or altitude. I didn't mind being notified on the lift that I had just topped out at 12,280' above sea level, but I did find it annoying to be bombing down a run and have a light pop up to congratulate me on reaching a new top speed. Fortunately you can turn the display off while keeping the data recording, so if the display is too distracting you can only check it out while on the chairlift or at the end of the day.
If you are a statistic-hungry skier or boarder you will love the Transcend goggles. A fantastic lens, easy to access stats, and a very cool social media interface make the goggles a lot of fun to use. Of course the most obvious downside is the hefty price tag. But if you're serious about crunching data from your ski missions (and a lot of people are, the SPPX model with both lenses is sold out by the manufacturer), you'll be hard-pressed to find a better tool than the Transcend goggles. Just keep your eyes on the slopes while in motion; there isn't a "Warning! Tree Ahead!" feature just yet.