Gear Review: Women's Active Bottoms
For those times on the trail when serious hiking pants are overkill.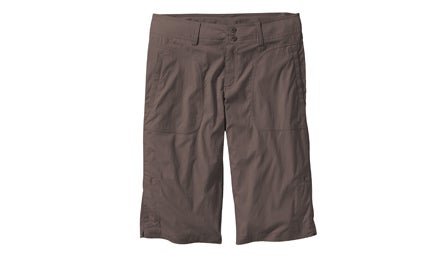 Patgonia Solimar Shorts (Courtesy Photo)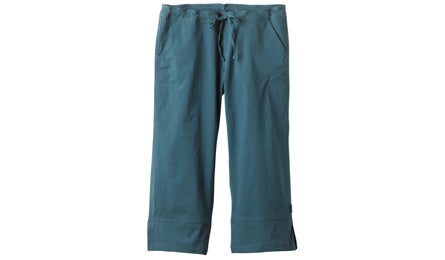 Prana Bliss Carpri (Courtesy Photo)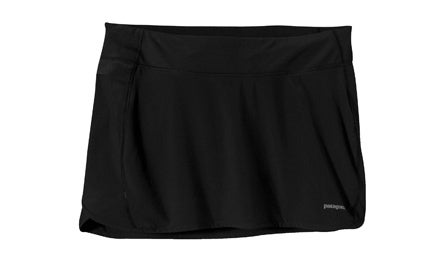 Patgonia Multi-use Skirt (Courtesy Photo)
This just in: There's a time and a place for yoga pants. Sure, they're super comfortable and great for downward dogging, but release them into the wild and they are about as resilient as a plastic poncho during a three-day deluge. Problem is, not every hiking outing calls for your uber-durable, Gore-Tex-enforced trekking pants either. Say you're hiking with a toddler (or a grandmother), going on an impromptu vacation hike, or commuting from pavement to trail to office – situations that require some performance and protection but not necessarily a force shield. In these cases consider one of these other bottom options, specifically made for ladies.
[travel favorite]

Patgonia Solimar Shorts

If the testament to a great pair of shorts is that they can be scrunched up into a tiny, wrinkly ball and then, WITHOUT the aid of an iron or any physical effort by the wearer, be wrinkle free within 10 minutes of putting them on, than the Patagonia Solimar Shorts are a great pair of shorts (and made for travel). Our tester wore them off & on for days in the blazing Salt Lake City & Boulder summer heat and every time they emerged from their ball in the corner wrinkle and odor free thanks to the lightweight stretch nylon fabric (which also happens to be coated with DWR). Small slits in the hems and the option to roll the mid-knee length up above the knee (and secure with one button) make them flexible enough for hiking & casual biking (although the slippery fabric slides a bit on the saddle). Bummer: Although there are three pockets (all on the front; 2 jeans style and one shallow vertical pocket on the right leg), none of them can be securely closed. The fit is slim & straight, but not skinny per se. $65; 4.2 oz. (6); sizes 2-14; colors: earthenware (mint green) and black; patagonia.com
Read on for a comfy camp skirt.
[camp skirt]

Horny Toad Chilena Skirt

"This skirt is a really fun girly bottom that's more practical that it seems at first," said one tester of this Horny Toad bottom made from fifty percent Tencel, a biodegradable fabric made from the cellulose of wood pulp (as well as cotton and polyester). "Its generous length (just below the knee) made it great for hiking without flashing the world and I felt modest even when sitting on the ground in various un-lady-like positions and scrambling around on rocks." A thick, flat elastic waistband settles well under a pack's hipbelt and the loose, slightly a-line cut allows for lots of air circulation on hot days. Our tester wore it for a manicure in the morning and on a backpacking trip through the Indian Peaks in the afternoon. When the temperature dropped, she just pulled on a pair of long underwear bottoms underneath. Bummer: The fact that its made of 32% cotton means it can get a bit hot and sticky. But it was surprisingly stain resistant: "It didn't even need a prewash to get out the rehydrated cherry filling from the next morning's breakfast burritos on it." A smaller pocket stitched inside is big enough for keys and a credit card, but won't hide an iPhone. $60; 5.7 oz. (M); Sizes XS-XL; color: black, cypress (green), chocolate (brown); hornytoad.com
Read on for a rough-and-tumble capri.
[versatile capris]

Prana Bliss Carpri

If there's an "office pant" here at BACKPACKER HQ, it's these Prana capris. One tester has lived in hers every summer for the last three years and they show no signs of abuse, despite hiking, camping, climbing, scrambling, yoga-ing, and biking in them. The breathable nylon bottoms have a relaxed fit (think performance scrubs) and our tester found them "never too constricting for big movements or high steps when climbing." A 4 ½" slit in the cuffs further aids in movement and the simple drawstring waist (again, think performance scrubs) sits well under a hipbelt. Big front pockets comfortably hold a point-and-shoot camera, but the pockets can't be securely closed. $50; 6.5 oz. (S); sizes XS-XL; colors: dark blue and black; prana.com
Read on for a performance skirt.
[performance skirt]

Patgonia Multi-use Skirt

There are people who work out in skirts. And people who avoid people who work out in skirts. Our testers belonged to the latter camp (with an exception made for playing tennis) … and had to admit post-test that their hatred may have been unjustified. "I have to say, it might be better then pants," said one tester who was impressed by this skirt's flattering cut, the breezy, mesh boy shorts sewed inside, and the speedy wicking capabilities, whether running or getting a lake shower at the dog park. Patagonia claims that the liner shorts are "compression shorts", but neither tester found them super tight except around the thigh where a tacky elastic binding holds them in place (one tester did experience some mild thigh creepage). The skirt fabric is made of 75-denier 91% all-recycled polyester with a bit of spandex for great movement. And although they look super short right out of the bag, the flat, thicker waistband and slight a-line shape makes for a flattering 14" of fabric. While skirts on the trail always raises a few eyebrows (check out our hiking dress review from last year), just tell the naysayers that trail runner Krissy Moehl won the 103-mile Ultra-Trail du Mont-Blanc race (and set the course record) in this very skirt. $55; 4.9 oz. (M); sizes XS-XL; black; patagonia.com
Return to the perfect travel shorts.