Gear Review: The StickPic
Turn your trekking pole into a tripod with this inexpensive, lightweight accessory.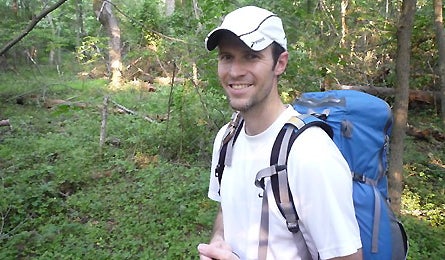 The writer's self portrait taken with The StickPic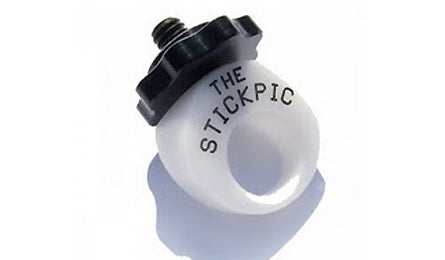 The SticPic (Courtesy Photo)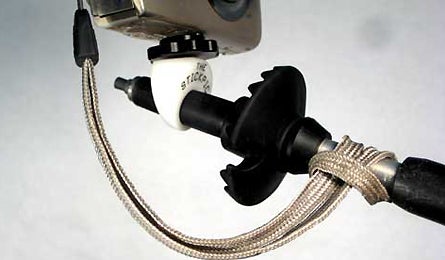 The SticPic in action. (Courtesy Photo)
When you're on the trail and want to be in a photo, you generally have two options. Either have somebody take it for you, or take it at arm's length and deal with the inevitable double chin, up-the-nose angle you get. This little device transforms your trekking pole into an extendable arm, allowing you to take perfectly framed self-portraits without your arm or nostrils taking up half the frame.
On dayhikes through Lawrence Park in northern Virginia, I found the StickPic very easy to use. It took just a few seconds to screw the gadget into the tripod hole of my camera and then slide it onto the tip of my Black Diamond pole. With just a few practice shots (to get the hang of where to best position the camera) I was able to easily take self-portraits that looked like they were taken by a hiking partner. I also liked the StickPic for filming video segments like those seen in Survivor Man on the Discovery Channel. The video footage gives the impression of having a dedicated camera man along with you.
Check out the video below to see the StickPic in action.
The StickPic weighs in at a third of an ounce, and is the size of a thick nickel so it easily fits in the spare battery compartment of your camera case. If you take self portraits frequently or want to narrate multiple segments of your hike, you can leave the StickPic screwed into your camera, but it's so easy to put on and off I found it best to attach each time. The device comes in three different varieties to fit almost every brand of trekking poles, and if your brand isn't listed they'll send you a gauge to determine which size to order. Although it's possible to use with a heavier dSLR or video camera, I found that the extra weight caused the cameras to occaisonally rotate on the pole, so the StickPic works best with lightweight point-and-shoot camera.
This little gadget is a fantastic accessory to put in your camera case, an absolute no-brainer. If you carry a digital camera and trekking poles, you need one of these, whether you're a solo hiker, want to be able to take a picture of your entire group without setting up a tripod, or want to self-shoot great video footage.