Gear Review: Spenco PolySorb Total Support Performance Sandal
The official report from our resident sandal junkie: "My feet are ecstatic!"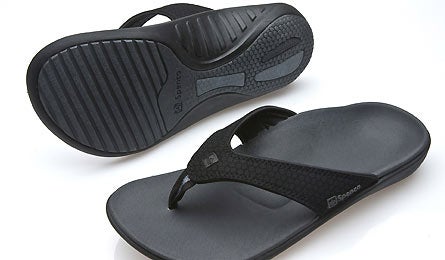 Spenco Sandals, Men's Version (Courtesy Photo)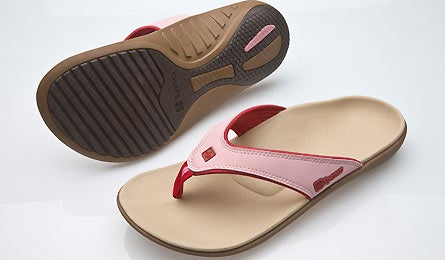 Spenco Sandals, Women's Version (Courtesy Photo)
Leave it to a company that specializes in making insoles to whip up the most comfortable sandals that I've ever had the pleasure of slipping into. I consider myself a bit of a sandal junkie, so I don't make that statement lightly. Some people get the winter blues from a Vitamin D deficiency; I get them from a sandal deficiency. So when word came down the line that I would be testing the new Spencos, I could already feel the melancholy of winter beginning to lift.
My first thought was that with a name like that, these better be amazing. I wasn't disappointed. Roughly equivalent to taking an orthopedic insole, covering the bottom in rubber and putting a strap on the top, these sandals have a level of anatomical support that I've never experienced before. Up until now, my love for sandals has been kept in check by their lack of arch support, and the subsequent misaligning of every joint in my feet.
But thanks to the PolySorb stability cradle's strong arch support and a deep heel cup which promote healthy foot alignment, I now no longer need to occasionally wear shoes just to get a dose of real arch support. The EVA footbed is designed to mold to your feet as you wear them; meaning that these sandals start out comfy, and just keep getting better. The neoprene-lined leather thong strap is very soft on the skin, and allowed me to binge my way back into sandal season without getting my perennial flip-flop blister.
Put that all together with a sole that is still holding strong after over a month of daily wear, and an overall weight (14 oz., men's size 13) that makes them totally packable as a summer camp shoe, and I've found the sandals of my dreams. (As I write this from the Love Muffin Cafe in beautiful Moab, UT, I realize that if I lived here I could now wear sandals forever.)
They may not win any beauty contests (think sporty/utilitarian design), but then again, neither will my feet. Our Gear Editor, who has been testing the women's version, and agrees on the sweet comfort level, has one cosmetic beef: The pink women's version was pretty right out of the box, but the creamy, beige-colored footbed quickly gets dirty-looking, especially after kicking around camp for a few days. "I wish the footbed were a darker color," she laments.