Gear Review: Sherpa Thamel Hard Shell Jacket
Light on the wallet and on the back...and perfect for hunting salamanders.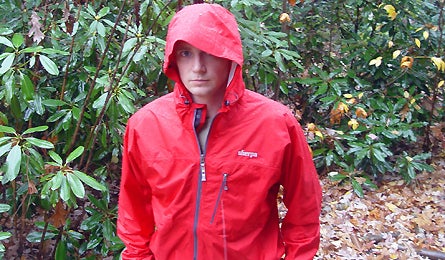 The author after an unsuccessful salamander hunt.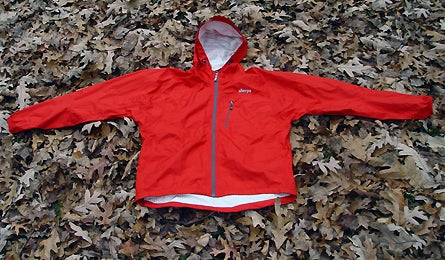 online gear review sherpa thamel2 445×260
Money tight and getting drenched? The $75 Sherpa Thamel hard shell will keep you dry, pack tight and light, and leave you with money left over to pack something other than ramen. I was impressed with the breathability of the waterproof, 2.5-layer ripstop nylon during a three-day hike in Mt. Rogers recreation area, VA. It drizzled on and off for the first two days in 40° temps, and the jacket was comparable to more expensive jackets in regards to waterproofness and breathability.
If you are an extra steamy individual, you may miss the lack of side zips but the cut is roomy allowing for easy layering. The real test for this jacket came not on the trail, but when a thunderstorm alert came on TV and the skies opened up. I grabbed this shell and ran outside to play fetch with dog. The Thamel blocked water using DWR while my feet and bottom half got soaked to the socks. Poor Fido was a soggy mess.
The quality of construction of this Nepal-made shell is impressive, with good seam taping and neat, clean reinforced stitching along the three pockets. While this simple shell isn't decked out with intricate features it has almost everything you'd need: elastic cuffs, a cinch chord on the bottom and collar, Velcro to hold the rolled hood (which is helmet compatible and has an effective storm flap), two front mesh pockets which aid the jacket's breathability, and a chest pocket with a headphone hole.
Many lightweight packable (packs to an approximate 3 inch by 5 inch ball ) shells can get torn on small bushes, but this 10 oz. jacket was tough enough to withstand the thick, wet rhododendron hell I encountered during a Salamander study in WV. (Picture climbing around, under, and through muddy dense brush, even on hands and elbows, to find the little critters…Fun!)
All this and the $75 MSRP means even poor college students can afford to go hiking on a rainy day.
Bottom Line: The Thamel does what it is supposed to and keeps you dry, while not breaking the bank or the back at 10 oz. It breathes well the makeup of the 2.5 layer nylon and DWR treatment on the fabric, but if you are a sweater, find a shell with side zips.