Gear Review: Selk'bag 4G Lite
A sleeping bag with arms and legs – because onesies shouldn't just be for '80s-themed slumber parties.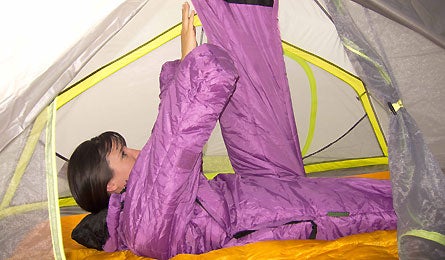 The Selk Model stretching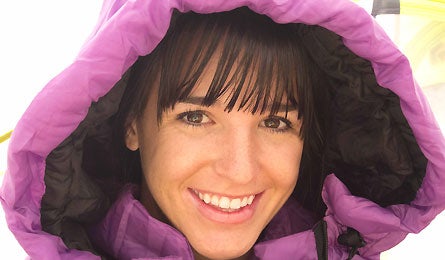 The Selk Model sporting the hood
Trust me: The Selk'bag 4G Lite is both as fun and functional as it looks. The combination of novelty and actual functionality is impressive, and as a result, this is the first piece of gear I've tested that folks have literally fought over.
Simply put, this is a sleeping bag with arms and legs. You unzip the chest flap, step into the legs, pull on the arms, and seal yourself into what one of our testers described as "the most comfortable clothing… I mean sleeping bag, or whatever this is… I've ever worn in camp." The multi-use functionality is what really makes a difference between the Selk'bag and a standard mummy. You can put this on as soon as you get to camp, and thanks to reinforced nylon soles on the bottom of the feet, you can wander about in warmth and comfort.
Should you want to start cooking dinner (or anything else that requires fine motor skills), you can pop your hands out of Velcro-sealed holes at the ends of each of the arms. Once you're done, you can head into your tent and crash in a sleeping bag that's already warmed up. A warning to those who are considering this for their significant other: If you're the last to get in the tent, you may find that the additional flexibility allows them to occupy 50% more tent space than usual.
Testers reported that sleeping comfortably took a bit of getting used to at first, since your arms and legs aren't actually touching your body, but once situated, they slept soundly. The polyester fill kept our tester plenty warm on nights in the low fifties, and the adjustable hood (see the second photo above) had enough room to stuff in a travel pillow. Our tester's favorite use, however, was in the morning. You know that feeling where you're all nice and warm in your bag and don't to get out? Problem solved: now you don't have to. You can get going on your AM stretching (see photo above), get out and fire up the stove for breakfast, or just walk out to enjoy the sunrise.
The bag itself stuffs to a fairly large 12" x 9" x 9", but because it operates as your insulated jacket and pants, you can save pack space by not bringing along extra layers. The 4G is rated to an accurate 45 degrees, but they also make the Classic, which is rated to 35 degrees with mostly the same features.
The only concerns were regarding ventilation and late night bathroom breaks– it's a bit more difficult to unzip on really warm nights as compared to a standard bag.