Gear Review: Optimus Terra HE Cook Set
A versatile three-pot combo for the gourmet backcountry chef.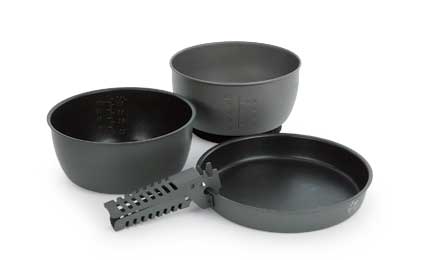 Optimus Terra HE Cook Set (Julia Vandenoever)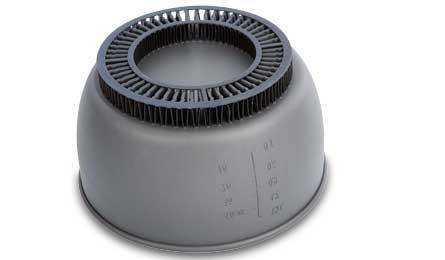 The corrugated heat exchanger ring, which traps and circulates heat, created boil times 31 percent faster than the nearest comparable pot in this test. (Julia Vandenoever)
[gourmet]

This versatile three-pot combo is aimed at backcountry chefs who don't mess around with dehydrated or prepackaged food. It includes three hard-anodized aluminum vessels: an uncoated 1.75-liter pot with heat exchanger (pictured below), a 1.7-liter pot with nonstick coating, and an 8.5-inch nonstick frypan.
The large pot rocks for boiling pasta or melting snow. (In both field and controlled tests, it was the fastest boiler, thanks to the integrated heat exchanger, which boosts efficiency.) The smaller pot easily passed the homemade mac 'n cheese test—our tester's recipe, which includes a half pound of Swiss cheese, is famously sticky. And the frypan cranked out perfectly brown tofu steaks and pancakes every time.
All of the coated components come clean with a mere swipe of a paper towel, though metal utensils will scratch the surface. Gripes: The frypan doubles as a lid for both pots, but it doesn't seal tightly and packs awkwardly in the included neoprene storage cozy. And the clunky aluminum pot gripper is uncomfortable in hand. Tip: Swap it for the lighter-weight Vargo. $60;1 lb. 7 oz.;optimusstoves.com