Gear Review: Oboz Sawtooth Boot
If you're hiking rugged terrain, this $100 boot is for you.
Best for Rugged Terrain


The aggressive lugs and pronounced heel cut on this nubuck leather hiker held fast whether we were climbing rocky, scree-choked gullies or descending mud-slicked trails. After tackling Mexico's loose and rocky Paso de Cortes Trail between Popocatipetl and Iztaccmhuatl volcanoes, one tester said, "The nylon shank makes the sole feel impenetrable to any size stone–it's like these boots were designed for volcanic scree and rocky cliffs." The sole has superior torsion control on steep terrain, but isn't so stiff that it interfered with striding; one tester's feet felt great after going 24 miles with a 30-pound pack. The ankle cuff started out stiff but softened after a few outings, and testers praised the roomy toebox and snug midfoot, which together eliminated toe bang on descents. And the Sawtooths proved the most durable in the test, thanks to extra layers of leather in high-wear areas.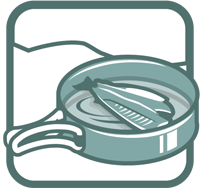 Eco points: In a partnership with Trees For The Future (treesftf.org), Oboz plants a regionally appropriate tree in Africa, Asia, or Central America for every pair sold.
Best for: wide, high-volume feet.

Sizes men's 8-12, 13, 14; women's 6-11

Weight 1 lb. 15 oz.

Price $100

Infoobozfootwear.com