Gear Review: Microcrampons
When the conditions call for grip but not burly crampons, strap on one of these three microcrampon options and feel secure on ice and snow.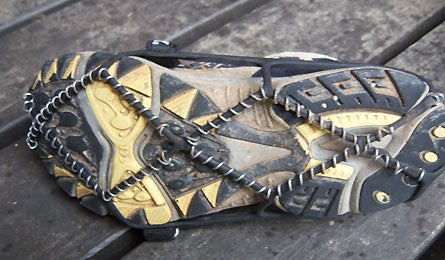 YakTrax Pro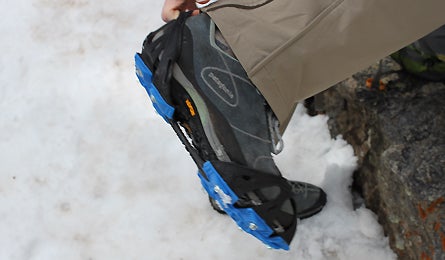 STABILicers Sport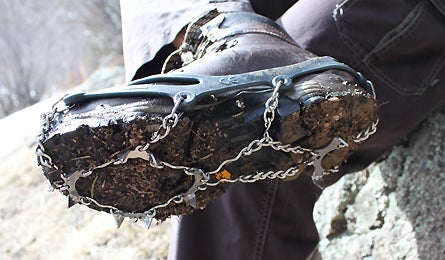 Kahtoohla Microspikes
[trail runners]
YakTrax Pro
The light weight, low-profile metal traction coils, and flexible rubber casing that attaches firmly with a Velcro strap across the center, top of your shoe (or light boot), make these microcrampons ideal for trail running or easy- to medium-level hiking. One tester confidently churned out sub-8:00 minute miles on a narrow, snow-packed trail that was riddled with the occasional icy spot. The metal coils wrapped around the rubber underside can get stuffed with snow, so when tromping through really deep or heavy white stuff something with a heftier spike setup, like Kahtoola, is ideal. The low-profile coils (metal wires wrapped around the rubber underside), are easy to toss in a bag without worrying about shredding neighboring clothing. While not designed for serious icy climbs or descents, these microcrampons transition with ease from snow to dirt to pavement without excessive clacking or catching on the various surfaces. They are also super easy to pull on and off, but after a heavy season of use be sure to inspect the coils because we experienced some breakage. Bonus: One tester found they gripped on muddy surfaces surprisingly well.
The Specs:
Price: $30
Weight: 5 oz./pair (M)
Sizing:
S – Men's 5-8.5, Women's 6.5-10.
M – Men's 9-11, Women's 10.5-12.5.
L – Men's 11.5-13.5, Women's 13-15.
XL – Men's 14+, Women's 15.5+.
yaktrax.com
Next Up: Great Grip for Camp

[around camp]
STABILicers Sport
Taking a cue from old-style galoshes, these bright blue slip-on microcrampons are like the bottom half of an overshoe with small bolts secured into the bottom. The Sport style comes with a separate piece of Velcro – an easy accessory to lose or overlook – for strapping the spikes to your shoes or boots. Without the Velcro we fished one of the spikes out of a deep posthole in Rocky Mountain Park, so be sure to keep the Velcro handy for intense hiking outings. The bolts gripped well, even on uphills, and the bottoms shed snow easily. Getting the right fit is key because the Stabilicers' have minimal stretch and need to fit over your toe and high on your heel, so be sure to size specifically for the shoes or boots you plan to wear them with. These microcrampons are ideally suited for icy campground use, or to pull out of your pack (they are easily foldable, packable, and won't snag or tear other gear) sporadically when snow or ice creeps onto the trail.
The Stats:
Price: $40.00
Weight: 18 oz./pair (manufacturer spec)
Sizing:
XS – Women's 5 – 7.5
S – Men's 6 – 8, Women's 7.5 – 9.5
M – Men's 8 – 10, Women's 9.5 – 11
L – Men's 10 – 13, Women's 11.5 and up
32north.com
Next Up: Serious Traction

[serious gripping]
Kahtoola Microspikes
One tester depended on his Kahtoola's to help him lead his seven- and nine-year-old kids through "narrow, death-fall sections" of the Grand Canyon's Grandview Trail when faced with slippery snow and ice. He found the stretchy rubber Microspikes easy to pull on and off over midweight leather boots and noted they "bit firmly and reassuringly into ice and snow," whether hard or soft. Another tester found he could even pull the spikes easily off while balancing on one foot and wearing a 25lb. pack. A husband and wife team found the spikes fit both his size 12 boots and her size 8 boots without problem—an impressive feat on top of the super gripping power. The spikes, which pull up over the toe and hug the heel tightly worked great while "sidestepping across semi-steep (but non technical) icy slopes" in Rocky Mountain. While not a replacement for crampons, the Kahtoola's offer great grip on dicey trails.
The Stats:
Price: $59
Weight: 12.5 oz./pair (manufacturer spec M)
Sizing:
XS – Youth size 1-4
S – Women's 5.5-8.5
M – Men's 7-10.5, Women's 8 and up
L – Men's 10.5-14
XL – Men's 14-16
kahtoola.com