Gear Review: Marmot Variant Jacket
Ever wish to stitch additional insulation onto the front of your favorite mid-layer? Your wish is granted.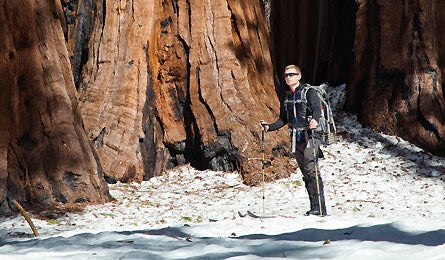 Marmot Variant Jacket by a big tree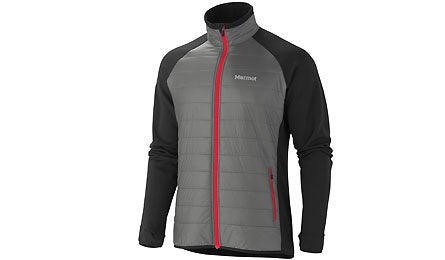 Marmot Varient (Courtesy Photo)
At first look, it appeared that Marmot carved an insulated vest in half and slapped it on the front of one of their mid-layers. Despite its initially peculiar appearance, this jacket quickly turned into my favorite layer for all of my winter pursuits. The aforementioned insulation sewn onto the front half of the Variant's core is Marmot's proprietary synthetic Thermal R Eco Insulation, which is made from recycled fibers. I was pleasantly surprised by the warmth it provided; I sported just a short-sleeve baselayer, an ultrathin shell, and the Variant in a snowstorm while cross-country skiing through Sequoia National Park, and my upper half was oblivious to the cold.
Aside from the front, the rest of the Variant is constructed from Polartec Power Stretch, which has been a staple material in my winter baselayers for several seasons. The Power Stretch has enough substance to protect from chilly breezes, enough stretch to be comfortable, and it wicks like a champ. Even after working up a serious sweat before lunch while slogging up a snowy two-mile stretch in Yosemite National Park, my upper half was completely dry by the time I finished spreading the jam on my PB&J.
Although the Variant performs exceedingly well during aerobic activities, you'll want to augment with a more traditional puffy jacket if you plan on relaxing around camp or spending a lot of time cooking meals. Fortunately the fit is trim and very easy to layer under other pieces. I wore the Variant with a baselayer, a down jacket, and shell on a couple of occasions, and the combination didn't make me feel like an overinflated party balloon.
I appreciated thoughtful features like a high (but not too constrictive) collar to keep out drafts, and the thumb loops made a sure seal for warmth between my sleeves and my gloves. Bottom Line: The Variant is versatile to cover the mercury range from fifteen to forty degrees, and I'd heartily recommend it as your go-to winter top for active winter trips.