Gear Review: L.L. Bean Boreal Sliding Snowshoes
Have a blast in rolling terrain with these snowshoe/ski hybrids.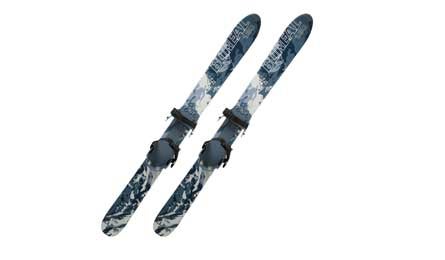 L.L. Bean Boreal Sliding Snowshoes (Courtesy Photo)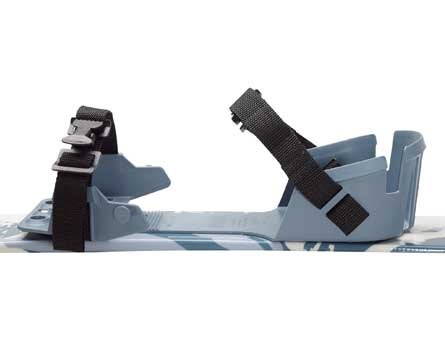 Bindings
Snowshoes are easy to use and have great traction, but they're slow. Cross-country skis are quick but are less stable and require special footwear and technique. Enter L.L. Bean's Boreal Sliding Snowshoes which combine a fat ski with snowshoe bindings. You can kick and glide across gentle terrain much faster than you could walk, and since 80% of the waxless base is covered with a fishscale-like pattern, you can still head up moderate slopes without sliding backwards. The ability to go skiing while wearing your hiking or winter boots saves money and makes it easier to get out and start moving. A double shot of heavy East Coast storms provided over 20" of dense wet snow for me to test this interesting crossbreed.
Flotation on these 130cm shaped skis is roughly equal to an 8×25 standard snowshoe. I weigh 170 lbs, and when I carried my 18 month-old daughter and winter clothes (about 30 pounds total), I sank in about 2". But since the skis flex and bend as you sink, even in very soft snow I never sank much more than that, and never found myself postholing like I would have with snowshoes.
They aren't as fast as real cross-country skis, and don't have the grip of a real snowshoe, but the Boreals were ideal for day-touring through the rolling forests of Lawrence Park in northern Virginia, and breaking trail on the unplowed side streets and golf course in my neighborhood. I was able to easily ascend slopes of around 20 degrees; steeper than that and I had to either side-step or herringbone. The full metal edges make moderate downhills doable—exhilarating in fact! On sloping trails near my house it was a very fun ride and easily ten times faster than going step by step. But since you'll be wearing flexible boots and aren't locked down like on alpine skis, steep downhills can be a bit sketchy.
Luckily, the two-strap bindings make for quick and easy on and offs, so you can pop them off and walk down anything that makes you uncomfortable. Bindings adjust to accommodate most any winter boot in the men's 7 to 13 range (women's 8-15) adjust for sizes 7-13 men's (8-15 women's).
Bottom line: These sliding snowshoes are easy to use and a ton of fun on laid-back rolling terrain. You can't climb like with real snowshoes or go as fast as with real cross-country skis, but for neighborhood outings or cruising along snowy trails, these are a great way to get outside more this winter.