Gear Review: High-Powered Flashlights
We tested four unique high-powered lights using lithium batteries for lightweight super power.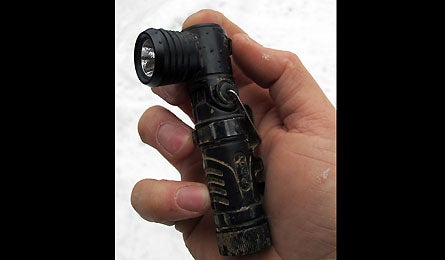 Fenix MC10 Angle Light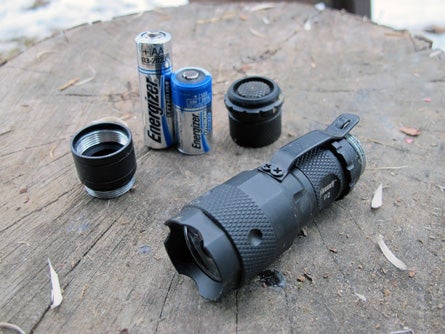 Hugsby P2 and battery options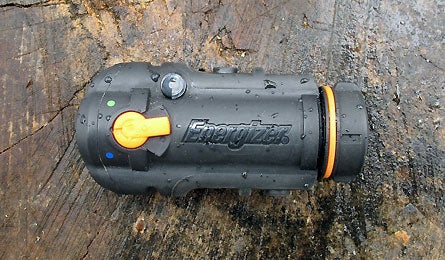 Energizer Night Strike Compact Light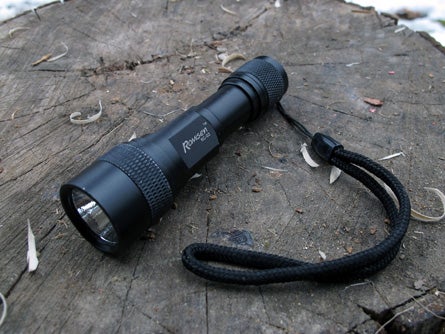 Romisen MXDL RC-G2
Fenix MC10 Angle Light

The right-angle wonder
This light screams "neato" coming out of the box. The head moves back and forth on an axis to provide light while sitting on a surface or hanging in a tent; the flexing light can also attach to a pack strap or pocket. One button on top of the head flips on the light. While caving, it worked well for lighting lunch, and I just clipped it onto a branch when I was cooking in camp. The angle light has three levels of output, and two types of flashing modes, with the highest level being 125 lumens (the lowest is 5). When you run it at the lowest level it lasted the longest out of our testers. On the low level, with lithium batteries, the light lasted over 3 days while left on. On the high mode, it lasts about 1.5 hours.
The Specs

Weight: 2.6 oz. with lithium battery, 3 oz. with alkaline

Price: $54.95

fenixlighting.com
Read on for a tough light with multiple battery options

Hugsby P2

Super tough, and works with multiple types of batteries
This is one of those deals from the Far East wholesalers. It features the option of using 1 AA battery or one CR123 batteries (a shorter fat battery used in cameras and some tactical lights). While a bit on the tactical-looking side, the moderate price and 190 lumens at high output can't be ignored. It can clip to a pocket or grip nylon hiking pants, and maintained its brightness with on-and-off use during a three-day-trip near Comers Rock, VA. If you take the battery tube extension (used for a AA) out, you can use a CR123 for ultracompact carry. The on/off button at the end of the handle, cycles through three modes: high, medium, and epilepsy inducing blink. You could blink Mr. Bear to death, and if that doesn't work, throw this uber tough aluminum light with a plastic lens at him. The only con is that running the light on "high" mode, the AA battery only lasts an hour.
The Specs

Weight: 3 oz. with lithium battery, 3.5 oz. with Duracell

Price: $40, but you can find it with a little research for less than $17
Websites

Manufacturer

http://e-young.en.alibaba.com/product/393106153-210820161/HUGSBY_P2_CREE_Q3_LED_aluminum_flashlight.html
Retail

gorillagadgets.com

dealextreme.com
Read on for a lightweight techno light

Energizer Night Strike Compact Light

The lightweight techno tool
With a large amount of features and options, this multicolored LED light is an ultralight heavy hitter. Seven different light options are available, each with different buttons so that you don't have to cycle through all of them at once. It has a blue light, a red light that has three different levels, and a green blinking LED "find me" feature on the side of the unit. The beam only puts out 40 lumens on the high beam level, but in the white LED mode it lasts eight hours on a lithium battery. Another cool feature is the versatile clip that goes on the belt or hat; we switched on the "find me" light and clipped it blinking to our tent all night. Of the four models tested, this light puts out the weakest beam, but it has a good warranty and is the lightest of the group.
The Specs

Weight: 1.5 oz. with lithium battery, 2 oz. with alkaline

Price: $57.99

energizer.com
Read on for a budget beam

Romisen MXDL RC-G2

The budget beam
With an orange tail cap and a choice of grey or black, this light sets itself apart in many categories. With only an on/off button on the tail, the Romisen is simple. The throw of the beam was amazing for the price and amongst our test models. It illuminates at least 60 yards; I was able to spot shining deer eye way down the street, while walking outside during a meteor shower. With the monster output, the battery life didn't last nearly as long as the others though, about an hour and a half with the lithium battery, but for a backup light to see far distances, this would be great paired with a low-level headlamp. This was another online deal from China, but I found it tough and dependable.
The Specs

Weight: 2.5 oz. with lithium, 3 oz. with alkaline

Price: $31.95, but can be found for less than $12 with shipping.



Websites

Manufacturer

http://szobm.en.alibaba.com/product/250006912-200275902/Romisen_RC_G2_P4_LED_aluminum_Flashlight.html
Retail

dealextreme.com/p/romisen-mxdl-rc-g2-cree-flashlight-black-1xaa-3607
Return to the light that flexes