Gear Review: Gear Aid Repair Kits
Whether it's a torn pack, cracked buckle, ripped tent mesh, or leaky sleeping pad, these kits can pretty much restore anything that breaks.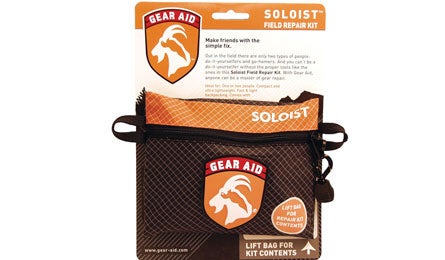 Gear Aid Soloist Kit (Courtesy Photo)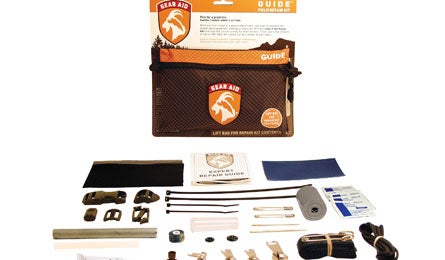 Gear Aid Guide Kit (Courtesy Photo)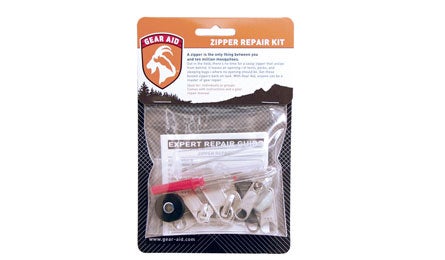 Gear Aid Zipper Repair Kit (Courtesy Photo)
The scene is familiar: You pull a little too hard on a zipper you know isn't quite going to hold, or a branch comes whipping back too fast and rips a hole in your new 3oz wind shirt.
Most of the time when gear gets "worn out", it's because one defective component becomes a critical failure, rendering the entire piece of gear useless. Repair seems too expensive or too much hassle—once you've torn your jacket or busted a zipper, it's trash time, right?
Not anymore: Whether it's a torn pack, cracked buckle, ripped tent mesh, or leaky sleeping pad, Gear Aid makes a wide variety of repair products to restore pretty much anything you can break.
The packages are available in single-purpose kits (for commonly busted components like zippers) or all-inclusive, fix-everything-you-own-including-yourself kits. I was a little surprised to see first aid medical supplies in the substantial Cuts and Bolts kit (11 oz), but for many it makes sense to have one single "go-to" pouch to bring along.
The Soloist kit (4oz) includes buckles, cable ties, fabric patches, and a sewing kit, which is enough to fix the most common gear failures. The larger Guide kit (9oz) adds zipper fixers, tent repair (no-see-um patches and pole sleeves), an extensive selection of buckles, and a full set of adhesives to repair a floppy boot sole or leaky inflatable pad.
The large kits are well suited for Boy Scout troops and guide groups that own a lot of gear (or a lone, particularly rough gear-abusers). The smaller kits like the Soloist or Camper packs meet the needs of most everyone else; you can always buy a specialized kit if you happen to snap a tent pole.
The decision to carry a gear repair kit is akin to carrying a first aid kit: You hope you don't need it, but when you do, you're glad it's there. I won't be packing the full Guide kit up any mountains, but I will definitely take it in my car to the trailhead. And you can bet that if you need a replacement buckle, zipper, duct tape, safety pin, or zip tie, you'll be covered.