Gear Review: Flip-Flops
These four flip flops are made with the outdoor enthusiast in mind–massaging footbeds, illuminating LED lights, sturdy straps, and rock-solid arch support are just some of their sporty features.
The North Face Basecamp (Courtesy Photo)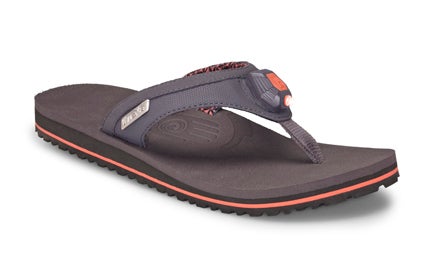 Teva Illum (Courtesy Photo)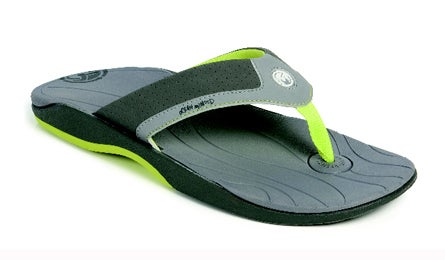 Ocean Minded Seaweed (Courtesy Photo)
[post-sport foot massagers]
The North Face Basecamp
If your immediate post-hike ritual involves ditching the hiking boots for a comfy camp shoe, these sandals should be ready and waiting outside the tent. Their magic lies in an egg-crate-like footbed made of EVA foam that subtly massages the bottom of the foot. The rippled foam further prevents feet from sliding around even when hot and sweaty. The PVC-free Hypalon (a form of rubber resistant to UV rays & temperature extremes) straps are jersey lined and our testers experienced no rubbing or blisters, even after the first wear. If keeping your sandals clean is a concern, opt for sandals with darker straps. One downside: There is little arch support and several testers found long walks uncomfortable. But for that post-hike trek from camp chair to cooler, these sandals shine.
The Stats:
Cost: $28
Weight: 15 oz. (Women's 10)
Women's 6-11; Men's 8-14
www.thenorthface.com
Next Up: Flip Flops that Light Your Way
[light your way]
Teva Illum
Here's a bright idea: Mount little LED headlights on your flips, so midnight bathroom runs don't turn into faceplants. Each foot casts a bright beam about 8 feet into the night. Batteries are replaceable (they are 3-volt, coin-style batteries like in watches) and the LED light is detachable. The flips themselves are extremely comfy—cushy and contoured, made from quick-dry synthetic material and a sticky rubber outsole. Bummer: During a battery swap, one of the two little plastic tabs that hold the light to the sandal broke off. It is possible to remount it, but the attachment is less than secure.
The Stats:
Cost: $50 for synthetic straps; $60 for leather straps
Weight: 12.4 oz. (Women's 8)
Women's 5-11; Men's 7-14
www.teva.com
Next Up: Flops with Killer Arch Support
[all-day comfort]
Chaco Flip EcoTread
For summer wardrobes consisting of pair after pair of flip flops, the EcoTreads are an active, all-day performance superstar. A waffle-stamped, contoured footbed offers great support and comfort—thanks to a deep heel cup and pronounced arch support. The webbed straps make them quick-drying and practical for grungy pursuits like weekend car-camping, short hikes, and all-day festivals in grassy fields. One tester found the wider straps stayed on her foot really well — even in flip-flop hell, sand. The low-profile rubber outsole (made of 25% recycled rubber, hence the name "EcoTread") makes for decent traction on a variety of surfaces. Note: Sizes run small.

The Stats:
Price: $50
Weight: 1 lb. 2 oz. (Women's 8)
Sizes: Women's 5-12 ; Men's 7-15
www.chacousa.com
Next Up: Sandals That Want to Get Wet
[water sport worthy]
Ocean Minded Seaweed
Feel free to get these flip flops soaked and muddy – they revel in it. One tester basically wore these sandals every day for two weeks tromping with her go-go-go dog in the lakes and reservoirs around Boulder, CO, despite having a box full of testing sandals at the office. Though they're not super supportive, they are incredibly lightweight and the solid rubber sole dries in a snap. Several testers praised the comfort of these sandals, as the soft nubuck straps didn't cause any chafing and the footbed is super soft and cushiony. Bonus: A portion of all sales go to the Surfrider Foundation.
The Stats:
Price: $35
Weight: 15 oz. (Women's 10)
Sizes: Women's 5-11; Men's 6-14
www.oceanminded.com
Want Another Option? Check out our Spenco PolySorb Total Support Performance Sandal review.