Gear Review: Esatto Custom Classic Hiker Boots
Is old world craftsmanship and custom fit worth the price?
esatto custom fit 445×260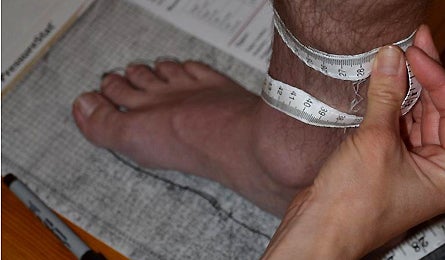 esatto custom measure 445×260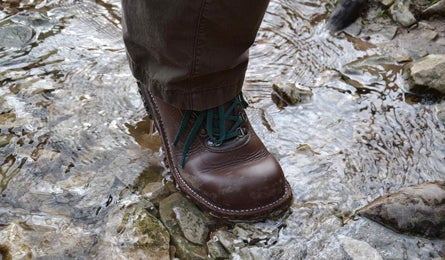 esatto custom boots 1 445×260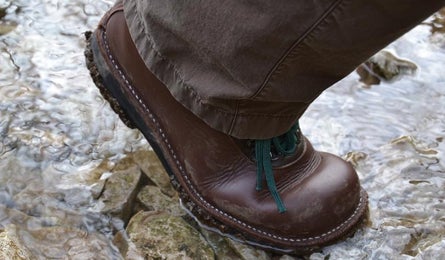 esatto custom boots 2 445×260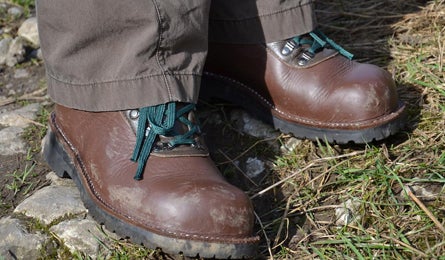 esatto custom boots 3 445×260
Boots can often make or break a trip. You might carry spare gloves and jackets, and could even deal with a ripped pair of pants, but no matter how many days you'll be on the trail, you've only got one pair of boots.
Sore feet and ill-fitting boots have dogged me on long trips, or anytime that I'm forced to be on my feet for long periods of time. Obviously, not such a great affliction for someone who likes getting deep into the backcountry. I don't have any medical issues, freakishly wide feet, or extra toes, yet have never been really happy with my footwear.
So will a pair of custom-made boots, designed and constructed exclusively for me, be the answer to my problem? I contacted custom boot maker Alex Kovalenko, who runs Esatto out of Battle Ground, Washington, to find out.
The first step in the process is completing a Fit Kit, which consists of pressure-sensitive carbon graph paper and various measurements around your foot, ankle, and calf (see photos above). By following the detailed instructions you collect enough data to send off to Esatto for them to create a set of custom footwear just for you. As you would expect from a set of bespoke boots, you can also select the color, sole, laces, and any number of other features. I wanted a stiff sole which disperses load and shock well, and a high cut to protect my ankles from getting banged and to help keep pebbles and snow out.
Unlike mass-produced boots, each pair that Alex and his assistant create takes over 30 hours to make. They work on each boot individually, since nearly everyone has at least a half-size difference between right and left feet.
After around four weeks my boots finally arrived, and I immediately started wearing them around the house and everyday to work to break them in, as these are thick, old-school leather boots. I couldn't wait to get into the hills and try them out. The first big hike I took them on was up in northern Scotland on the United Kingdom's highest peak, 4,409 foot Ben Nevis. While it lacks lung-bursting altitude the trailhead is so low it still boasts over 4,300 feet of vertical gain over five miles.
The path includes miles of pointy egg-sized stones. On the way down, many of my friends began complaining of sore feet, and that the stones were painful to walk on. I honestly hadn't even noticed them, the soles of the boots were stiff enough to protect me from the points and my feet felt great. I was happy to return to the car without any blisters, although I noticed that the flex point of the boot over the top of my toes wasn't in quite the right spot.
I contacted Alex, wrote some notes, and sent them back for a tuneup. He made some adjustments, and added a small loop on the tongue to better keep them in place as they had been sliding during descents. With the changes that Alex made, the fit and flex was now spot-on, and I couldn't be happier.
I continued wearing the boots every chance I could, and late in November took them to Yr Wyddfa (also called Snowdon) the highest point in Wales. By this point the boots were well broken in, and while the sole has maintained its stiffness and foot protection capabilities, the upper had now softened a bit and flexed with my steps perfectly. When putting the boots on, there is a solid "pop" when I slide my heel into place, almost like locking down a ski boot. The traction of the Vibram Kletterlift sole is fantastic, I was able to walk straight down slopes that have had me side-stepping in other boots. The sole shows nearly no signs of wear, and the leather is so thick (3mm) that even when the rubber gives out, I'll be able to have the boots resoled without any problem. They truly are the kind of boot that will likely last as long as your knees will.
But that chunky sole, high collar, steel shank, and thick leather comes with a big weight penalty. Each boot weighs a massive 2.8 pounds, heavier than many insulated mountaineering boots. And the custom fit and craftsmanship come at a steep price, as well. But before you scoff and say that for the price of one pair of bespoke footwear you could purchase four pairs of other top-shelf boots, consider how happy you are to be with those other boots. If you are the lucky person who routinely has no fit issues, then custom boots aren't for you. But if you have multiple pairs of boots sitting unused in your closet because you can't find a pair that you like, you are likely a good candidate for custom footwear. And even though a Honda Civic and a Corvette will both get you from Point A to Point B, there is a big difference in how you get there.
After six months of testing, over 400 miles of walking, two of the three high points in the UK, and zero blisters, I am quite clear that the boots are the most comfortable underfoot that I've ever worn. The support, cushion, and firmness are all exactly what I would like every pair to feel like. But the substantial weight is quite tiring on long walks, particularly ones with a lot of elevation gain. And while the ankle support and thick leather is impressively robust, in my particular case it is a little overbuilt. If you don't need quite as much support, Esatto makes a much lighter Summer Boot, which is nearly 3.5 pounds lighter, and $200 cheaper.
Bottom line: Although the considerable weight goes against the "light-is-right" mentality, if you have fit issues or are consistently dissatisfied with your boots, then custom footwear might be a good option for you. Resoling a pair of favorite boots can make the price point more manageable over the long run (or hike), and it is hard to put a price tag on comfort.