Gear Review: Energizer's Solar Folding Lantern & Hard Case Professional Area Light
Two Energizer products that light up camp (and your social habits) in unique ways.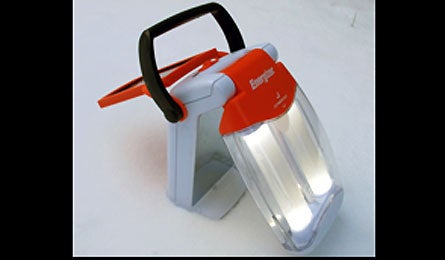 Energizer Solar Folding Lantern (Joe Flowers)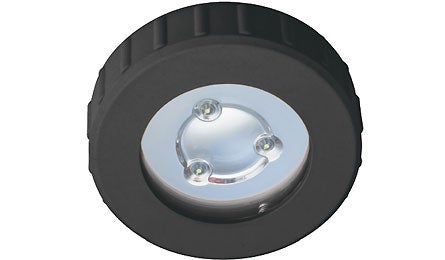 Energizer Hard Case Professional Area Light (Courtesy Photo)
#1: Energizer Solar Folding Lantern
By Joe Flowers
A renewable electric lantern that has great battery life and a nightlight to keep the boogeyman away.
The idea of a solar-powered flashlight used to be a joke among many gear aficionados. Since then, there have been many advances in solar and LED technology. This Energizer lantern uses a hybrid of rechargeable solar cells and 3-D cell batteries to give a reliable source of light over extended periods of time. Granted, the batteries aren't ultralight, but for canoe, car camping, and even caving, this light proved itself to be a winner.
The Solar Folding Lantern is definitely the most powerful battery powered lantern I have used (note: but it's still not a match for a propane mantel lantern). On a four-day car camping trip on the New River in Virginia it provided plenty of light to cook with, read by, and futz around camp with. While caving, I clearly had a diameter of 10 feet of really usable light.
The Solar 9 LED lantern has a five-position switch on its durable plastic body (I dropped it three times, on accident, with no dents or scratches), allowing you to alternate between battery and solar power and to switch between lantern and nightlight functions.
The solar power mode charges in approximately 5 hours, and has a 2 hour 30 minute life span. After charging the device on the roof of my car for an entire day I got three hours of solid light. (The charging panel can be moved up and down to get the max angles from the sun.) Using the 3-D batteries, the lantern lasts over 165 hours.
The lantern measures 7-1/2 inches high by 3-1/2 inches thick, and at 4 inches—further making it not for the ultralighters among us. There are 4 white LEDs in each tube, for a total of 8 white LEDS. They are tough and last long, so Energizer doesn't offer replacements at this time. There is also a small amber LED in the middle, the nightlight. The lighting fixture flips up all the way for 360 degree coverage or folds down for 180 degree coverage in one direction. The battery case has a mirror cover that reflects the LED light in this feature. Top if off with a movable handle on top, and you have a great hybrid package.

The Specs:
Price: $42.99
Weight: 2 lbs. 13 oz.
energizer.com
Read on for #2: Energizer Hard Case Professional Area Light
#2: Energizer Hard Case Professional Area Light
By Will Rochfort
It can do at least one thing your headlamp can't: cosmic backcountry bowling.
When it comes to gear selection, I give significant preference to pieces that are multi-faceted in their application. Although the Energizer Hard Case Professional Area Light might not sound or look too exotic, I was pleasantly surprised when it delivered the most fun-per-cubic-inch of anything I've recently tested.
Its primary function of casting light works as well as you'd expect from a company with Energizer's pedigree. Three bulbs shine fifty lumens of radiant LED light far enough to easily cover most campsites. There are options for fixed or magnetic mounts, the latter of which was particularly useful for late arrivals to the trailhead. We could just pop the trunk of the station wagon, slap a pair of the lights on the tailgate, and instantly have a well-lit staging area for everyone.
The rubber casing begged for durability tests, so we took turns tossing it across the parking lot to see what kind of beating it could take. In addition to surviving a three meter fall (as advertised), it also continued to function after a five meter lateral pass, ten meter slant route, and a dropped twenty meter Hail Mary.
Up to this point, you're probably thinking to yourself, "Self, that's all well and good, but my headlamp does pretty well, and I don't know if I need some other gizmo for another light source." Fair enough, but that's because we haven't gotten to the fun part yet: Cosmic Backcountry Bowling.
What you'll need: ten Nalgenes (or similar water bottles), ten Nalgene-compatible lights (I like Guyot Designs Fireflye), one Energizer Hard Case Professional Area Light, and one Bachelor of Science in Math. As you probably surmised, the illuminated Nalgene bottles are the pins, and the Energizer light is the ball. Although it doesn't come in varying weights, you can stick blocks of metal on the Energizer magnetic mount if you're really looking for an authentic bowling experience. Be sure to fill up the Nalgenes with a bit of water to give the pins some weight, then just mark off the lane (following LNT principles, of course), and start bowling! Be sure to flip on the area light for extra cosmic flair, which also makes it easier to find in case you entirely miss the pins. As for the B.S in Math, have you ever actually tried to manually keep score in bowling? Me neither. (P.S. If you try Cosmic Backcountry Bowling, send us a video or pics to online@backpacker.com)
The Specs:
Price: $12.00
Size: One size
Weight: 7 ounces
energizer.com