Gear Review: Empire Canvas Works Wool Blanket Shirt
A retro-looking (albeit heavy) coat that stands up to wintry weather and hard work.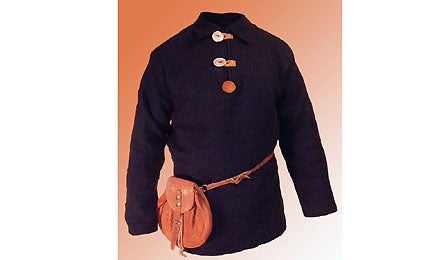 Courtesy photo; Pouch sold separately.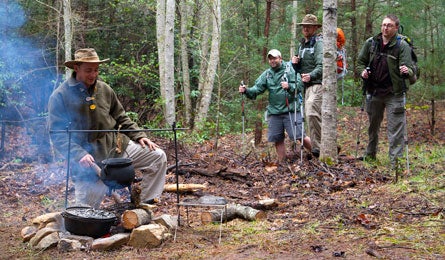 Photo by David Simerly
I took a spin in the time machine and tested the Wool Blanket Shirt, a thick wool (80%) and nylon (20%) pullover that looks straight out of the 1800s frontier. For an old-school gear lover like me, that's pretty cool, though the 2+ -pound weight will cause ultralighters and even traditional backpackers to scoff. Though I'd never pack this for a backpacking trip, I used it as my winter work-horse while chopping wood, moving tents, car camping, teaching outdoors classes, and on a 22-mile hike in Jefferson National Forest, VA.
Style-wise, this shirt/jacket gets an A+ if you're going for the Jeremiah Johnson look. It's a long (to the crotch) pullover design with a somewhat baggy sweatshirt fit, two deer-antler, leather-trimmed buttons that close the neck opening, and a flip-up collar that warms the neck. The cut allows for plenty of layering underneath, but it's best worn as an outer layer—you'd need a really loose-cut shell to fit over it.
It's a jack of all cold weather endeavors, though. I used it for 4 months all over the southeast in temps from minus 10°F up to 45°F, with a variety of layers underneath (the rough wool can be itchy against the skin, so I always opted for a long sleeve base layer. It's so warm that I mostly wore it around camp. The few times I did wear it while hiking in cold (0°F temps) it layered just fine under my pack straps and hipbelt and let sweat vapor escape so I never got clammy.
The densely woven material has been washed twice in a hot water bath, a process called "fulling," which pre-shrinks and softens the wool. It sloughed off light rain, snow, and ice when I wore it during the Jefferson hike in Virginia, and it blocked even 30 mph winds on Comer's Rock. The nylon content helps it dry fairly quickly (not as fast as fleece of course); when I hung it damp inside my tent it was dry in the morning.
Durability is a big issue with fleece and nylon shells—my closet is full of jackets with some kind of holes in them. Fire is an intrinsic part of my camping style and my primitive and outdoor skills classes. I spend a lot of time crouching next to small flames, it was refreshing to not being paranoid about jumping embers. Any embers that hit the Wool Blanket Sweater singe, but then are basically rubbed away. On that same Jefferson National Forest trip, I was on my hands and knees in the snow to free a stuck Subaru. I bumped my arm on a hot pipe under the engine, and despite the intense heat, nothing happened to the burly wool.
After four months of testing, I was surprised at how often I reached for this quirky jacket. As long as it wasn't raining buckets, it was my go-to jacket for car camping, short, cold hikes, and while teaching my outdoor classes. I have a feeling it will be part of my ensemble for a long time. Some things never go out of style, even when they do!
The Specs:

Price: $145

Weight: 2 lbs. 4 oz.

Colors: Olive Green, Navy Blue, or Burgundy

Sizes: Unisex XS-XXL

empirecanvasworks.com