Gear Review: Byer of Maine Easy Traveller Hammock
Backcountry hammocks–the easiest way to bring tropical comfort to your wilderness paradise.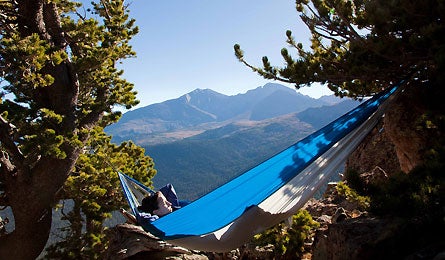 Relaxing at Estes Cone above Estes Park in RMNP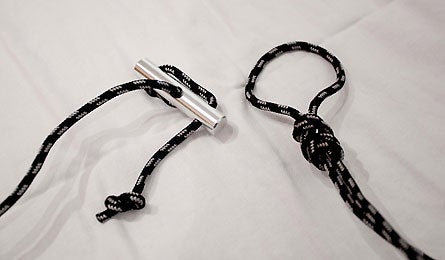 gear review byer hammock1 445×260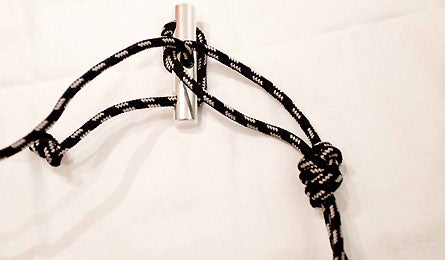 gear review byer hammock2 445×260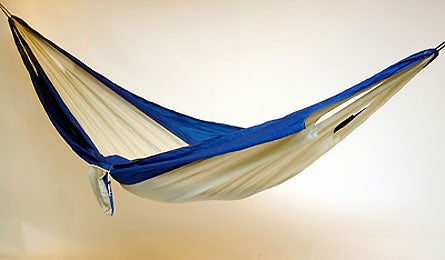 (Courtesy Photo)
There were two major concerns I used to have with backcountry hammocks: they were either a) too difficult to set up, or b) too heavy (or sometimes both). The Easy Traveller puts both of these concerns to bed. To address my first concern, all you need for set up is two anchor points and a very, very basic understanding of knots. You simply tie one end of the built-in hanging system into a loop, wrap it around the anchor, and then run the metal bar on the other end of the cord through the previously tied loop (see photos 2 & 3 on the above slideshow). As for the knot, I prefer a figure nine, just because I'm used to using it for guyline. But anything that makes a sturdy loop will work! Repeat on the other end and you're done, sans the standard rigmarole of complex rigging.
I set it up in a few minutes without even considering the directions; the hardest part was trying to find two anchor points with a view. As for the weight, 17 ounces might not be the lightest item in my pack, but it's definitely lighter than most of the other hammock and easy-hang combo systems I came across in this price range. Plus, it has one of the best weight-to-enjoyment ratios in the business. It also packs down to a six by six inch square that's no thicker than a stack of pancakes, so it's easy enough to find a corner of your pack to cram it into. The Easy Traveller's body is constructed from parachute nylon cloth, which has proven its strength and durability in uses that far exceed the requirements of a hammock.
One caveat: the design is such that Byer recommends you stretch out diagonally, otherwise it's pretty easy to get spun around and fall out. Although I can't get a good night's sleep in any hammock I've been in, I had no trouble catching a glorious afternoon nap after hiking to Estes Cone in Rocky Mountain National Park.
In addition to getting horizontal, the hammock also doubles as a comfortable hanging chair, which was nice when I actually wanted to sit up and have a conversation with someone without appearing to doze off. The integrated stuff sack even doubles as a hanging pocket that's easily accessible without getting up, which is very handy for snacks, sunscreen, or shots of single malt.
With its low price point, packable/lightweight material, and integrated hanging system, there's only one major downside to the Easy Traveller. It's so comfortable that even if you're the person who schleps it all the way up the hill, you might not be the person who actually gets to enjoy it. Although Byer makes double-occupancy hammocks, the Easy Traveller has a weight limit of 250 pounds, so it's only recommended for one person at a time. I was reminded of this the hard way on a recent vacation to Colorado, where I frequently found my better half occupying the best spot in camp, citing something about 'adding integrity to the review by getting a female's perspective.'
Bottom Line: Few pieces of gear have had such a significant, positive impact on my backcountry comfort than the Easy Traveller; just make sure you call dibs before you set it up.