Gear Review: Boxers or Briefs?
Although perhaps not as sexy as a brand new Gore-Tex Pro hardshell, the most basic of baselayers is a crucial component of your backcountry enjoyment. We put three mens' styles to the test.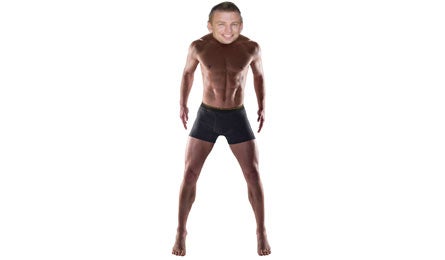 Our fearless tester in his Icebreakers (Courtesy Photo)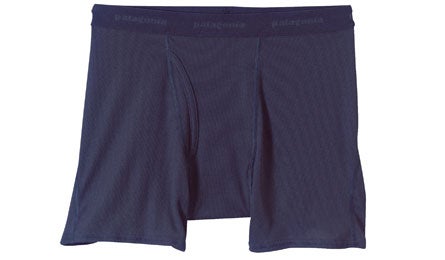 Patagonia Men's Active Boxer Briefs (Courtesy Photo)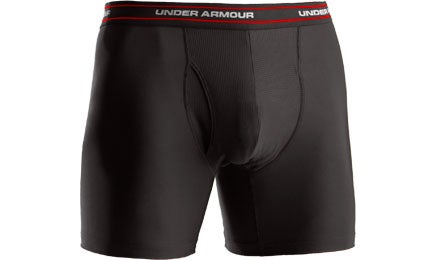 Under Armour Men's O Series BoxerJock (Courtesy Photo)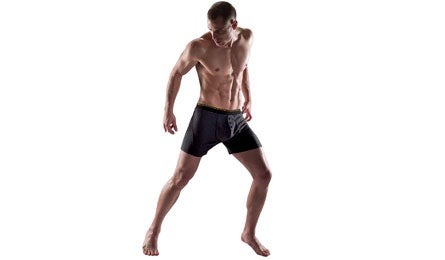 Icebreaker Beast 150 Boxer Brief (Courtesy Photo)
No matter if you prefer boxers or briefs, it's easy to overlook this next-to-skin layer of clothing. We went out and did the dirty work for you, coming back with three recommendations that should satisfy most folks' needs for backcountry underbritches. Our contestants were graded in several categories, each with its own set of robust testing criteria:
A)Comfort: Did they feel good? Was there any waistband abrasion under a pack hipbelt?

B)Fit Over Time: Could you wear them for several days straight without getting stretched out? No one likes feeling like they're hiking with a moo-moo under their pants.

C)Looks: An unbiased jury weighed in on the most aesthetically appealing of the bunch. Briefs typically double as my swimming trunks, and you never know when you're going to need to impress a backcountry co-ed.

D)Funk Factor: After repeated days of extended hikes sans cleaning, how did they smell? For testing purposes, we didn't even wash mid-hike (as is sometimes difficult on desert or winter trips). Since I don't have any of my own interns, I had to blindfold friends and trick them into thinking they were going to do a smell test for new colognes. Needless to say, I had to find a new tester for each pair.


READ ON FOR THE WINNERS
Best Value – Patagonia Men's Active Boxer Brief

BACKPACKER has been a fan of Capilene ever since Patagonia shipped a half-and-half shirt for testing in the mid-80s. All of the traits I love about the Capilene shirts I've owned – softness, comfort, odor resistantance, durability – translated brilliantly to the Active Boxer Briefs.
After an extended weekend of tramping through talus and snow in the Palisades, there was a nominal amount of stretching, but nothing that rendered them unbearable. On the downside, although the briefs incorporate odor control, 72 hours of non-stop wear rendered the Gladiodor (Patagonia's "natural anti-odor alternative" ) defenses only partially effective. To put it succinctly, you better hope you already know your tentmates. These also received the lowest score for appearance, but given the softness of the Capilene, I really didn't care.
Bonus points to Patagonia for making these recyclable through their Common Threads Recycling Program (and let's be honest: undershorts are better as recyclables than hand-me-downs). Bottom line: they might not be the cheapest briefs in the market, but considering all of the good stuff you get, they're a steal. Patagonia Men's Active Boxer Briefs, 3 oz (Men's M), Sizes: S, M, L, XL, XXL, $29, patagonia.com


READ ON FOR THE BEST FOR HIGH OCTANE DAYS
Best for High Octane Days – Under Armour O Series BoxerJock

When it comes to putting the family jewels on lockdown, no performance underpants I've ever worn could compare to the security of the O Series. The fit felt suffocating at first, but once I got going I could actually feel the cooling effect of Under Armour's HeatGear Technology. This is the material that first put Under Armour on the performance clothing map, which is essentially a lightweight proprietary moisture-wicking fabric that effectively keeps you cool and dry.
It was a little disconcerting for the first hour (and maybe it was the uber-secure fit), but my nether regions have never felt that actively cooled by any other fabric I've worn. These BoxerJock's also benefitted from "Strategic Ventilation," which is apparently marketing code-speak for mesh fabric on the front door. I can't say I noticed a material difference (pun intended), but I appreciated the thought. On the downside, even though the smell wasn't too bad on day one, by day three they were certainly the most offensive to the olfactory. Thus I keep these close by for high speed day hikes (or any of the myriad other active sports I enjoy), but limit their use for extended trips.
The O Series also got high scores for their good looks, although I suspect it was more to do with the snug fit than sophisticated styling. Under Armour Men's O Series BoxerJock, 3 oz (Men's M), Sizes (in both 3" and 6" length): S, M, L, XL, XXL, $20, underarmour.com


READ ON FOR THE MOST LUXURIOUS
Most Luxurious – Icebreaker Beast 150

If you want to put your lap squarely in the lap of luxury, the Beast is the way to go. There were multiple times during an extended hike through the Sierra's Minarets that I had to stop and try to remember if I had even put on briefs that day; they were simply that comfortable. I had concerns that the wool was going to be itchy in places I never wanted an itch, but it turned out to be a non-issue.
The pure merino regulated temperature in the summer mountain heat with aplomb, and even after wearing them non-stop for three days, they fit just as well as the day I got them. These also smelled the best of the bunch after days of use; although I didn't come close to the Icebreaker record of 196 days of consecutive wear, I can at least appreciate how someone gave it a try. As a bonus, the Beast also got the highest marks for looks due to their progressive styling. The only real bummer is the price, but if I could only bring two pairs of underwear on a thru-hike or extended tourist travel, I would splurge for these. Icebreaker Beast 150 Boxer Brief with Fly, 3 oz (Men's M), Sizes: Men's S, M, L, XL, XXL, $43, icebreaker.com


RETURN TO THE BEST VALUE