Gear Review: Backcountry Skirts
Three skirts for conquering the backcountry with a dash of feminine style.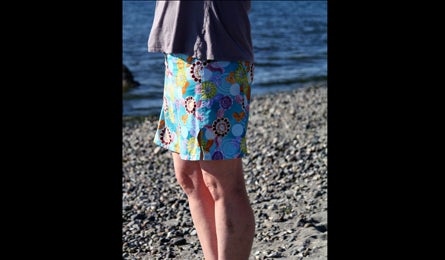 Athleta CYA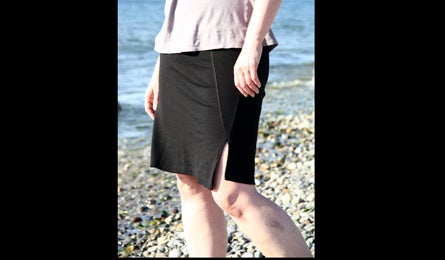 Smartwool Sanitas
Montbell ThermaWrap (Courtesy Photo)
If the idea of hiking in a skirt seems a little "19th century pioneer woman" or maybe just plain silly, then I'd like to tell you a thing or two about it. For the last half dozen years or so, I've hiked, camped, paddled, and fished in a little nylon miniskirt. A couple of them, actually, and like any good piece of outdoor gear, they get stained and just look battle-worn after a while. From off-trail hiking in the high country of Idaho's fabled White Cloud range to chasing bonefish in Honolulu Harbor, my trusty skirt has kept me cool and comfortable on the hottest of days. There are limited exceptions to my 'always hike in a skirt' rule: hikes with lots of deadfall, heavy brush, and any time I might have to do a lot of butt-scooting.
Does the idea still seem silly? Why hike in a skirt? A skirt provides plenty of coverage while allowing excellent comfort, ease of movement, and ventilation. I find myself no more prone to bug bites and sunburn than when hiking in shorts, and purely as a benefit, I get to bring a little bit of girliness into the backcountry. I tested the Athleta and Smartwool skirts in the Washington Cascades, Hawaii, and Idaho, while the MontBell wrap was tested by Backpacker Contributing Editor Kelly Bastone in Iceland at various ski huts in the American West.
Athleta CYA

This simple nylon and spandex number is my go-to skirt. It's fairly short–I am 5'9" and it hits me at about 6" above the knee, but it's enough to "cover your assets", as the name suggests. Basic styling means nothing to snag, while the snazzy print hides huckleberry stains. Slight A-line and ample stretch allowed for ease of movement when I was guying out my tent. This one's super easy to clean in the field–give it a rinse in a stream, and it dries in a jif. Even in sweltering heat, I always feel relatively cool in my CYA–especially if I put it on right after I've washed it!
Athleta CYA Skirt

$44

5.1 oz. (size large)

Available sizes: xxs-xl, also tall s-xl, plus 1x, 2x

Athleta.com
Smartwool Sanitas

The Sanitas has a 20.5" outseam–it hits right across the knee–and is a bit on the long side for me, but perfect for ladies seeking more coverage. One thing I often do while wearing skirts is what fishermen call "wet wading", which involves walking right into the body of water you are fishing, and the length on this one just won't work for that, the skirt would get soaking wet. The asymmetrical seaming is both interesting to look at and flattering, and it's a treat to see such attention to detail in what is ostensibly a technical piece. The midweight merino wool (with a touch of elastane for stretch) moves with me, and the flat waistband sits flat under my pack's hipbelt. My sample was black, and between the dark color and the wool fabric, I found the Sanitas a bit warm when the mercury climbed. I would buy it in the gray color to help mitigate that problem.
Smartwool Sanitas Skirt

$95

6.8 oz. (size medium)

Available sizes XS-XL

Smartwool.com
MontBell Thermawrap

This little insulated wrap skirt packs down as small as a pair of socks, yet keeps your bum covered and warm when lounging around camp or burning calories on your skate skis. A series of small waistband snaps allow for adjustability, it's a "one size fits all" item. The shell material is a durable water repellent (DWR)-treated nylon taffeta. It is lightly quilted with Exceloft, a synthetic fill product proprietary to MontBell. Kelly tested the Thermawrap all over the place, from Idaho's Sawtooths to Lonafjordur, Iceland. She said, " I really loved it for the modesty it provides. In mixed company, I'm not hanging out in clingy tights. Totally a personal preference thing, but I prefer to leave a little less to the imagination when skiing/camping with guys." At the end of the day, she'd slide out of wet ski pants and pop the skirt on over her long johns. Bonus: reversible, so two looks in one skirt.
MontBell Thermawrap Skirt

$65

6.8 oz.

"2 sizes fit all" – available in M and L

Montbell.us