Gear Lab: Tents in a Pressure Washer
Who wants a mountain tent that buckles under pressure? Not us–so we subjected four to a powerful series of tests.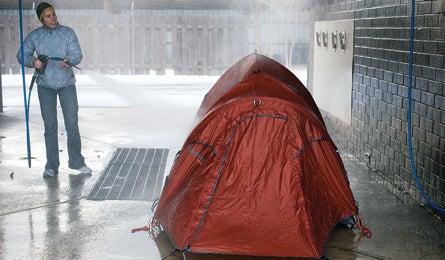 The tents were blasted with water at 150 psi for up to 3 minutes.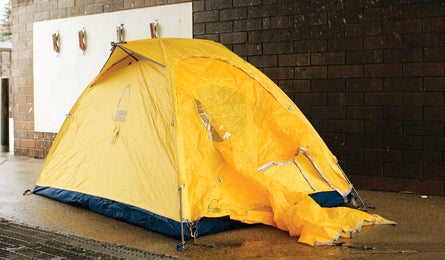 Both the tents and the tester ended up wet and cold.
TEST We gathered four freestanding mountaineering tents and subjected them to the perfect (artificial) storm. In order to replicate the worst wind-driven rain, we blasted the tents with high-pressure power washers at the local car wash. We anchored the tents–the Big Agnes String Ridge 2 ($500), Black Diamond Stormtrack ($499), GoLite Valhalla 2+ ($525), and Sierra Designs Convert 2 ($449)–to 50-gallon metal drums. For good measure, we had interns hunker down inside.
RESULTS Our guinea pigs didn't last long in three out of four of the tents. The single-wall GoLite and Sierra Designs and double-wall Big Agnes shuddered and bowed inward at an alarming angle under a fire-hose blast strong enough to clean oil grime off an engine. The interiors felt immediately chilly. All three are lightweight for their space, so it wasn't entirely surprising that they succumbed to a power washer. But the Black Diamond proved impervious to the high-pressure storm; it didn't leak a drop and hardly swayed, and it stayed warm enough inside that testers could remove their gloves.
LESSON While none of the tents suffered ripped fabric or a broken pole–a testament to how tough all of these four-season shelters really are–the Black Diamond's intricate hubbed-pole system gives it multiple junctions where poles cross (two on top and two on the sides), bolstering strength and stability. The tent's shape also enhances weatherproofing; more than any other model we tested, the Stormtrack resembles a boulder.
MAKE IT LAST Broken zippers are the most prevalent problem Rainy Pass sees with tents. To keep yours sliding smoothly, avoid yanking on it, vacuum grit from the teeth, and lubricate it with McNett's Zip Care. If that fails, replacing a slider is an easy fix; Upton recommends getting a new slider at the first sign of trouble–before it damages the harder-to-fix coils. Also: Untangle a zipper snag by gently extracting the fabric while easing the slider back. And minimize UV exposure (it weakens fabrics) when conditions allow; set up your tent in the shade if possible, and avoid leaving it pitched in the sun for days when basecamping or drying it.