Gear Lab: Sleeping Bags Run Over By a Truck
When you lose loft, you lose warmth. Ergo, the most durable bag is the one that bounces back best from 3,989 pounds of compression.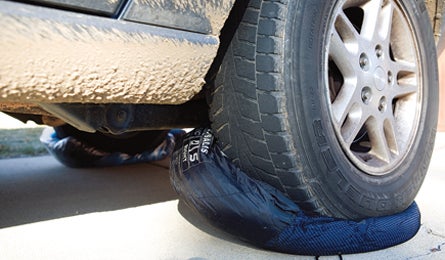 Each bag endured almost 4,000 pounds of pressure.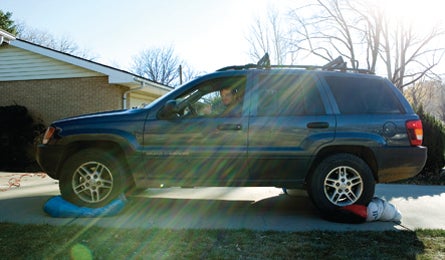 The Jeep spent 12 hours on top of four top-quality sleeping bags.
TEST We took four 15°F to 20°F bags, tucked them in their storage sacks, and parked them for a night under the loft-crushing wheels of a Jeep Grand Cherokee. The contenders: GoLite's Ultra 20 ($225) and The North Face's Chrysalis ($199), both down; and MontBell's Super Stretch Burrow Bag #1 ($175) and Sierra Designs's Cochise 15 ($159), both synthetic. After approximately 12 hours, we rolled the SUV off and let the smashed bags loft up–watching to see which sacks came back from the dead, and how fast.
RESULTS GoLite's Ultra 20, with super-light 800-fill down, showed almost zero signs of compression after only a few minutes of fresh air–you'd never guess it spent the night under a 4,000-pound Jeep. The North Face's 600-fill down took an hour longer to loft back up, proving the rule that lower-grade down is less resilient than the pricier stuff (besides being less compressible for the warmth). In the synthetic category, the Sierra Designs (filled with ClimaShield) expanded the quickest, though it was still 45 minutes slower than The North Face. MontBell's Exceloft-filled bag eventually bounced back, but it took four hours.
LESSON Our test proved that down holds a distinct advantage in lofting speed. Look in our gear closet and you'll see that it's more durable, too; we have 20-year-old down sacks with twice the loft of 10-year-old synthetics. Both traits come in handy on winter trips–when you might want to crawl into your sack minutes after pulling it out. If you own a slower-lofting bag, go ahead and use a compression sack, but unstuff it as soon as possible in camp.
MAKE IT LAST Dirt and body oils kill loft. If your bag doesn't bounce back like it used to, wash it. We like ReviveX Down Cleaner for down ($8, mcnett.com). Dry your bag thoroughly and store it in a large, breathable cotton sack. Use TLC when stuffing sacks with ultralight shell fabrics. At Rainy Pass Repair, the most common bag fix is patching.