Gear Lab: Boots in a Cement Mixer
To survive mixer-tough mountain trails, get Old World craftsmanship.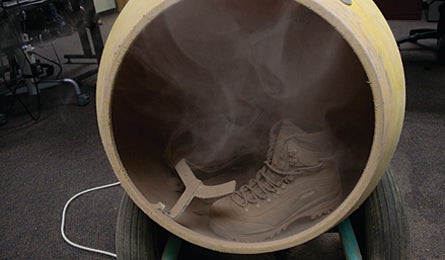 Can any boot stand up to a cement mixer filled with bricks, rocks, and sticks.
The boots performed admirably under harsh conditions.
TEST

In order to replicate years of wear and tear on five tough boots–the Hi-Tec V-Lite Mach 2 EV ($130), Kayland Contact ($230), Keen Oregon PCT ($160), Scarpa Barun GTX ($239), and The North Face Jannu GTX ($190)–we needed to speed up the aging process. The next best thing to a time machine? A cement mixer ($47 per day, homedepotrents.com). We filled it with gravel, rocks, sticks, bricks, and dirt to mimic many miles of big-load, rough-trail abuse. Fifteen minutes of high-speed tumbling did the trick.
RESULTS

While the mixer revealed weaknesses in hardware, uppers, and rand, we were impressed with how well all of the boots fared. Even the lower-cost and lighter-duty models were still usable: The North Face Jannus suffered scratched leather, fraying laces, and loose stitches; the Keens had bent metal lace loops and abrasions on the synthetic material around the tongue; and the all-synthetic Hi-Tecs came out with scuffs and a slightly peeling rubber rand. Even more surprising: The Kaylands and Scarpas emerged from the mixer looking dusty but otherwise in perfect condition. All of the lace hooks, laces, seams, and rands remained intact, and the leather was unblemished. The Scarpa's nubuck upper looked as smooth as when it came out of the box.
LESSON

If you want something done right, do it yourself. Scarpa handpicks the highest quality, blemish-free leather (blemishes equal weak points) and builds the shoes in European facilities rather than shipping raw materials overseas (and out of sight). Attaching rands, for instance, is an art form, and Scarpa has perfected the process over decades of building mountaineering and hiking boots. The shoe must be properly tensioned, the leather must be meticulously prepped, and the best adhesive for the task needs to be identified and applied just-so. All that babying–plus European-made hardware, which tends to be more durable than the Asian-made variety–creates a tough-as-nails boot.
MAKE IT LAST

Cobbler Dave Page, who has been repairing boots for 40 years, says that he mostly replaces worn-out soles–and the only remedy for that is to hike less. Instead, he says, "Always remove insoles from wet boots." It speeds drying, but also helps the lining hold up better over the long run, prevents the upper from getting soft and mushy, and minimizes odor buildup. Also: Repair peeling soles and rands with Freesole ($7, mcnett.com) and keep leather supple with Nikwax Conditioner for Leather ($8, nikwax.com).