Editors' Choice 2008: Rab Latok Alpine Jacket and Westcomb Specter LT Hoody
Unparalleled breathability and clean, lightweight designs distinguish the year's top shells.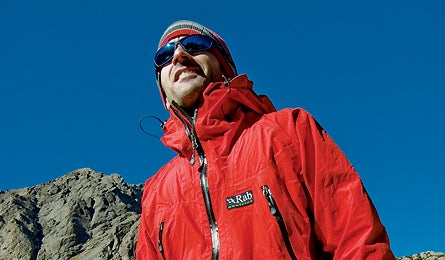 Rab Latok Alpine Jacket (Steve Howe)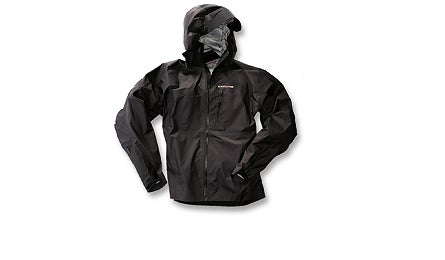 Westcomb Specter LT Hoody (www.sethhughes.com)
Usually, we ding waterproof/breathable shells that lack pit zips. Without the extra ventilation, we simply get too steamy while hiking hard in the rain. But neither the Rab Latok Alpine nor the Westcomb Specter LT Hoody have pit zips, and we didn't miss them. Both shells are made with eVent fabric, which testers found amazingly breathable on wet-weather trips from Glacier to Rainier, the Tetons to the Sawtooths, New England to the Scottish Highlands. We wore these full-zip jackets through snow squalls, cold wind, and downpours, and no matter the elements we always stayed dry. Even in the most challenging conditions–hiking uphill with jackets fully zipped to the chin–the fabric moved moisture so well that we felt merely damp on the inside, then dried out within minutes after our exertion decreased.
We found the lighter Westcomb best for milder (three-season) weather, while the slightly burlier Rab crosses over from summer to moderate winter conditions. That said, the two shells share a number of design features and a distinctively unfussy elegance. Both have an athletic fit that allows full range of motion, and a below-the-hip cut that protects from blowing rain and doesn't ride up under a pack. Both hoods are brimmed and adjustable, and they're protective without being obstructive. And both jackets have simple, minimalist pocket configurations: The Westcomb has one outer Napoleon and two inner pockets, while the Rab has a bit more storage capacity with two outer chest and two inner pockets. Rab Latok Alpine Jacket: $275; men's S-XXL, women's 8-16; 1 lb.; (800) 895-9581 (note: this is a U.K. number, so time changes apply); rab.uk.com. Westcomb Specter LT Hoody: $299; men's S-XXL, women's XS-XL; 12 oz.; (604) 420-8964; westcomb.com. Both weights are for men's medium. Rab and Westcomb products are not yet widely available at U.S. retail stores. Check online retailers such as backcountry.com and prolitegear.com.