Dynafit Hoji Pro Tour
Editors' choice for a fast-transition boot from the 2018 Fall/Winter Gear Guide.
Brand:

Dynafit

Model: Hoji Pro Tour
---
---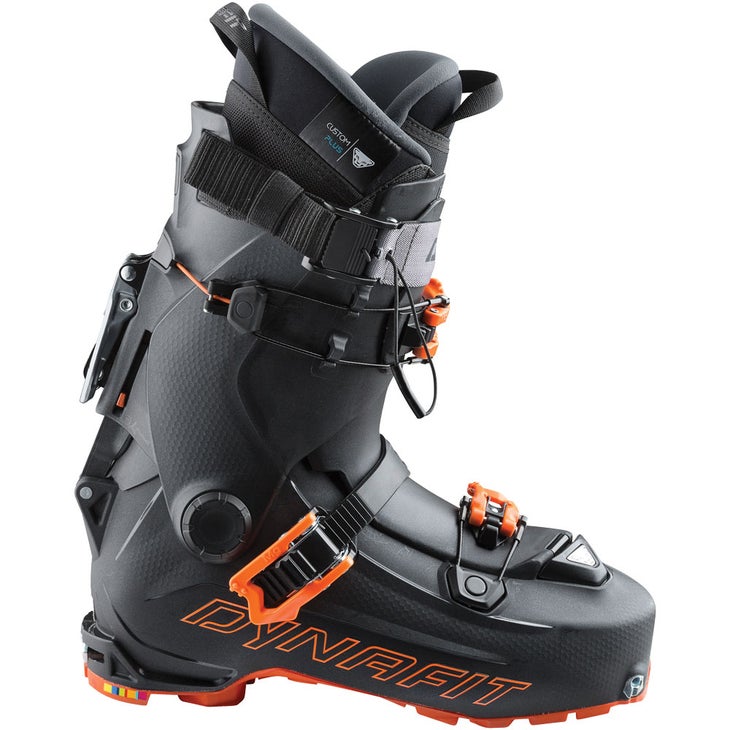 Things that take longer than transitioning from tour to ski mode in this new boot: stashing your skins; flicking your bindings to downhill mode; breathing. Seriously, the lock system in the Hoji Pro Tour is so easy that you barely need to think about it—just flip the lever at the back of the boot down to ski or up to tour, without fiddling with buckles or powerstraps.
Dynafit combined the cuff, spoiler, and shell into a static-locking system—it cams into itself, instead of using a latch which might get filled with ice or debris—that's controlled by the lever; when it's released, the three pieces separate, offering 55 degrees of ankle articulation. When it's locked, they snug together for resort boot-like stiffness and progressive flex. (Adjust the top buckle and powerstrap to your ideal fit at the trailhead.)
"It's so quick and easy that you don't have time to get cold," says one tester who used the Hoji for a full season in Colorado, California, and Idaho. He estimates that he saved at least three minutes each transition.
Using a single control to lock everything into ski mode isn't unique, but having a seamless camming system is. The new lock gives the boot better downhill performance than any other boot that tours this well (because there's absolutely no play). And because it's so strong, Dynafit can get away with using lighter and thinner materials in the boot itself. Despite its downhill pedigree, the Hoji won't weigh you down on long tours. 
Weight: 6 lbs. 6 oz. (m's 27)
Sizes: Men's 25-30.5, Women's 22.5-27.5
–

See more of the Editors' Choice Gear for Winter 2018

See the entire Winter Gear Guide

–