DPS Phantom Permanent Base Glide Treatment
Editors' choice for infinite smoothness while skiing from the 2018 Fall/Winter Gear Guide.
Brand:

DPS

Model: Phantom Permanent Base Glide Treatment
---
---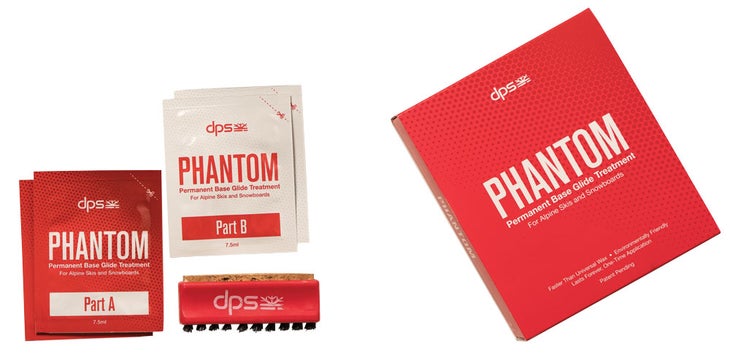 Never wax again. Skiers, let that sink in—much the way that Phantom, a permanent base treatment, seeps into your ski. Apply it, and it makes your ski stronger and faster, while forever eliminating the need to wax. It's an up-front investment for years of return performance.
Here's how it works: Simply paint the liquid onto the bases of your skis (make sure
they're clean), let it cure in the sun or at a DPS cure station in your local shop, then
repeat the process one more time. UV light triggers a chemical reaction that allows Phantom to penetrate the entire ski base (it'll take longer cloudy day). The benefits are manifold: First, it's super-convenient—no more reapplying wax. Second, you get consistent glide over all snow conditions and most temperatures (wax is slightly better in super-warm temps), which one editor appreciated when spring snow in the Pioneers turned to afternoon mashed potatoes. Third, Phantom makes the base more durable, guarding against core shots and other damage. Finally, it's greener. Wax is made with PFCs, a toxic substance that ultimately ends up in our watersheds—Phantom isn't. That adds up to a product that's better than the alternative in every aspect. Let that sink in. 
–

See more of the Editors' Choice Gear for Winter 2018

See the entire Winter Gear Guide

–