Couples Camping 101: Victoria's Secret Goes Backcountry
Skivvies for your bivy.
[sexy undies for her]

Sure they're built for the backcountry because they're made from a quick-drying, wicking synthetic material, but they're also cute, and there's more: Under the waistband of each pair of Isis's Everyday Bikini (3-pack for $45, isisforwomen.com) lies an important message: "You are a goddess." Remember guys: Flattery will get you everywhere.

[and for him]

Nothing says "stud" more than a great butt strutting around in boxer briefs. Give him these: Ibex Zephyr Boxers ($52, ibex.com), made of supersoft merino wool that will last forever and retain their glute-hugging shape.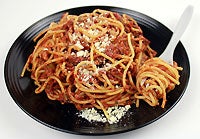 RETURN TO THE COUPLES CAMPING GEAR GUIDE HOMEPAGE