Buyer's Guide: Trail Runners
An in-depth guide to the technology, top products, and latest skills, plus how to get in shape faster to see more trail.


Click image above to view larger version.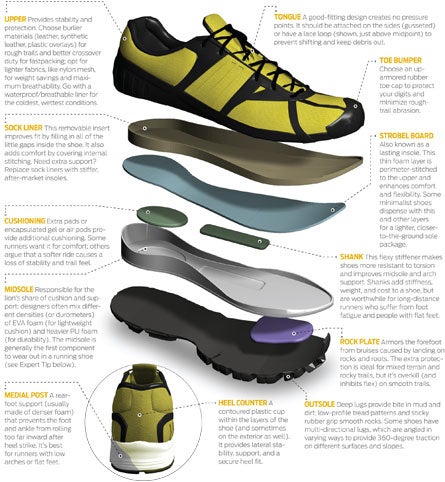 Shop Smart

5 steps to finding the ideal shoe
>> Know your choices There are four styles of running shoes, each geared toward people with different foot shapes, gaits, and training preferences. Cushioning shoes have extra shock absorption, minimal medial support, and are best for high-arched feet and supinators (people with outward-rolling feet and ankles) or neutral runners who like the extra cushion. Motion control shoes have a stiffer medial post to counter the effects of overpronation (rolling inward). They also work for people with flat feet or low arches. Stability shoes, which offer support without correction, are best for neutral runners with normal arches. Minimalist or "barefoot" shoes encourage mid- or forefoot striking and have little to no cushioning and support, in order to enhance the muscle and joint strengthening of natural running. Learn more at backpacker.com/barefoot.
>> Get analyzed If you're new to running or have a problem with injury, find a shop with in-store gait analysis. Trained specialists can home in on your biomechanical needs.
>> Shop late Feet swell over the course of a long run, so try shoes on at the end of the day, when feet are at their biggest. And bring your own running socks to get the best comparison.
>> Check fit Run up and down an incline to judge heel lift (there should be none) and toe space. To minimize the chance for blisters or bruised toenails, shoes should be snug from heel to the ball of the foot and allow ample toe wiggling room. Brion After, owner of Independence Run & Hike in Carbondale, Colorado, says you should be able to "play the piano" with your toes.
>> Measure your arch This DIY arch test (go to backpacker.com/archtest for a slideshow of the process) will steer you to the right type of footwear. Wet your foot by stepping in a shallow tray of water. Continue your natural walking stride forward onto a brown paper bag and match your footprint to one of the shapes.
SEE THE SLIDESHOW
Key Skill

Running Downhill



Fast descents are fun, but poor form is hard on your body. Follow these steps to better technique.
>> While looking ahead, maintain a modest forward lean, with knees slightly bent.
>> Relax your stance and bend your arms. Both will boost stability and balance by making you looser.

>> Land softly on your feet instead of pounding down, and take short, quick strides for maximum maneuverability and speed control.
>> Focus on a mid- to forefoot landing, instead of a heel strike, which can act as a brake.
>> For really steep descents, maintain a relaxed forward lean with arms out (for balance) and land with a gentle heel-to-toe roll to reduce impact. Make mini-switchbacks down the trail to engage lateral muscles and give quads and calves a break.
>> For minimum interruption to stride and cadence, step over (not on) rocks, trees, and trail obstacles.
Hike Stronger

Get trail fit with strength and stamina training.
Trail running bolsters feet and ankles, which benefits hikers by preventing sprained or rolled ankles, plantar fasciitis, knee problems, and shin splints. Plus, running gets you in top hiking shape by working quads, hamstrings, calves, glutes, hips, shoulders, and abs. Here's how to use running to get in prime trail condition this season.
1. ABCs Use your big toe to air-write the alphabet, advises Dr. Marybeth Crane, podiatrist, foot and ankle surgeon, and life-long runner. The wide variety of movements improves flexibility and works foot and ankle muscles, both of which reduce your risk of sprains.
2. Towel crunches To strengthen the interossei and lumbricals, the tiny toe muscles that provide stability for navigating uneven terrain, Crane recommends this exercise: Put your foot on a towel and scrunch or grab the towel with your toes (either seated or standing). Do it 10 times, take a 30-second break, and repeat twice. If this gets easy, try grabbing a pen or marker with your toes instead.
3. Four-week training plan Just starting out? Begin with 20- to 30-minute outings four days a week, advise Adam Chase and Nancy Hobbs in The Ultimate Guide to Trail Running. Add five to 10 minutes a week and build up to an hour-long weekend run (they use time, not distance, to measure runs due to variables in trail difficulty). Remember: It's OK to slow it down or walk hills if you need to. If you're used to spending long hours on the trail, weekend runs can be significantly longer. If you still want more, mix in some cross-training.
TRAIL RUNNING GEAR



Trail Running Apparel: Jacket, Shorts, Hydration Pack



Gear Review: Patagonia Fore Runner Trail Runners



Gear Review: Vibram Five Fingers Spyridon LS Trail Runners



Gear Review: Hoka One One Mafate Edition Trail Runners



Gear Review: Hi-Tec V-Lite Infinity HPI Trail Runner