Boot Buying Guide
More than any other category of gear, boots can make or break your trip. In this guide, gear editor Kristin Hostetter shows you how to pick the right pair for any outing, any feet.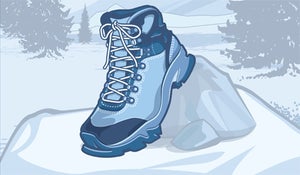 Boot Types
Boots fall into seven basic categories.
Trail running
Technical scrambling
Trail
Off -trail
Mountaineering
Winter
Water shoes
Trail Running
Low-cut and lightweight, trail runners typically have better traction, more cushioning, and better midsole support than average running shoes to handle the rigors of the trail, yet they're not quite as stiff or heavy as a light hiker.
Technical scrambling
Low- or mid- cut, and fairly lightweight, these shoes have grippy, sticky rubber soles and narrow, foot-hugging lasts for bouldering, scrambling, and rock climbing. The fit is typically more snug than a standard hiking shoe (allowing climbers to feel the rock and get better purchase), but scrambling shoes are uncomfortable for anything but short hikes to the crag.
Trail
These boots are either low- or mid- cut and geared for striding on well-maintained trails. Support is adequate for daypack-sized loads.
Off-Trail
With higher cut ankles and more torsionally rigid soles, these boots are designed to protect your feet when you venture off-trail, where the footing is unpredictable. Off-trail boots often have rubber rands (buffers to protect the upper in high wear areas like the toe and heel), and cutout ankle collar known as an Achilles notch (to relieve pressure on long descents), full waterproofing, and crampon compatibility.
Mountaineering
The stiffest of the bunch, mountaineering boots are also the most protective. Often lightly insulated, these boots are geared towards very high, cold places. The always have rigid soles designed for crampon use.
Winter
Winter boots are essentially trail shoes that have been modified for winter use, with a higher ankle to keep snow out, insulation to keep you warm, a waterproof membrane to keep you dry, and amped up traction for snow and ice. They're ideal for snowshoeing, sledding, and winter hiking.
Water Shoes
Designed primarily for paddling trips, river crossings, and other wet conditions, these shoes feature good drainage (often mesh uppers or small holes along the side of the shoe) and quick-drying materials.
Find the Right Boot
Ignore the numbers and buy the pair that feels the best—even if it's larger than your norm.
Try boots on with your hiking socks—not those thin dress socks you wore to work.
When trying boots on for the first time, do it at the end of the day, when your feet will be slightly swollen (like they are when you're hiking). With hiking boots, it's always better to err on the side of slightly big rather than slightly small.
Consider replacing the boot's standard footbed with an aftermarket insole. They can add arch support, prevent end-of-day soreness, and help low-volume feet fit into standard boots.
Less weight equals comfort: Don't buy heavy-duty boots if you primarily hike with a light pack on mellow trails.
Break in boots thoroughly by wearing them around the house and on short dayhikes. Light hikers will be ready in a few days, but heavier, all-leather boots require a few weeks of wear.
Boot Heights
Low-Cut
Since the tops of these boots fall below the ankle joint, they offer great freedom of movement for comfort and fast striding. But, because they lack support and protection, they're not the best for carrying heavier loads or venturing off-trail into unstable terrain.
Mid-Cut
This cut wraps your ankle to provide support and padding against rocks, roots and rolling. The higher cut means that they provide better water-proofing and keep debris out better than a low-cut boot, but they lack the buttressing required to carry big loads in big terrain.
High-Cut
Though they will require a longer break-in period, high cut boots provide the stability and support you'll need for serious mountain travel, as well as better protection from the weather.
Treat Your Boots Right
Condition and Waterproof as Needed. Depending on the amount of wear they get, boots can benefit from treating roughly on to three times a year, or whenever the materials starts to lighten in color and look dry and thirsty. What type of treatment should you use? There loads of good ones out there, all tailored to work with different types of leather and materials. Whichever treatment you use, be sure to follow the instructions carefully. Two or three thin coats are better than one thick gloppy one. Also, contrary to popular opinion, you should never warm your boots in the oven prior to treatment—unless you want the toes to curl up like clown shoes and the glue to melt all over the place.
Repair Your Soles: If your boot sole starts to delaminate, or peel away from the boot, repair it immediately with Shoo-Goo or a similar product. In the field and goo-less? Just secure the flapping soul with duct tape until you get home. If you wear Norwegian welted boots (the soles are stitched rather than glued to the boot) find a good cobbler to sew them back up.
Choose Your Material Carefully: Avoid using mink oil or any other type of oil which will over-soften most backpacking and hiking boots. (Note: If you're intent is to simply soften stiff, unyielding leather, a dab of mink oil may help.)
Dry Right: Never dry wet leather boots near a fire or other direct heat source or you could end up shrinking them by half a size, which will most definitely lead to nasty heel blisters. The best way to dry boots is slowly but surely. Remove the insoles and laces. Open the boots up as much as possible for maximum airflow. Insert newspaper or, if you're in the field, try chemical heating packs/handwarmers.
Avoid Mold and Mildew: When you reach the car after a hike, avoid the temptation to stuff your wet, mucky boots in a plastic bag and forgot about them for a while. If they stay trapped in plastic for too long, they'll quickly be devoured by mold and mildew.
Boot Anatomy
The upper is your foot's first line of defense against weather, dirt, and abrasion.
Strategically placed plastic or fabric "exoskeletons" reinforce the foot in vulnerable areas to add support. When connected to the lacing system, they can also enhance fit.
Like a car chassis, the midsole sits between the upper and outsole to absorb shock, support the foot, and reduce fatigue. Molded EVA and polyurethane foams provide lightweight cushioning, while thermoplastic polyurethane (TPU) plates or shanks act like extra foot bones to bear weight and provide critical support for heavy loads.
The rubber outsole protects the bottom of the foot and grips the trail.
Knobby lugs provide traction.
The tongue gusset provides a seal between tongue and boot to fend off water and trail debris.
The heel counter, made of rigid materials sandwiched between the upper and the inner lining, surrounds the rear of the boot to stabilize the heel.
A rubber rand boosts durability in high-wear areas and creates a waterproof seal between sole and upper.
Membranes between the upper and boot liner, such as Gore-Tex or eVent, make boots waterproof and breathable.
Boots made of waterproof leather (rather than a membrane) have stitches treated with seam sealer.
The cutout ankle collar known as an Achilles notch is a must for anyone with tendonitus or Achilles discomfort; it also helps relieve Achilles pressure on long descents.
A rockered (curved) sole allows for natural striding.
Ridges provide crampon compatibility.