Bargain Load Haulers: Weekend Pack Review
High performance and low cost? These 6 weekend packs deliver.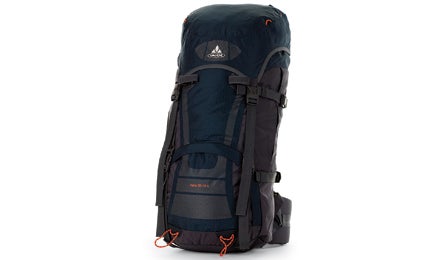 The Astra's build-in raincover deploys like a pop-up umbrella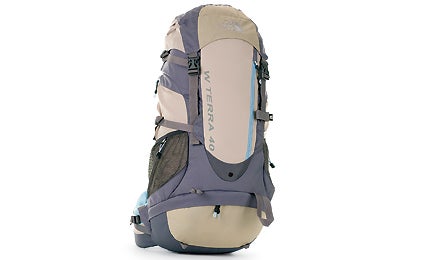 The North Face Terra 40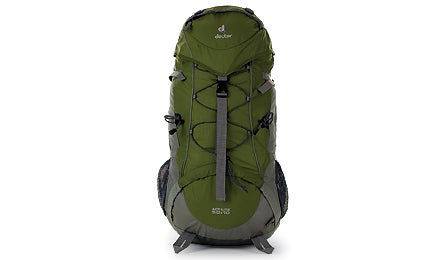 Deuter Aircontact Lite 50+10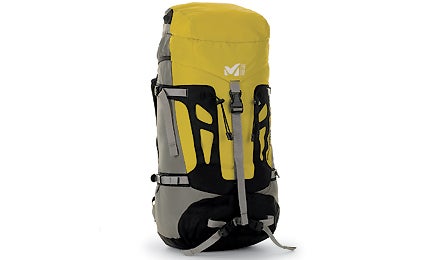 Extra-large webbing loops on the shoulder straps add versatility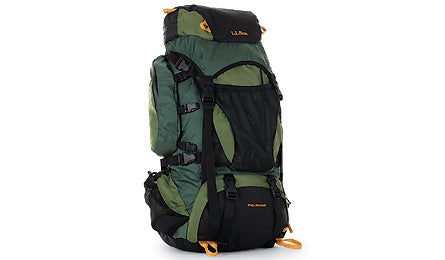 L.L. Bean White Mountain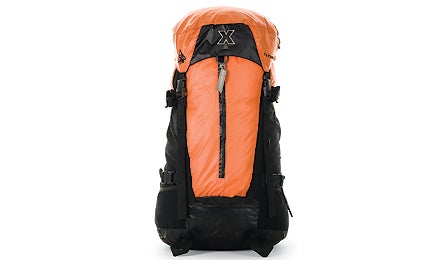 Coleman Exponent Tatarian X55
Most Comfortable | Total Stability | Lightest | Best for Climbers | The Organizer | Versatile
If you're new to backpacking or on a tight budget, you're in luck. Unlike gas and groceries, packs seem to be getting cheaper. We scoured the market for comfortable, durable packs that hold a long weekend's worth of gear and cost less than $150. Our testers hit the wilds from Vermont to California and narrowed a field of 20 contenders down to these top six.
Most Comfortable

Vaude Astra 55+10

Every tester achieved a perfect fit with the Astra, thanks to six inches of torso adjustability. And dense padding in the hips, lumbar, and shoulder areas minimized typical long-day soreness. Two contoured aluminum stays transfer weight efficiently to the cushy hipbelt, and the suspension flexes laterally with your stride, which helps reduce rubbing. Testers carried up to 45 pounds without complaint. The back panel vented well, even in Costa Rica's tropical humidity. On a rain-drenched hike in Washington's San Juan Islands, one tester deployed the built-in raincover and said, "Without even taking the pack off, I could unzip the cover and pull it up." Expandable side pockets are big enough for liter bottles (though tight if the pack is stuffed). The top lid converts to a lumbar pack, with a fabric panel that holds gear tightly in place for maximum stability. The packbag's polyurethane-coated Cordura is exceptionally durable. Minor complaint: The top lid zipper is too short. Reader Service #101
> Capacity 3,960 cu. in.

> Sizes 2 unisex

> Weight 4 lbs. 9 oz.

> Price $150

> Info libertymountain.com
The Astra's built-in raincover deploys like a pop-up umbrella
Overall = 4.4

Comfort = 4.4
Loading = 4.4
Stability = 4.6
Durability = 4.6
Most Comfortable | Total Stability | Lightest | Best for Climbers | The Organizer | Versatile
Total Stability

The North Face Terra 40
"Zero sway." That's what one tester said after aggressive scrambling in the peaks surrounding California's Saline Valley, and others agreed. The stability starts with the suspension system's perfectly pre-curved aluminum stays and rigid polyethylene framesheet, which transfer weight efficiently and evenly to the hipbelt. Add thickly padded shoulder straps that cinch securely and a supportive hipbelt with two-way stabilizer straps, and the Terra will monkey-hug your back on the trickiest terrain. The channeled mesh back panel is well-padded and kept hikers cooler than any other pack in the test. Stretchy side and front pockets and the two-chambered top lid easily corral doo-dads and extra layers. (Bummer: There's no hipbelt pocket.) Mesh side pockets are more horizontal than vertical, but still secure a liter bottle. Though capacity is on the smaller end of the range–largely because of the sewn-on lid and short collar–testers agreed that they'd pack light and carry it for up to a week in summer, or use it for backcountry skiing in winter. Reader Service #102
> Capacity 3,700 cu. in.

> Sizes 1 men's, 1 women's

> Weight 4 lbs. 4 oz.

> Price $119

> Info thenorthface.com
A ladder-lock system lets you fine-tune torso length in seconds
Overall 4.0

Comfort 4.0

Loading 4.1

Stability 4.2

Durability 4.4
Most Comfortable | Total Stability | Lightest | Best for Climbers | The Organizer | Versatile
Lightest

Deuter Aircontact Lite 50+10
This pack is more than a pound lighter than some competitors, which is why it rose to third place despite average scores for comfort, features, and durability. With loads under 35 pounds, the suspension proved stable enough for the rough terrain of Arizona's Superstition Mountains. Credit the crossed aluminum stays and a wide hipbelt with two-way stabilizers. And with five inches of torso adjustment controlled via Velcro and a line of webbing loops, fine-tuning fit is hassle-free even on the trail. The three-pocket lid and hidden passport pouch inside the sleeping-bag compartment provide plenty of storage options, and the single hipbelt pocket is big enough for a GPS. Downsides: The back panel doesn't ventilate well. And the single lid strap blocks access to the front bungee cords. Tip: Unless you're XXL, trim the extra-long hipbelt strap. Women's version is the Aircontact Lite 45+10SL. Reader service #103
> Capacity 3,650 cu. in.

> Sizes 1 men's, 1 women's

> Weight 3 lbs. 8 oz.

> Price $149

> Info deuterusa.com
Overall 3.9

Comfort 3.2

Loading 3.1

Stability 2.9

Durability 3.3
Most Comfortable | Total Stability | Lightest | Best for Climbers | The Organizer | Versatile
Best for Climbers

Millet Prolight 45
If you want a tough, stable pack that's uncluttered by extra pockets and organizing features, choose the Prolight. The single top-loading main compartment is free of internal dividers of any kind, so there's no futzing while packing awkwardly shaped items. Testers hiked three days' worth of supplies into Grace Camp in the Adirondack High Peaks, skied Mt. Marcy all day, then skinned and skied the challenging Benny's Route Canal with fully loaded packs. Through it all, they praised the Prolight's load control and comfort. A vertically rigid framesheet flexes side to side, and stayed glued to testers' backs even when they twisted or reached while scrambling. Not surprisingly, the Prolight excels at carrying technical gear. Features include an ice axe harness that tucks picks out of the way, reinforced patches under cinching side straps that prevent ski edges from cutting the bag, and hipbelt gear loops for hanging climbing pro. Large webbing loops on the shoulder straps let you hang a camera or GPS, or use them as thumb loops if your hands swell from hanging down all day. It's a tad heavy for a no-frills, relatively small pack (with a sewn-in top and the lowest capacity here, it's best for weekend duty), but the weight pays off in durable materials and a solid suspension. Bottom line: For general backpacking duty, we'd like a little more organization, but for technical pursuits we wouldn't change a thing. Reader service #104
> Capacity 2,745 cu. in.

> Sizes 1 unisex

> Weight 4 lbs. 1 oz.

> Price $150

> Info milletusa.com
Overall 3.7

Comfort 3.9

Loading 3.5

Stability 4.2

Durability 4.2
Most Comfortable | Total Stability | Lightest | Best for Climbers | The Organizer | Versatile
The Organizer

L.L. Bean White Mountain
This feature-rich, pocket-festooned pack is the answer for hikers who like a place for everything. The shoulder strap has a GPS/cell phone pocket and the hipbelt has two more, each big enough for a point-and-shoot camera or energy bars. Mesh water-bottle pockets are angled for easy access, and side pockets swallow snacks, sunglasses, and more. It's a top-loader, but there are two additional ways to access the main compartment: through a horseshoe-shaped zipper hidden behind three front pockets, and through a lower sleeping-bag compartment, which has an internal divider. The harness has three inches of torso adjustability concealed under a zippered back panel. The penalty for so many bells and whistles? Weight. The White Mountain is the heaviest pack in our review by more than a pound. But if your hikes tend to be on the shorter side, the extra ounces shouldn't be a deal breaker. The suspension is comfortable with up to 30 pounds on board–a bit less than we'd like–but testers praised the dramatically contoured shoulder straps and ultra-padded hipbelt, which wrapped hips evenly. A spindrift collar extends capacity by more than 800 cubic inches, but overloading this pack can tax the suspension and make the whole thing wobbly. Beginner bonus: Sewn-in tip sheets include packing checklists, plus tips on loading a pack and choosing a campsite.
> Capacity 4,500 cu. in.

> Sizes 2 men's, 1 women's

> Weight 6 lbs. 3 oz.

> Price $149

> Info llbean.com
Overall 3.5

Comfort 3.0

Loading 3.8

Stability 3.3

Durability 3.6
Most Comfortable | Total Stability | Lightest | Best for Climbers | The Organizer | Versatile
Versatile

Coleman Exponent Tatarian X55
After speed hiking a 15-mile section of the Pacific Crest Trail in California, one tester praised this pack for its balanced combination of weight (low), durability (high), and features (plenty). A framesheet and two aluminum stays provide solid support, but relatively thin padding on the hipbelt and shoulder strap make it best for loads below 30 pounds. Despite the sub-four-pound weight, the pack is both spacious and easy to load. "The squared-off bottom keeps the pack from tipping over and the oversized O-ring zipper pulls make pockets quickly accessible," said one tester. Mesh side sleeves and pockets hold a sleeping pad or tent poles, a stretchy front pouch keeps extra layers accessible, and the top lid converts to a lumbar pack. The silicone-treated nylon packbag is lightweight, highly water repellent, and impressively durable: After the PCT trek, we loaded it with 38 pounds of climbing gear, checked it on a cross-continent flight, and it still showed no signs of wear. (With that much weight, you'll experience some shoulder fatigue.) Torso length adjusts via Velcro. Gripes: The hipbelt pocket is small, and the shoulder straps are scratchy on bare skin.
> Capacity 3,455 cu. in.

> Sizes 1 men's, 1 women's

> Weight 3 lbs. 13 oz.

> Price $150

> Info coleman.com