Baffin 3 Pin Guide Pro
Best ski boot for deep cold from the Fall/Winter 2018 Gear Guide.
Brand:

Baffin

Model: 3 Pin Guide Pro
---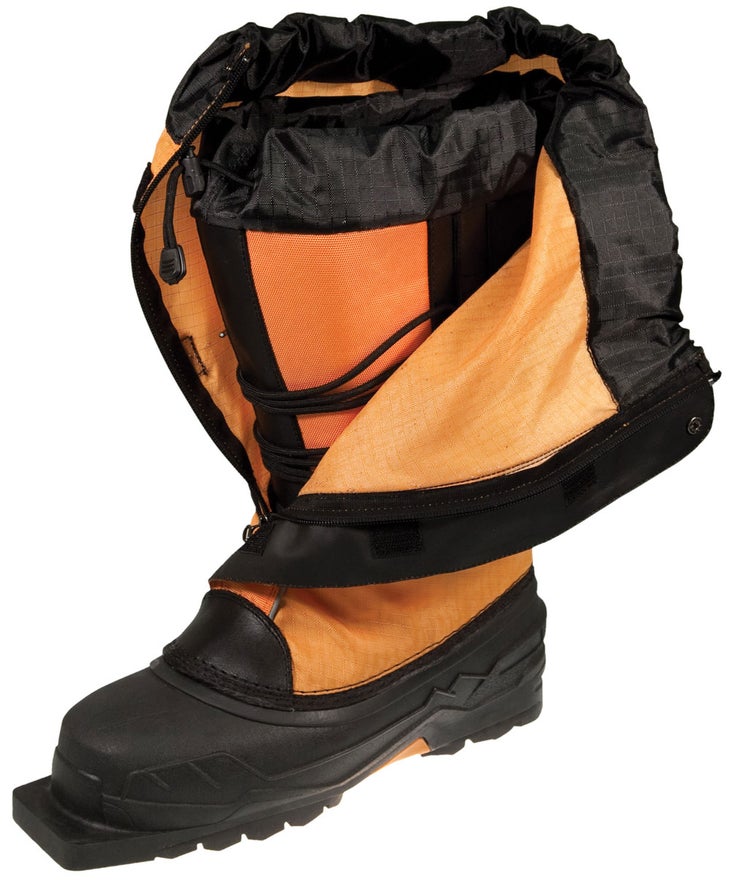 If you're more interested in the "touring" part of ski touring, you're probably on an agile telemark setup. But those are often paired with minimalist boots or, worse, hard, plastic boots—the fastest way to cold toes there is. Here's a solution: the soft-sided 3Pin Guide Pro. The mega-warm winter boot (rated to -94°F) kept our tester warm during a season of touring in Alaska, even when temps dipped below 0°F. 
THE DETAILS 
The 3Pin Guide Pro, which is compatible with any three-pin binding, has a removable, multi-layer liner with gel-based insulation. The EVA midsole is a welcome addition for anyone used to hard ski boots, and the built-in gaiter goes knee- high to prevent snow from creeping in if you're breaking trail. (Though it can manhandle skis on flats and slight hills, the super- soft 3Pin Guide can't drive skis on slopes steeper than 15 degrees.) 
TRAIL CRED 
"I wore the 3Pin Guide Pros on the tour in, while making a snow shelter, and then hanging out at camp, and my feet were comfortable and warm," one tester said after a trip in the Talkeetnas. "In the morn- ing, there was a lot of swearing as frozen plastic boots were stomped into. Not for me. I just slipped the Baffins on and got to work fixing breakfast."
Weight: 6 lbs. 5 oz. (9)
Sizes: 8-13
–

See more of the Skis for Winter 2018

See the entire Winter Gear Guide

–