Backpacker Tests 3-Person Tents
These lightweight tents can house three campers in comfort or two in splendor.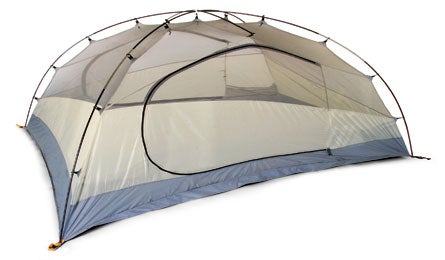 Black Diamond Vista, Heather Macarthur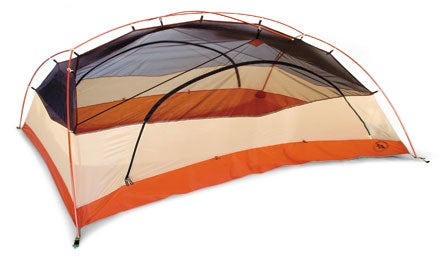 Big Agnes Copper Spur UL3, Heather Macarthur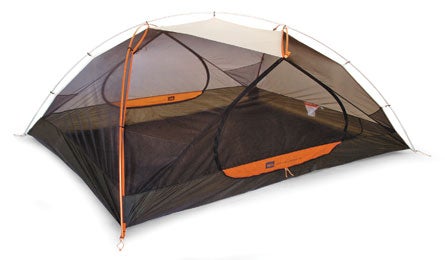 REI Quarter Dome TT UL3, Heather Macarthur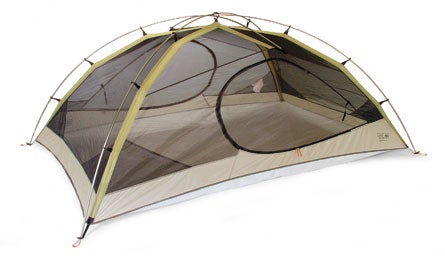 Mountain Hardwear Skyledge 3, Heather Macarthur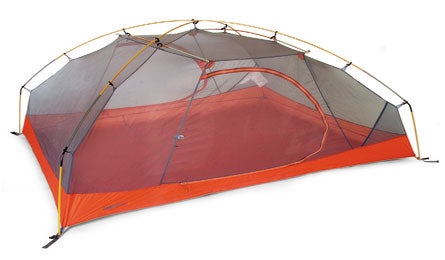 Marmot Aeros 3p, Heather Macarthur
Maybe you're lugging a third wheel on your trips. Maybe you want extra gear space for cold-weather treks. Or perhaps you have a dog or a kid or an NBA-sized partner. With three-person tents now hitting a weight class once reserved for two-person models, there are plenty of good reasons to get your own.
To find the best in class, we began with 16 models that fit key backpacking criteria. Then we added a whole lotta wind, rain, snow, and bugs over the course of several months and 189 backcountry nights in places as diverse as the Olympics, Yellowstone, Canyonlands, and Iceland. When the dust cleared from one of the most exhaustive field tests we've ever conducted, five shelters had emerged as the top performers in a very competitive pack. Each model has distinct advantages, so carefully read the reviews that follow to decide which is best for you.
BEST ALL-AROUND

Black Diamond Vista

Overall 4.8*
Floor space 51 sq. ft.

Vestibules (total) 18 sq. ft.

Weight 6 lbs.**

Price $350

Contact (801) 278-5533; bdel.com
When four of five testers concur on the top piece of gear in a field test, you can rest assured you'll agree, too. The Vista simply aced every evaluation category. For starters, with 51 square feet of interior space and steep walls, it ranks tops for head- and elbowroom. Never mind three burly backpackers, you could just about park a Prius inside. The mesh canopy permits great ventilation on muggy nights and awesome stargazing sans rainfly. The doorways are huge, and you can unzip their awnings a bit in a downpour, so not even a long night of 40°F rain in the Columbia Gorge created a drop of condensation. The hubbed poles, clips, and color coding make pitching a snap, and the dome shape easily blocked steady winds at 9,500 feet on Mt. Rainier. The rainfly-only setup (using an optional $40 footprint) trims the weight to 4 lbs. 3 oz. If there's a shortcoming, it's that the two nine-square-foot vestibules are merely adequate for storing boots and midsize packs–though you could pull your gear indoors if you had to cook in one.
BEST SPACE-TO-WEIGHT

Big Agnes Copper Spur UL3

Overall 4.0
Floor space 44 sq. ft.

Vestibules (total) 22 sq. ft.

Weight 4 lbs. 5 oz.

Price $500

Contact (877) 554-8975; bigagnes.com
As a rule, significant weight reduction requires compromises. But tent designers at Big Agnes are making a habit of bending that rule. The Copper Spur offers nearly the same amount of space (44 sq. ft.) as this field's biggest tents, but it's the featherweight of the batch thanks to gram-saving poles and a silicone-treated, ultralight nylon rainfly. With a combined 22 square feet of space, the vestibules shelter wet stuff, boots, weeklong packs, and a dog. The hubbed poles, color-coded rainfly attachments, and curved clips make the Copper Spur the fastest in this group to pitch; the poles create a sturdy rainfly-only setup (a mere 3 lbs. 4 oz., with optional $60 footprint). Abundant mesh, two roof vents, and good cross-ventilation (with the ends guyed out) kept warm nights cool and freezing nights condensation-free. And the tradeoffs are negligible. Six-footers enjoyed card-playing headroom and length to stretch out (though the width is a bit cramped for three big guys). The tent withstood Colorado rainstorms and Tetons wind, but the fly chatters in a blow. The only real compromises: low doorways, high price.
BARGAIN

REI Quarter Dome TT UL3

Overall 3.9
Floor space 41 sq. ft.

Vestibules (total) 13 sq. ft.

Weight 4 lbs. 6 oz.

Price $289

Contact (800) 426-4840; rei.com
You could buy a brand new pack with the difference in price between this tent and any other in the test. If that's not enough reason to consider the redesigned Quarter Dome, consider this: It goes up lightning fast, thanks to hubbed poles color-coded to match both the tent seams and stake tabs. The unique combination of one full-length and two three-quarter-length poles creates ample stability and headroom while shaving ounces. The tent weathered Colorado hail, Cascades wind, and a Sawtooths thunderstorm (though wind sneaks under the short fly). Two ceiling vents and a mesh canopy resulted in almost no condensation on chilly nights; the only drawback is that the vents have to be closed from the outside, which is inconvenient. Three average-size occupants found it tolerably snug (41 sq. ft.), but six-plus-footers will find it a bit short. Vestibule space (13 sq. ft. total) is tight for a trio's full complement of gear. Bummer: Our test sample suffered a one-inch tear in the rainfly. Still, for an average-size trio of campers or a pair wanting more space at an incredibly low weight, this tent's a steal.
COMPACT AND TOUGH

Mountain Hardwear Skyledge 3

Overall 3.8
Floor space 38 sq. ft.

Vestibules (total) 24 sq. ft.

Weight 4 lbs. 14 oz.

Price $400

Contact (800) 953-8375; mountainhardwear.com
Need a lightweight shelter that can handle truly nasty conditions? This is your tent. Though under five pounds, with a compact footprint, it proved itself in numerous hard-blowing rainstorms above 8,000 feet. The cavernous vestibules (12 sq. ft. each) have doors angled to keep rain out even when they're left open. A generous gap between canopy and rainfly encouraged airflow on a humid, 80°F morning, and eliminates all condensation in cool temps. The crossing-poles setup is easy to pitch, and eight pockets provide ample storage. Vertical walls make the modest interior space feel bigger than it really is, and six-foot-plus campers lauded the surplus headroom. But there's only 38 square feet of floor space; as one tester summed up, "It's not a true three-person tent, but better for two campers who want more space without picking up weight." The tent doors, while large, were difficult to open unless the pitch was quite taut (because the slack fabric caused the zipper to stick). And the rainfly-only setup (3 lbs. 6 oz., with optional $50 footprint) has few clips securing the rainfly to the poles, so it's not as stable as a hubbed-pole setup.
SPACIOUS AND STURDY

Marmot Aeros 3p

Overall 3.6
Floor space 46 sq. ft.

Vestibules (total) 20 sq. ft.

Weight 5 lbs. 5 oz.

Price $369

Contact (707) 544-4590; marmot.com
If you're pursuing the middle ground–not too heavy, not too small, not too pricey–look no further. Roomy for three, the 46-square-foot Aeros ranks second only to the Vista in floor space, yet it's more than a half-pound lighter. Two bridge poles and Marmot's unique "knees" in the crossing poles balloon the elbowroom. The vestibules (10 sq. ft. each) store three campers' packs and gear. Color-coded tabs and curved clips make it a fast pitch. Testers liked Marmot's multi-hole stake tabs, which improve flexibility when setting up on rocky, hard ground. The sturdy pole structure, low profile, and ample stake and guy points made it a fortress in Cascades wind and rain. "Love all that mesh–we had no condensation on nights below freezing in the Tetons," one tester said. The sturdy rainfly nylon promises long durability. Downsides: Six-footers called the length inadequate. A bad drip line brought rain inside when opening vestibule doors, and the doorways are annoyingly tight. Plus, the rainfly-only setup (4 lbs. 2 oz., with optional $45 footprint) has so few tabs attaching rainfly to poles that it's aggravating to pitch–and flimsy.
CRITERIA New 3-season, 3-person, double-wall tents / Maximum trail weight is 6 lbs. (2 lbs. per person) / Must have adequate bug protection (no funky tarp shelters) / Two doors and two vestibules / Maximum price is $500
*Rating Scale: 5= perfect gear, 1= save your money
**Weights are for rainfly, canopy, and poles only, according to BACKPACKER scales.