Backpacker Photo School: Tips for Great Fall Photos
Before all the leaves drop, read these quick tips and take your camera out on the trail for one more shot at Autumn photos.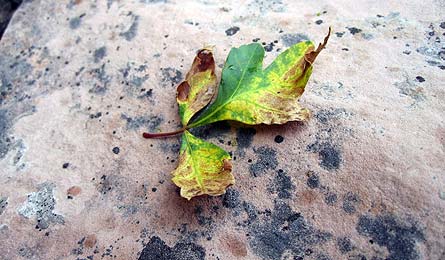 Photo by Caley Kurchinski
Photo by Caley Kurchinski
With stunning fall colors, it's easy for your photos to start looking homogenized. Here, 3 quick tips for giving your fall photos some variety. Put them into action and you'll have a more interesting selection of seasonal images.
1.Notice the Details

There are surprises to be found on a small scale. Focus your eyes, and then your camera, on the little details— not just the broad scenery– and look for up-close shots of perfect individual leaves that are half changed, like the one above. This leaf is sitting on a rock filled with texture creating a unique background. The photographer, photo intern Caley Kurchinski, noticed this particular leaf and background and was able to capture it well. Also, don't forget to look up, as well as down, for these details. A leaf might be stuck in a spider web or dangling on an otherwise-empty tree branch.
2.Shoot Vertical

Not every "landscape" photo has to be shot in the landscape format. Turn the camera vertically every now and then, especially if there are some strong vertical elements to capture. The repetition of straight, tall tree trunks can be emphasized when the whole photo is vertical instead of horizontal. A trail in the photo can lead deeper into the image if it has more space.
3.Get Closer

A lot of photos could go from good to great if the photographer wasn't so far from the subject. Zoom in, or simply take a few more steps than usual towards your subject. In the second photo above, Kurchinski conveys the feeling of being in a tunnel of color. She was on the trail and didn't include anything but the immediate surroundings in the image, composing it so as not to contain sky. If she had included the sky, it would have made the photo feel more pulled back; more of a generic mid-distance landscape. This method of composition works well on the trail. In other scenes, you may want to squat down so your foreground is close to the lens.
Some of Backpacker's readers are already putting these tips into practice.

Click here for a slideshow of Reader Fall Photos.