Backpacker Gear Guide: One-Person Tents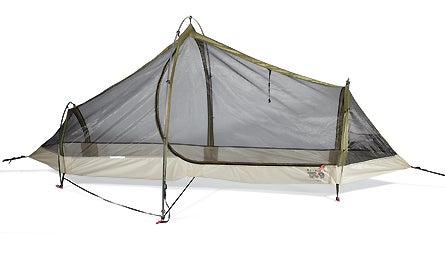 Mountain Hardware Stilleto, Sethhughes.com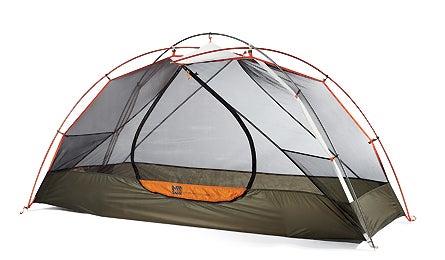 REI Quarter Dome 1 TT, Sethhughes.com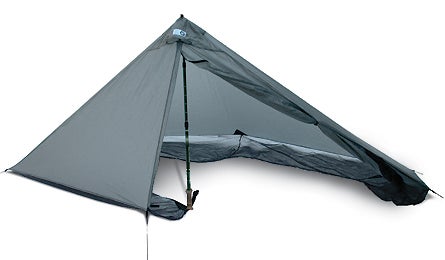 Six Moon Designs Wild Oasis, Sethhughes.com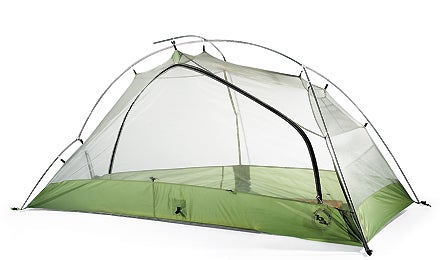 Big Agnes Emerald Mountain SL1, Sethhughes.com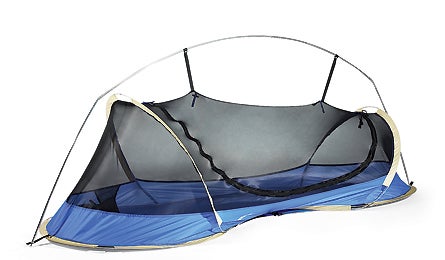 Catoma the Twist, Sethhughes.com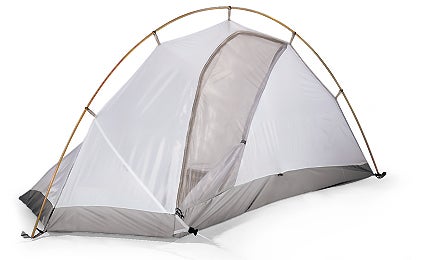 Macpac Microlight, Sethhughes.com
Best All-Around

Mountain Hardwear Stiletto FP
Compressed in its sack, this hoop-style tent measures no bigger than a football thanks to foot-length pole segments. But looks, as they say, can be deceiving. Pitched, the Stiletto's curved outrigger pole supports a high vestibule that runs the length of the tent, creating prime cooking and gear-storage real estate. Dogs, boots, 80-liter packs–the Stiletto's covered porch swallowed them all, and still allowed unhindered coming and going. Testers also praised the tent's excellent ventilation in a wide variety of climates, from muggy Pennsylvania to high-alpine Idaho. It's non-freestanding, and despite a wide midsection, the Stiletto's headroom is narrow and low, which one tester found claustrophobic. $325; 2 lbs. 8 oz.
Best Buy

REI Quarter Dome 1 TT *FP

Stop surfing Craigslist for a tent steal. This is it: a freestanding, three-season shelter that weighs less than 3 pounds and costs less than two hundred bucks. Pitching is fast and simple the first time out, thanks to the color-coded setup and smart finger-pulls on the guylines that make tightening the fly a snap. The near-vertical walls and generous ceiling height (40 inches) mean a six-footer can sit up comfortably, and the large vestibule shelters pack, boots, and wet clothing. After a six-day trek through Olympic National Park, one tester reported sleeping dry every night despite strong winds and frequent, heavy rain. Two adjustable ventilation flaps and an all-mesh canopy also helped keep the tent free of condensation. Our only serious gripe: its narrow floorplan. "Lying on my back, my elbows were mashed up against the tent walls," reported one tester. $179; 2 lbs. 12 oz.
Top Ultralight

Six Moon Designs Wild Oasis
If you have space in your pack for a box of mac-and-cheese, you have room for this minimalist tent. The floorless, sil-nylon shelter offers better-than-a-tarp protection thanks to a no-see-um skirt around the perimeter. With practice, the Wild Oasis pitches quickly using six stakes and a trekking pole (or the optional carbon-fiber pole, $25). And the shelter's height is adjustable: taller for increased ventilation, or lower profile for better storm protection (it proved impressively sturdy in strong winds). But it became sauna-like and wet with condensation in Tennessee's humid summer weather. "It's not built for creature comforts," said our tester after carrying the Wild Oasis for 300-plus miles on the Appalachian Trail. Still, if you put weight savings above all else, it's hard to beat. $175; 13 oz.
Roomiest

Big Agnes Emerald Mountain SL1 *FP

The three-person version of this tent earned our Editors' Choice Award last year (4/07), so testers had high expectations for this new solo model. "It delivered–in a big way," says one broad-shouldered six-footer, who found plenty of space to stretch out in the SL1's 22-square-foot interior. The vestibule is equally expansive, and it grows even larger with the optional accessory vestibule ($100; 14 oz.), which more than doubles the tent's sheltered space. Solo hikers with big (or wet) dogs will love the extra room. Stability and ventilation are good, but you pay a weight penalty for the ample real estate: This tent is as heavy as some two-person models. $300; 3 lbs. 7 oz.
Fastest Setup

Catoma The Twist FP

Yank this hoop-style shelter from its stuff sack and it springs to shape, thanks to integrated, flexible fiberglass poles. Simply stake down the fly and your bed is made. The super-fast pitch endeared it to hikers who had to make camp during a downpour. "I slept dry even during heavy rains, and the Twist also held strong against the wind," said a Montana tester who weathered repeated mountain thunderstorms. One just-big-enough vestibule extends along its length. Pitched fly-only (using the same pop-up technique), the Twist becomes a tarp-style shelter weighing just 1 pound 10 ounces. And at more than 7 feet long, it let tall guys unfurl completely. Downsides: It needs better ventilation during prolonged rain, and packing the tent back into its sack requires practice. The fabric appears to be less durable than some competitors, but it had no breakdowns during a summer of testing. $199; 2 lbs. 15 oz.
All-Season

Macpac Microlight FP
"It's not a tent, it's a storm bunker," declared our Colorado tester after weathering driving rain and 40-mph winds on the Continental Divide. The Microlight's ground-hugging, single-pole tunnel design is rock solid when staked out (it's not freestanding). And the integrated fly means you can pitch the tent in a storm without exposing the interior to rain. The super-durable floor–made of Torrentwear XP, a densely woven, polyurethane-coated nylon–needs no TLC. Demerits: Our 5'11" tester found the interior length adequate but not generous, and the low ceiling and narrow profile turned changing clothes into a yoga session. Ventilation isn't sufficient; condensation formed even in mild weather. And despite the name, it's a tad heavy for a solo tent that's not freestanding. $250; 3 lbs. 5 oz.