Anatomy Of A Snowshoe
Get up close and personal with all those snowshoe parts.
Snowshoes are the easiest way to travel through deep powder in the backcountry. A big plus to snowshoeing: After about 10 minutes, you'll be an old pro.
Before running out to buy a pair of webbed feet, you'll need to bone up on the basics of a snowshoe's structure. While all snowshoes rely on the same basic structure, when you walk into your favorite outdoor shop, you'll be amazed at how radically different they all look. Check out the diagram and descriptions below to learn the features you need for the type of snowshoeing you want to do.
One important note: Bring your hiking or snowshoeing boots when you try on snowshoes to make certain the bindings fit.
Click on the parts below for more info.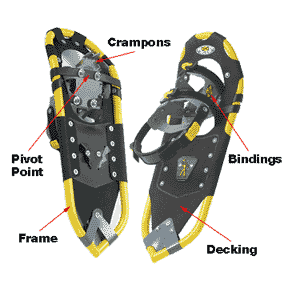 Decking
Decking is the material that creates a snowshoe's surface area-basically, it's what keeps you afloat. Remember that antique pair of snowshoes mounted above the fireplace in Uncle Frank's living room? The webbing made of rawhide strung across the wooden frame is the decking.
Newer versions of snowshoes feature solid sheets of lightweight, tough materials like Hypalon (a rubbery type of nylon known for it's resiliency), vinyl, or polyurethane-coated nylon, to offer better flotation with a smaller surface area.
Crampons
Snowshoes designed for varied backcountry use should have metal teeth, or crampons, that sink into snow and ice for improved footing when you're climbing, crunching across crusty ridges, or crossing frozen, windswept ponds.
The simplest systems use toe crampons, which jut out under the ball of your foot and bite with every step. Metal teeth under the heel are also common.
Snowshoes built for expedition use and peak-bagging feature more extensive cleating, with toe and heel crampons plus a variety of metal and plastic ridges running the length or width of the shoe to prevent backsliding on steep or icy approaches. The most aggressive high-mountain shoes sport longer, sharper teeth, or even spikes, under the forefoot to cope with steep, icy areas.
??Bindings
Bindings attach your boots to the snowshoe and maintain the alignment of your feet for efficient tracking. If your heels aren't centered, or the bindings don't hold your foot snugly in place, either your snowshoes won't track in a straight path or you could be constantly tightening and readjusting the fit. Bindings are critical to making a snowshoe work well with your boots in the conditions you experience most often.
All bindings used to consist of various straps that wrapped over and behind your boot to keep everything in place. Now, they run the gamut from a few simple rubber straps to complex plastic cuffs and ratcheting devices that crossed over from snowboard binding designs. The best way to tell if a binding works for your needs is to first rent for a trial weekend the shoe you're thinking of buying. Put it through its paces up and down hills, on packed trails, in deep powder, on icy slopes, wearing a heavy pack if you plan on going out overnight. Then you'll know for sure what works and what doesn't. If that isn't possible, here are the most critical questions to ask yourself about bindings when investing in a new pair of snowshoes:
Does it adjust to comfortably and snugly hold your boot in place? Be sure to wear the boots you'll be using while snowshoeing. If the snowshoe will be used by more than one member of your family, make sure the binding will accommodate the smallest and largest boots to be worn with the snowshoe.
Does it hold your foot snugly enough to prevent it from sliding forward on long, steep descents, without pinching or binding your toes? Does your foot work loose or your heel migrate off to one side?
Does it rub your foot anywhere? This is critical with hard plastic bindings, especially if you intend to wear non-insulated boots (for example, regular leather or leather and fabric hiking boots).
Will the binding be difficult to operate with mittens, or when encrusted with ice and snow?
How easily could the binding be repaired or temporarily rigged if a part broke?
If you intend to use the shoe on overnight backcountry trips:
Frame
Made of wood, plastic or lightweight aluminum tubing, frames come in a variety of shapes. The differences are simple. Oval shoes offer optimal flotation. Shoes with tapered tails and asymmetrical shoes allow a more natural gait.
Pivot Point
The pivot point is the place where the binding attaches to the frame of the snowshoe. It should be placed at the ball of your foot.
There are two general types of attachments-let's call them "soft" and "hard."
A "soft" attachment is when the binding is mounted to a rubbery, resilient band of material that stretches across the frame. "Soft" attachments have fixed or limited rotation, which means that as you take a step, your heel lifts and the band snaps the tail of the snowshoe up off the snow, limiting the rotation of your foot in the shoe. Runners and trail walkers often prefer "soft" attachments.

Advantages

The shoe feels lighter, except in deep, wet snow, where you'll be forced to lift the weight of the snow rather than letting the shoe slide out from under it.
Dry, loose snow doesn't pile up on the back of the decking and weigh the shoe down.
The shoes are more maneuverable, especially when backing out of a tight spot, because the entire shoe lifts with your foot.
You can almost feel a spring in your step as your weight settles across this trampoline-like band.

Disadvantages

In deep powder, snow is flipped up against the back of your legs and rear.
Making kick-steps up steep terrain is more difficult because the nose doesn't fully clear to allow crampons to engage.
A "hard" attachment is when the binding rotates around a metal rod that runs from one side of the frame to the other. The binding pivots freely around the ball of the foot, giving you more lateral support and your crampons better purchase in the snow on steep inclines. (Note: Sherpa brand snowshoes have an adjustable attachment that can be tweaked toward either hard or soft.)
Advantages

Because the shoe itself rotates around the binding, it's easier to slide out from under heavy, deep snow, rather than lifting the load with each step.
Crampons engage more easily on steep ascents, because the nose of the snowshoe rotates out of the way.

Disadvantages

Hard attachments can make for more difficult climbing when you need to kick deep steps up a slope. You have to flip the tail up, which often means whacking the tip into your shin.
The tail of the shoe drops down awkwardly when you're backing out of tight spots.
Other features
While we think the most important factor in choosing and enjoying a snowshoe is finding a binding that will hold your foot squarely in place, we've come across a few design innovations that can improve your performance on snow. Consider these features when comparing shoes.
Toe crampons: These are small teeth placed just under the front tip your boot sole, forward of and in addition to the standard crampon under the ball of your foot. They come in handy when climbing straight up slick sections of trail, but by themselves, they're no substitute for aggressive full crampons.
Asymmetric bindings: Angled to match the curves of your left and right feet, these bindings offer enhanced fit and more comfortable striding. The shoes often have asymmetric frame shapes, too, which in their most radical configurations save weight for snowshoe racers.
Spring-loaded bindings: They lift up the tail of the shoe with every forward step to ease strain on your calf. Of considerable help when kicking steps on an uphill, such bindings make each kick easier, smoother, and more energy-efficient.
Reinforced heel: Extra material (often a small slab of grippy rubber) is placed on the snowshoe decking where the heel strikes. Reinforcing lengthens the life of the shoe, prevents side-to-side slippage, and directs the force of your step to the heel cleat underneath.
Length adjustments: Some shoes get shorter or longer by virtue of telescoping decking or add-on tails. This is a nice feature when you're facing variable snow conditions, or if you want one shoe that handles both short, lightly loaded trips and weeklong winter hikes. It's also very handy for families wanting one shoe that works for everyone from the kids to 200-pound Dad.
Crampon compatibility: Some shoes accept mountaineering crampons, the teeth of which then serve as your cleats. This feature enables climbers, depending on snow conditions, to switch back and forth between crampons and snowshoes without having to forgo their crampons on potentially dicey terrain.
Heel lifts: Some shoes now feature as a standard or add-on feature a small bar that lays flat under your boot heel. When faced with a long ascent, flip up the bar, and your foot is supported in a more natural, flat position while the shoe continues to grip the steeply angled incline. The lifts reduce Achilles tendon and calf strain and fatigue.