6 Sweet Backpacking Sleeping Bags
From ultra-warm to ultralight, here are the year's best-performing bags in every category.
We tested nearly 50 backpacking sleeping bags to find these top choices. To winnow the field, our crew risked their zzzzs from the arctic cold of Alaska's glaciers to month-long treks in China and Nepal. No matter what type of bag you need, we found the best in class.
3-Season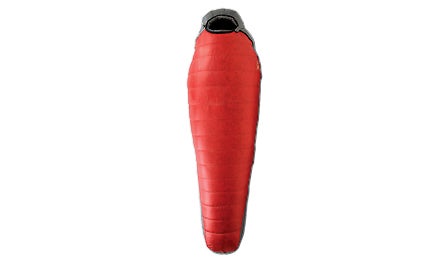 Mountain Hardwear Phantom 15
"It's like sleeping in a superheated cloud," said one tester, describing why this bag was a unanimous favorite for all-purpose performance. Ultralight materials–800-fill down and a 15-denier, DWR- treated nylon shell–make the warmth-to-weight astounding, and it's still plenty durable and resistant to condensation. The double-yoked, cinchable draft collar prevents cold air from jetting into the bag when you roll over. A zippered pocket at collarbone level keeps an alarm within earshot. And the shape is efficient, not constricting, with zero cold spots.
Bonus: The shell fabric is more breathable than with previous versions, eliminating clamminess. One gripe: The zipper sticks where it curves around from shoulder to cheek. Reader Service #101
Cheaper: Mountain Hardwear's synthetic fill Ultra-Lamina 15 has welded seams to reduce bulk and improve moisture resistance. $195; 15°F; 2 lbs. 13 oz.; mountainhardwear.com. Reader Service #102
Bargain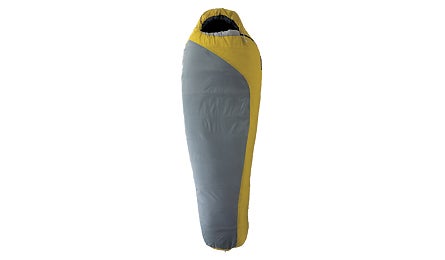 REI Polar Pod 20
How good a deal is the Polar Pod? One tester went out and bought one after a night under the stars in Moab. "It kept me warm when the water in my Nalgene froze," she said. And for just $79, you get features that match the warmth: a no-snag zipper, full-length draft tube, cinchable hood, pillow sleeve, and an internal zippered pocket for a watch or iPod. The polyester fill and ripstop nylon shell were plenty durable in testing, prompting one tester to say, "This bag is perfect for summer camps and college outdoor programs."
The downside: It's a tad heavy and bulky (without a compression sack it packs down to the size of a bear canister), and one 5'3" tester wished for a smaller size (fit is slightly roomier than average). Note: In early 2009, REI is revamping their entire bag line, so grab this deal while it lasts. Reader Service #103
Lighter: The North Face Cat's Meow earned our Editors' Choice Gold Award in 2006, and the synthetic-fill sack continues to set the bar for combining high performance with affordability. $149; 20°F; 2 lbs. 10 oz.; thenorthface.com. Reader Service #104
Winter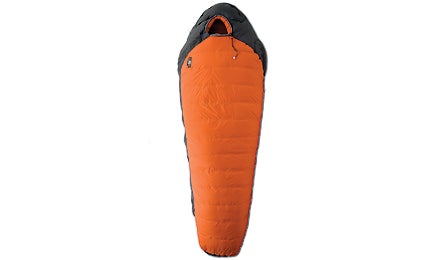 Exped Arctic Goose WB
If you lose sleep in this -15°F-rated bag, it won't be because you're cold. "In conditions where other bags have left me miserable, this one was as warm as my down comforter at home–even when an inch-deep puddle of slush accumulated under me," said a Minnesota tester after a late-winter trip into the Boundary Waters.
Another tester slept warm down to -25°F in the Adirondack High Peaks. Welded seams and a Pertex Endurance shell protect the ultra-lofty 750-fill down and make it functionally waterproof in frigid temps. An additional Pertex Endurance layer inside the hood keeps condensed breath from soaking the feathers. An external storm flap on the zipper seals out drafts, the hood cinches down to blowhole size, and the interior is roomy enough to accommodate extra layers, inner boots, and fuel canisters. Reader Service #105
Lighter: GoLite's Adrenaline 0 earned an Editors' Choice Award (April 2008) for weight-saving features like a center zip, efficient cut, and lofty 800-fill down. $400; 0°F; 2 lbs. 12 oz.; golite.com. Reader Service #106
Waterproof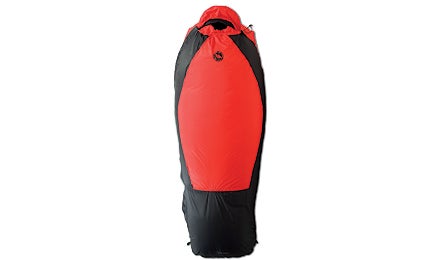 Big Agnes Nugget 45
Cross a waterproof/breathable bivy sack with an ultralight synthetic summer bag and you get the Nugget. "Water beaded off the coated ripstop nylon so well I wish Big Agnes made jackets out of it," said one tester after a dew-soaked night under a tarp. Even when we subjected it to hurricane conditions–garden hose, full blast–water never penetrated, because the bag's seams are taped. A rigid, 1.5-inch-wide storm flap protects the zipper from moisture, and the hood cinches down to protect your face (you could forgo a tarp or tent in moderately soggy conditions, but your nose would get wet if you tried to sleep in a downpour). With a full side zip, the bag ventilates well on balmy nights. We like the roomy interior for roll-around comfort, but the temperature rating is a few degrees optimistic.
Bonus: The synthetic fill is made from 50 percent recycled material, and the bag comes with a waterproof roll-top stuffsack. As with all Big Agnes bags, there's an integrated pad sleeve–not insulation–on the bottom, which makes it better suited to back sleepers than to side sleepers. The bag works best with a 72-inch rectangular mat (not included). Reader Service #107
Warmer: The Sierra Designs Trade Wind 15 is true to its three-season temperature rating, has a waterproof DriZone shell (though seams aren't taped), and is stuffed with compressible 600-fill down insulation. Bottom line: The price-to-performance ratio is hard to beat. $239; 15°F; 3 lbs.; sierradesigns.com. Reader Service #108
Summer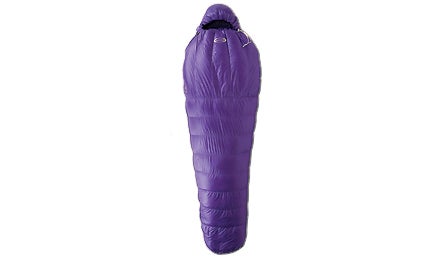 MontBell Ultralight Apine Downhugger #5
Ultralight summer bags can get you into trouble on alpine trips, when nighttime lows often dip below the forecast. One tester flirted with just such a scenario when he packed this 40°F sack for a trek in Colorado's Flat Tops Wilderness–and lows hit the mid 30s. Fortunately, this conservatively rated one-pound bag kept him toasty warm.
The secret: a "gathered quilt" seam system. Elastic seams on the interior of the bag snug the insulation around your body–eliminating dead space inside without compressing the 800-fill down. A drawstring at the ankle provides a way to fine-tune fit and cozy the bag to your feet on cold nights, and a minimalist hood–which lies flat when you don't need it–cinches tight around your cheeks. A stiffened, laminated edge keeps the zipper from snagging without adding extra ounces.
Caveats: The 15-denier nylon shell snagged easily on twigs or pinecones when testers were tarp-camping. Reader Service #109
Warmer: Western Mountaineering's SummerLite delivers near three-season warmth at summer-season weight, thanks to premium 850-fill down and an ultralight 20-denier nylon shell. $300; 32°F; 1 lb. 3 oz.; westernmountaineering.com. Reader Service #110
Green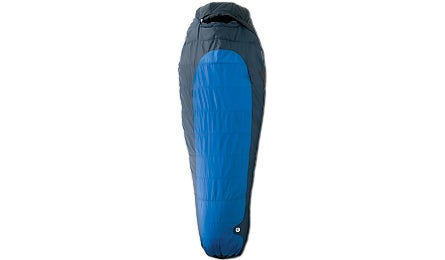 Marmot EcoPro
After using this bag in Idaho's Sawtooth Range, one tester immediately asserted, "It's time we stop comparing green bags only to other green bags. This recycled-content sack could hold its own with any other 15°F synthetic I've ever used." The EcoPro hollow-core filament insulation is 80 percent recycled soda bottles, and the polyester shell is made from 100-percent post-consumer materials–with a DWR finish that sheds light moisture. But you'd never know the eco-cred if you didn't read the hangtag.
"This sack stuffs surprising well for a synthetic; it fit in the bottom compartment of my weekend pack along with a tent fly," noted another tester after a trip in Wyoming. The hood cinches snugly, the two-way zipper enhances ventilation, and the cut is generous. Minor complaint: The zipper tends to catch near the face. Reader Service #111
Greener: Every component (except the zipper) of the Big Agnes Skinnyfish and its stuffsack is made entirely of recycled materials. $180; 20°F; 4 lbs.; bigagnes.com. Reader Service #112
---
All weights are for regular size on BACKPACKER scales.
Testers: Gustave Axelson, Charissa Biederman, Kobe Biederman, Shannon Davis, Jon Dorn, Kristin Hostetter, Steve Howe, Jason Kauffman, Elisabeth Kwak-Hefferan, Mike Lanza, Annette McGivney, Tracy Ross, Tim Shisler, and Jessie Wyard
Test data: 197 bag nights; lowest temperature, -25°F (Adirondack High Peaks in March)
Photos: Brooks Freehill